But a 57% Increase in SG&A Expenses Swung the Quarter to a Net Loss
Snap One Holdings Corp. (NASDAQ: SNPO) announced the results for its fiscal 2021 third quarter last week and said that thanks in part to an August 2021 price increase and continued expansion of its dealer base, the company booked a substantial revenue increase to $260.7 million, or 15% higher than the same quarter the year before. However, the company additionally reported a net loss of -$21.5 million, way below the net income of $1.4 million in the quarter last year, due to a significant increase in SG&A expenses.
See more on the Snap One 3rd quarter results
Clearly a company to watch as one of the leading manufacturers/distributors in the custom integration channel, Snap One continues to see strong results as the world rebounds from two years of COVID impact and supply chain business disruptions. And even though supply chain issues continue to haunt it – as well as all of us – the company crowed about its strong results both now, and anticipated for the upcoming fourth quarter…and even into 2022.
CEO John Heyman was positively ebullient as he ticked off all of the company's key milestones achieved during the quarter, saying:
During the fiscal third quarter, we continued to execute against our long-term growth strategy in several key areas: we expanded our omnichannel distribution presence through the opening of three additional local branches, released a major upgrade to our Control4 OS 3 software, updated our OvrC remote management platform, launched several new product offerings, and on a year-over-year basis increased our domestic transacting integrator count and spend per integrator in the residential, security and commercial markets."

John Heyman, Snap One CEO
Key Snap One Results in the Third Quarter
So as mentioned above, revenues had a solid 15% gain in the quarter, coming in at $260.7 million versus $226.3 million in the third quarter of 2020. The company said that this increase was the result of strong demand for all product categories across all geographies and markets. They also noted that they expanded their dealer base without specifying just exactly how many new integrators were added in the quarter.
However, they did say that their products are now being sold through 16,000 integrators. Snap One also said that they are gaining "wallet share" with greater "spend per integrator," a trend that they believe will continue for the foreseeable future.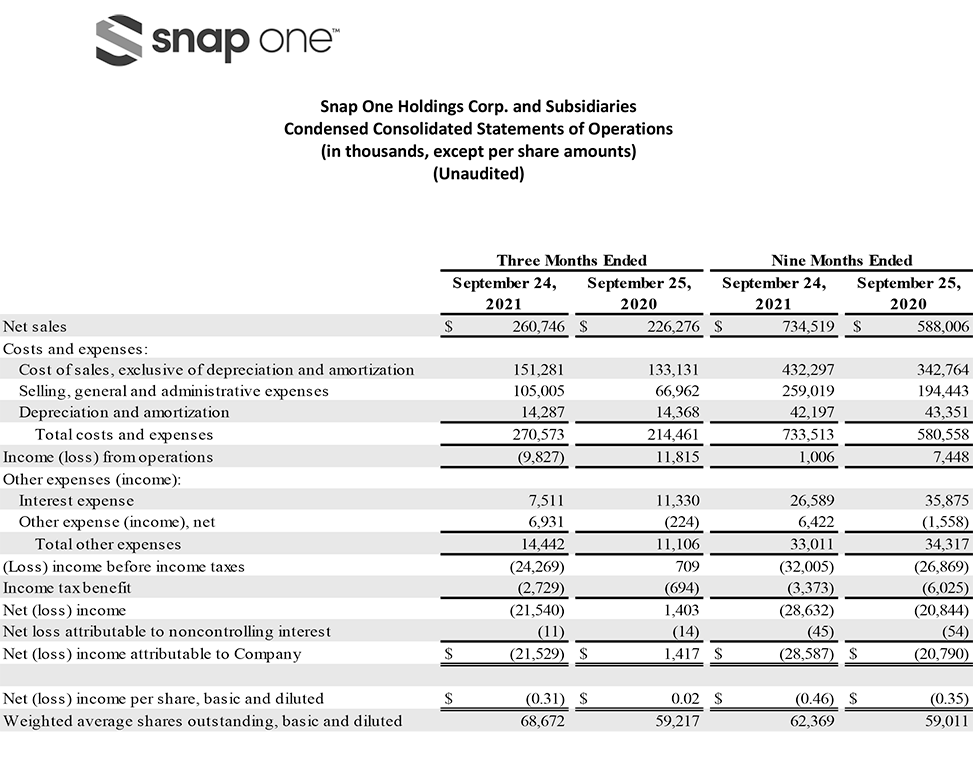 Contributions from Access Networks, 'Store' Expansion, & Price Increase
The company also noted that they benefitted from the fact that this was the first full quarter of contribution from the recently acquired Access Networks business. Also, the company has added a total of eight new local "stores," as they like to call their warehouses, since this quarter in 2020 which helps drive their sales. This brings their total physical locations to 30. The company says that by the end of this year, they believe they will have added a total of 10 new locations in 2021. Next year, they are planning on adding another 6 locations…at a minimum.
Finally, the company notes that a 5% price increase they instituted in August on their in-house brands also contributed to their sales gain. Snap One's CFO also said that he calculates that supply chain issues probably robbed them of another 5% in potential gains.
An 'Unwanted Guest' at the Party – A Net Loss of -$21.5 Million
There were a couple of other bright spots in their numbers as well. For example, cost of sales as a percentage of revenues actually dropped from 58.8% last year to 58.0%, helping a little. And contribution margin as a percent of net sales also improved slightly, from 41.2% of net sales last year to 42.0% this year.
But the unwanted guest at the party this year was a massive 57% jump in selling, general & administrative expenses from $67.0 last year to an impressive $109.5 million this year. Thanks to this big hit, the company generated a loss from operations of -$9.8 million…and a bottom-line net loss of -$21.5 million. For the first nine months of the year, the company has seen its net losses drop to -$28.6 million or 37% greater than the -$20.8 million loss in the same period in 2020.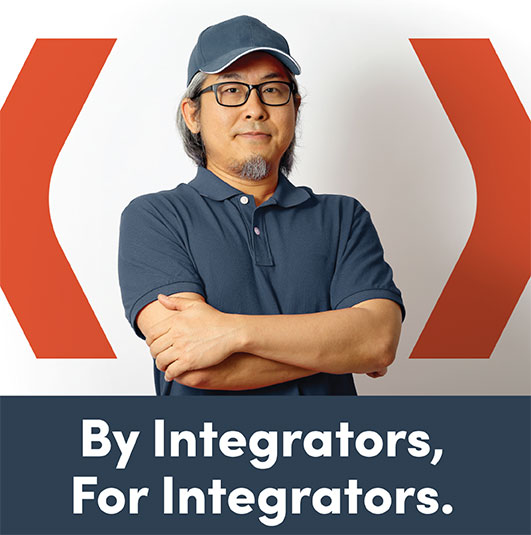 What Drove an Increase in SG&A Expenses? A Lot…
So why did SG&A expenses get so out of control? The company says that there were multiple variables that contributed to that result. First, they booked a $14.4 million hit to earnings to account for equity-based compensation expenses, with another $10.6 million in compensation costs "paid to certain pre-IPO owners for their interests in lieu of their participation in the tax receivable agreement entered into in connection with the IPO."
And that's not all. The company noted that there were also increases in variable operating expenses, including outbound shipping, credit card processing fees, and warranty. Also, there were increased "…costs associated with becoming and operating as a public company, ongoing investments to support strategic growth initiatives, and a return to normalized spending levels when compared to cost reduction actions taken to mitigate the impacts of COVID-19 in 2020." That seems like a lot of cost increases in what is looking a little like a "catch-all" category.
Snap One also offered an updated look at their guidance for anticipated 2021 full-year results. They remain "confident" in what they believe will be "continued demand" for their products. As such, they believe revenues for the year – a 53-week year ending December 31, 2021 – will be between $990 million – to – $1 billion or an increase of between 21.6% – 22.8% compared to 2020.
Snap One Shared Fascinating Data on Conference Call with Analysts
Perhaps the most interesting part of the whole presentation was a conference call the company held with investment company analysts where they shared much more data, as well as their outlook on the business. The call started with Heyman giving an overview of the Snap One business, as well as information on the market and how the company intends to continue to grow its business.
Heyman said strong market dynamics will drive industry growth as more and more Americans adopt the smart home life. He noted that Statista data shows that right now, 35% of homes in America are smart homes. In five years, this number is expected to grow to at least 60% of all homes. And Heyman added that Snap One believes that within a decade "every home will be smart…and those homes will have 10s if not hundreds of connected devices."
He says the company believes this increased consumer adoption will be a key driver of growth, but not the only driver. In fact, he names three key trends that will continue to power the company's growth – the adoption trend mentioned above, along with end-consumer demand for new experiences, and residential and commercial development.
Snap One's Five Key Pillars of Growth
In addition to these market forces, the company has set what Heyman calls its five key pillars for driving growth:
Innovate with new products
Increase our wallet share with existing integrators, which includes continuing to execute our omnichannel distribution strategy
Expanding our global integrator network with professionals focused on residential, security, and commercial applications
Developing new software solutions and revenue models
Mergers and acquisitions
Major Brokerages Following the Company
One interesting indicator that tells you just how hot a company is are the brokerage firms following their developments. In this conference call, there were some definite Who's Who among investment companies present, such as Morgan Stanley, Jefferies Group, UBS, BMO Capital Markets, Raymond James, William Blair, and more. It was an impressive group asking interesting questions.
Unsurprisingly, many of the analysts were asking questions about a top problem of the day – supply chain issues. Snap One says their supply chain team continues to do great work and the company typically has 90+% of the products they need at any one time to fill orders. They do have spot shortages from time to time, but these are typically temporary.
All-in-all a good showing for Snap One…assuming they can address their selling, general, and administrative costs to help pull up their bottom line.
See more on Snap One by visiting: snapone.com.