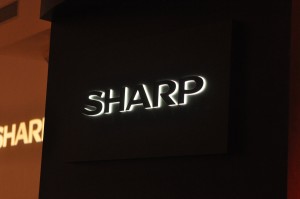 The next phase of the TV wars has begun in earnest now in the wake of Sharp's (and Toshiba's) CE Week Day 1 roll-out of 4K Ultra HD television. In a presentation full of bluster and gusto, Sharp threw down the gauntlet with its 70-inch, top of the line Aquos UHDTV selling for a cool $8,000.
Learn more about this flagship set below – and see what Sharp's VP told us about which retailers will participate in the rapidly approaching roll-out for this new technology.
Is Sharp's 4K sharp enough?…
While CE Week has multiple conferences that run on different days over an entire week in June – we already reported on a presentation at Monday's Research Summit – the cornerstone event is the CEA Line Show which normally takes place over two days – in this case Wednesday and Thursday. This year, the opening press event was coordinated by Showstoppers – a company well-known to the press as they stage various press events throughout the year, mostly tied to different shows and events.
The key Showstopper event at CE Week was a press breakfast and presentation sponsored by Sharp Electronics. We arrived early and while most of the press was focused on the breakfast downstairs, we sneaked upstairs to where the Sharp presentation was to take place. Arriving almost 90-minutes before the presentation was scheduled to begin, we had an opportunity to rub shoulders with company execs. and PR reps who were preparing for the formal press conference.
>>See a full slideshow from the Sharp Press Conference, here…<<
An open secret…
For the most part, these execs. and PR folk tried to be coy, only offering that the company had a "major announcement" to make. It was, however, really an open secret that this was to be their launch of 4K Ultra HDTV.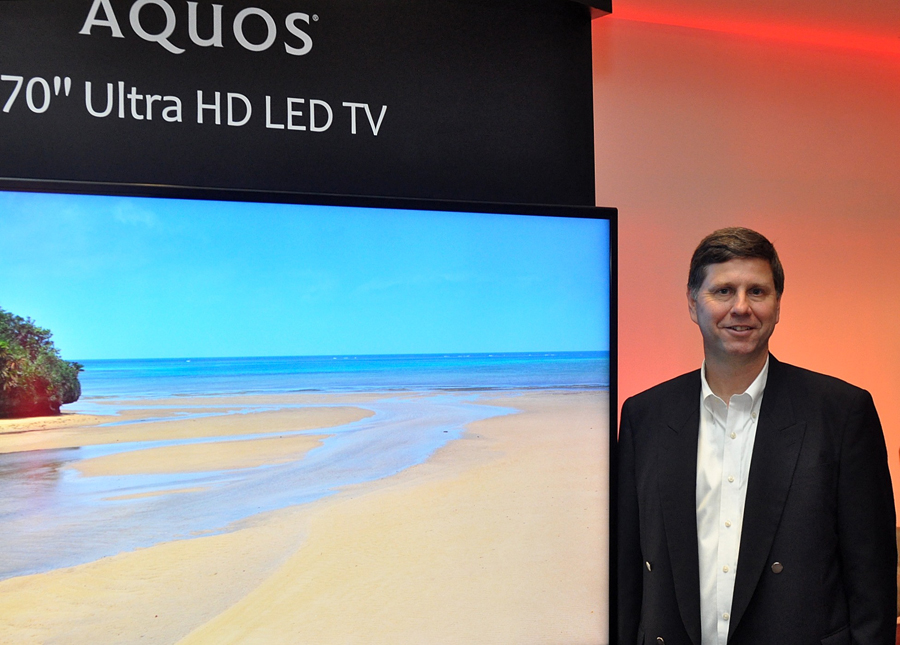 Sharp Electronics Marketing Company of America's President John Herrington took the stage and wasted little time in making what the company feels is a significant announcement (others are not so sure about the significance of Ultra HDTV). He started with a brief recital of their technological breakthroughs and firsts – the first TFT-LCD, first 1080P LCD, the only one with Quattron technology, first with IGZO technology.
What consumers want…
Herrington then told the group that consumers want the best picture quality and that Sharp wants to be the one delivering it. And with that statement, he added: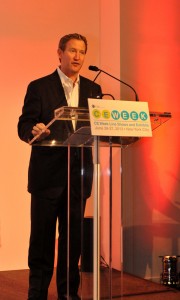 "So just when you thought our television viewing experience had reached its pinnacle, along comes Sharp's Ultra High Definition LED television," Herrington proclaimed. "A television that delivers break-through viewing experience – an experience that redefines possible by revealing an image depth and clarity that is truly mesmerizing and revolutionary."
After a brief high-energy musical interlude where a display swung around to reveal the new Sharp 70-inch UHDTV set (flanked by two attractive human models framing the set with their hands alá Vanna White), Herrington challenged his competitors, one of whom would be announcing their 4K set later that same day, by noting that Sharp's 4K set has three key differentiating features no one else has. These three features are: 1) Sharp upscaling technology; 2) THX-certified 4K display, "the world's first!"; and 3) the unique 70-inch screen size with all new industrial design or "styling package."

Herrington turned the presentation over to Sharp's VP of Strategic Product Marketing Jim Sanduski who jumped into the fray not only repeating Herrington's claims about this model – but amplifying them. The three differentiators, Sanduski told the group "…makes Sharp Ultra HDTV quite simply the highest performing LED TV Sharp has ever made."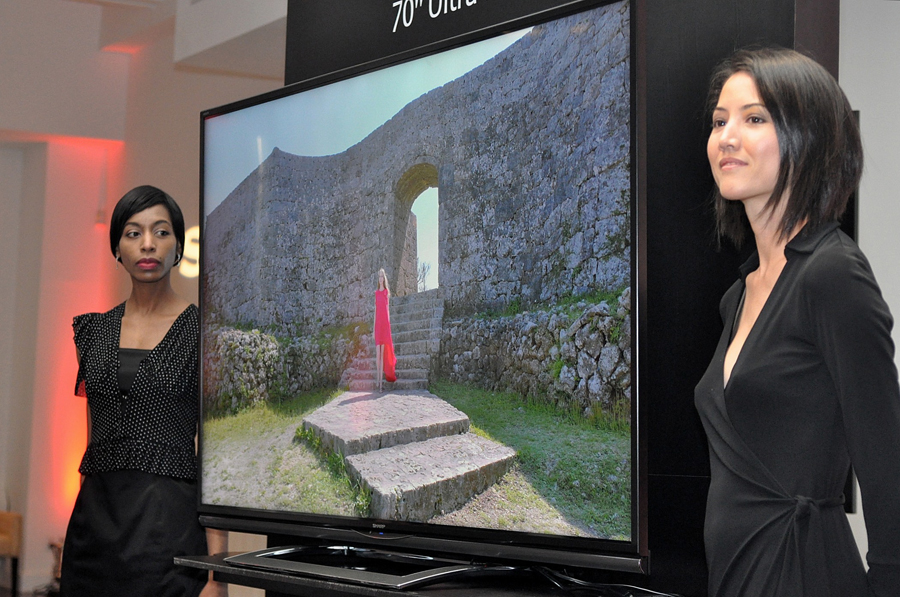 Sharp's upscaling technology…
Sanduski told the media that Sharp's upscaling technology "makes everything you watch today better with a two-step upscaling process." With the help of a dual-core processor, the first step is to fine-tune the signal for optimal picture quality. The second step is for the upscaler to analyze and interpolate the signal to create a 4K image.
What is not clear is whether this upscaling technology is unique to Sharp, and if so – how? The description given sounds much like the description we've received from other companies about their upscaling process (although none where it was upscaling to 4K). There were no claims of proprietary technology or algorithms.
World's first THX-certified 4K display…
There were, however, claims of a legitimate first – this new UHDTV from Sharp is the industry's first to receive THX-certification for a 4K display.
"This is the only product to earn the coveted THX 4K certification," Sanduski boasted.
This feature was significant enough for the company to bring in an executive from THX itself to address the media. Sanduski introduced us to Eric Gemmer, Senior Video Engineer for THX.
What makes a 4K display THX-certified?…
Gemmer, in white shirtsleeves with conservative tie and glasses, looks like the quintessential geek – the only thing missing was his pocket protector. And in today's world…geeks rule! Gemmer moved to the stage and after a brief issue with a non-working microphone, addressed the assembled reporters.
"THX is really pleased to be associated with such a beautiful television," Gemmer gushed.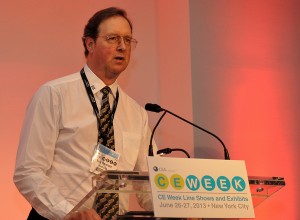 The THX presentation talked much about history – and little about just what it meant for a 4K display to be THX-certified. In a separate interview after the formal presentation, Gemmer told Strata-gee.com that essentially, what that designation meant was that Sharp agreed to have two modes added to the set for consumers to select. There is a THX Movie Mode…and a THX Bright Room Movie Mode.
Selected from a menu, when consumers set the proper display mode (based on room lighting), they will be presented with a precisely tuned video performance based on THX's research into what constitutes an accurate recreation of the directors intentions. Variables precisely set in the THX modes include fine-tuned color, black detail, white level, and grain such as it was present in film. THX, Gemmer said, performs over 400 tests on 4K sets and looks at both UHDTV performance and HDTV performance of the set.
Isn't my baby beautiful?…
Sanduski stepped back to discuss the third variable – the industrial design of this specific UHDTV. "This is our best designed TV ever," said Sanduski, who pointed out that the design includes a "sleek metallic frame" and an "elegant stand."
However, the beauty of any design in certainly in the eye of the beholder. We haven't met a TV manufacturing executive yet who didn't believe their design wasn't the most beautiful. Still, we would concur that it is a visibly attractive design. Whether it is attractive enough to be considered an advantage over competitors – we'll leave that to the market to decide.
>>See a full slideshow from the Sharp Press Conference, here…<<
Sounds Sharp, too…
Sanduski wrapped up his portion of the presentation by mentioning some other features that Sharp considers meaningful, including the set's upgraded audio section, remote control flexibility, Sharp's online content center (Smart Central), and more.
Sharp's new UHDTV includes a six speaker audio portion with a claimed 35-watts of power. The speaker configuration includes four forward-firing (2-mids, 2-tweeters) and two downward-firing subwoofers – Sharp dubs these "DuoBass" – on the back of the set. Although we did not get a demo on the set's sound, the company claims that the enhanced sound quality is clear and immediately recognized by users.
TV as wallpaper?…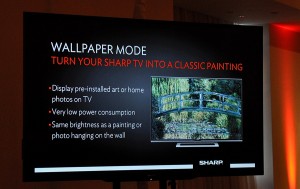 And speaking of sound, Sharp's new set also allows streaming of content from users' smartphones or tablets. Not only that, but the company is making remote control apps available for the set in both iOS and Android operating formats.
We found odd the company highlighting something they call Wallpaper mode. This mode allows you to use your Ultra HDTV to display artwork or pictures…rather than displaying your actual artwork or pictures. Other brands have this capability, but we're not aware of a lot of demand for this capability.
Oh…and its 3D also…
The new Sharp set comes with four HDMI inputs – all of which, Sanduski said, are 4K capable. These HDMI inputs are to HDMI's 1.4 specification and in separate comments after the presentation, Sanduski told us that they may not be compatible with a new 2.0 spec. being worked on.
Sharp's new set includes an SD card reader – a first for them – and Sanduski says this is perfect for viewing your 8 megapixel photos on. There are also two USB inputs as well.
Finally, at the end of a long list of features, Sanduski mentioned that the set includes active 3D technology built in – "Twice the detail of passive 3D, so every scene comes alive for a more immersive experience," Sanduski explained.
A 'premium' retailer plan?…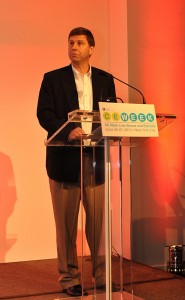 Sanduski finished with a brief comment on the roll-out of the set telling the media, it's coming soon.
"As you can tell, we're very excited to bring this television to market," Sanduski summed up. "The Aquos Ultra HDTV will be shipping to premium retailers nationwide in mid-August at a suggested retail price of $7999."
Strata-gee.com caught up with Sanduski after the formal presentation and asked for further clarification on distribution. We were curious about just what the Sharp VP meant by "shipping to premium retailers nationwide." Was the company offering their latest high technology masterpiece to specialty retailers and installers first, to be followed by a second roll-out to national retailers later?
"So we're not really announcing who our retail partners are," Sanduski said. "But I can tell you that its going to be a national roll-out that's going to consist of retailers that have a national footprint together with premium retailers that specialize in certain geographical markets."
Installers to be included…
When we tried to push Sanduski further, he declined to be more specific. However, he did allow that certain custom installers could be included as part of the initial roll-out. It will be, however, a one-stage roll-out…not two-levels as we had supposed.
In the past, the industry had introduced new technologies into the specialty retail channel due to the fact that specialists could help build consumer awareness, acceptance, and demand for the new technology. At a later date, the brands would then increase the distribution to add-in national and mass-merchant retailers once the consumer demand has reached the necessary level.
In today's market, most products are shot far and wide right out of the gate. That appears to be the model Sharp will follow for their 4K Ultra HDTV model as well. To protect profitability, Sharp intends to announce a unilateral pricing plan or UPP.
>>See a full slideshow from the Sharp Press Conference, here…<<