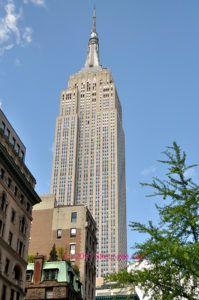 The Sapphire Marketing 2017 NYC Road Show rolled into Manhattan this week, taking over the 11th floor (and terrace) of the Midtown Loft & Terrace on 5th Avenue, just a stone's throw from the Empire State Building. A large group of integrators and end users gathered to see the latest technology offerings from top brands such as Crestron, Digital Projection, Stewart, Leon Speakers and more.
See what we found at Sapphire Marketing's NYC tech show…
In some ways, this show was very much like those we've attended in the past – an interesting group of technology providers, largely commercial-centric but with some residential crossover. The Sapphire Marketing Road Show is an interesting mix of technology brands we aren't familiar with, (commercial providers) – and other brands we're very familiar who also market products in the residential segment, as well.
So brands like RP Visual Solutions, Crowd Mic, Analog Way or Scalable – are less familiar to us. But Crestron, Stewart Filmscreen, Digital Projection, and Leon Speakers we know well, although not necessarily the products in their commercial divisions.
However, this year, we believe we detected an uptick in the number of booths dedicated to software solutions. It's hard to say if this is representative of a change in the market, or just an anomaly of who Sapphire engaged for the show – this mix is usually slightly different every year.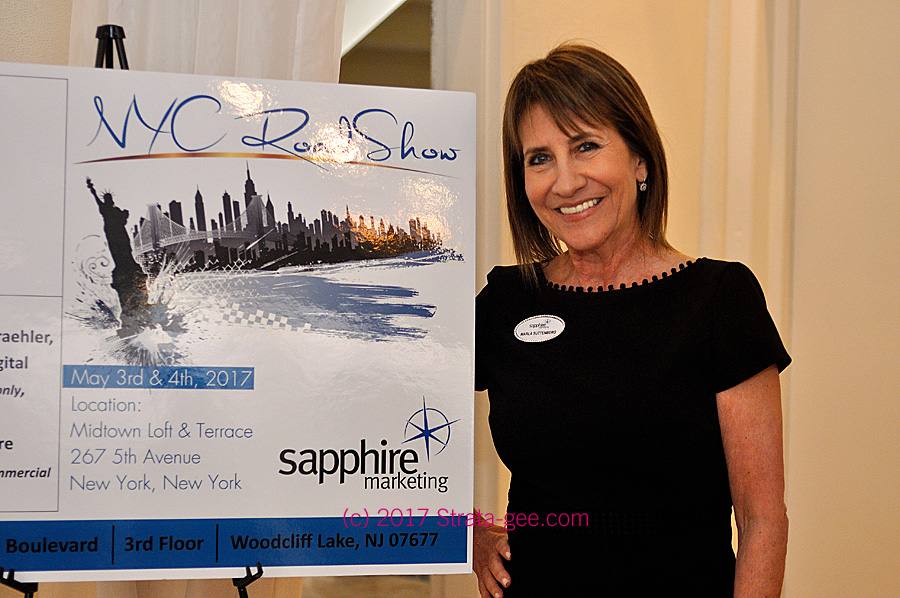 There was a good crowd during the opening day of the event – not wall-to-wall – but consistent foot traffic throughout the day. The nice thing about this event is that it's a good size that allows you to stroll around the show floor and see everything in just a couple of hours. And with a little patience, something that New Yorkers are not particularly known for, you can almost always find time to speak with all of the representatives available. Sapphire Marketing personnel floated around the floor answering questions or personally guiding specific, prominent guests.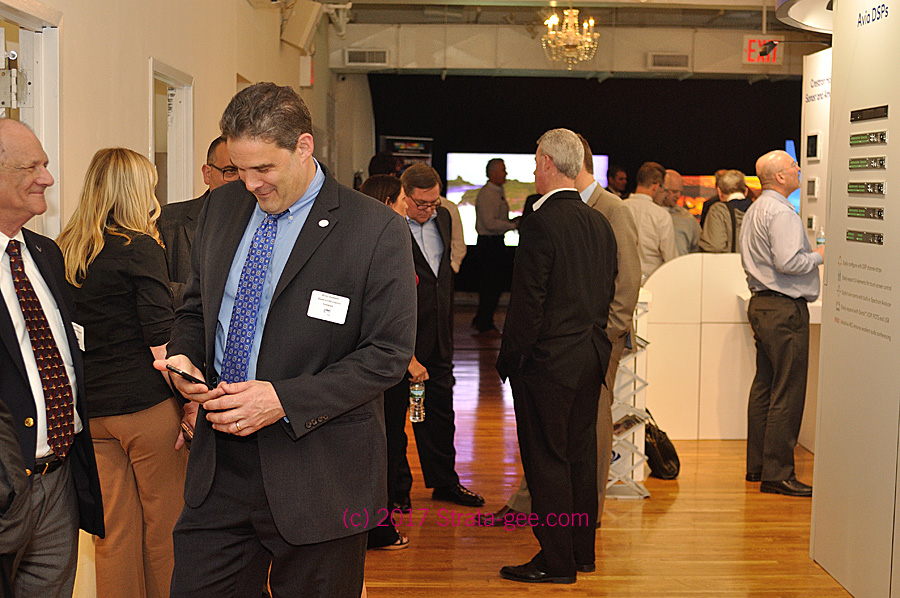 The Road Show, unlike most industry trade events, hosts a mix of integrators, Sapphire's primary customers, and end users. During lunch, we chanced to sit next to a couple of gentlemen who were the AV managers from HSBC, a huge international bank with four large office buildings in and around Manhattan. HSBC, they told us, are big users of both Crestron and Cicso technologies (Cisco was not part of this show.) Attending events like this gives them the opportunity to meet with and ask questions of the brand representatives, as well as see other products they offer that may address new segments of interest to them.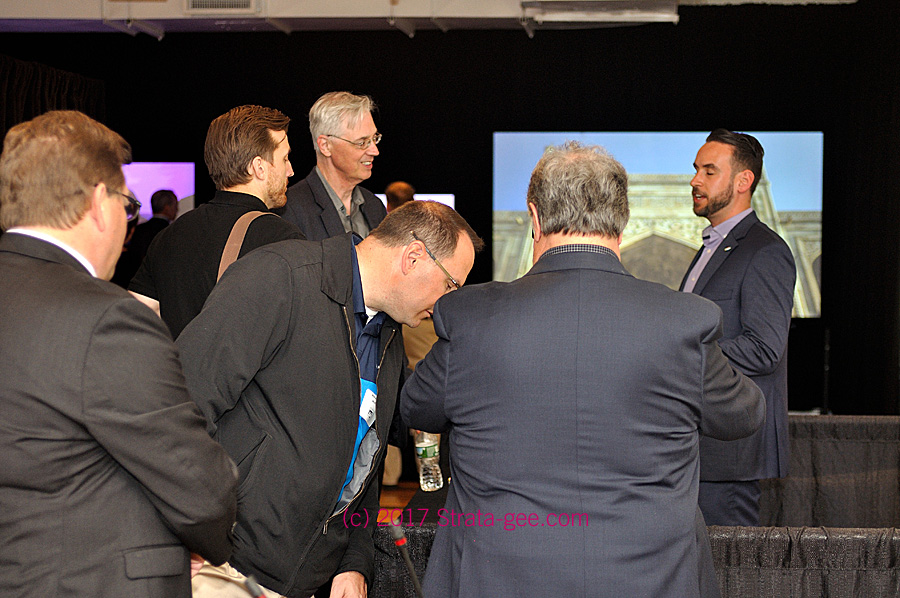 When you first enter the floor, in front of you is the RP Visual Solutions booth. RP Visual Solutions is a design and engineering company that specializes in large visual display structures. Think stadiums, casino's sports book, bars, etc. – anywhere where large video displays are called for.
We saw many interesting booths at the NYC Road Show, but our favorites were:
Crestron
Once again, as was true in years past, Crestron took center stage with the largest booth showing products from multiple business segments. We had the opportunity to spend considerable time with Jeff Singer, Crestron's Executive Director of Product Marketing, who gave us a tremendous amount of background and insight into their philosophy: "We're just trying to figure out how to solve real world problems for real world people," he told us.
Crestron showed their newly launched Digital Media NVX UHD over IP solution, our first chance to see it in operation, and we have to admit, it looked pretty good. Although they did not set up a comparison against other systems as they have at other shows, although this is a smaller booth than Crestron normally utilizes, so space was likely a consideration.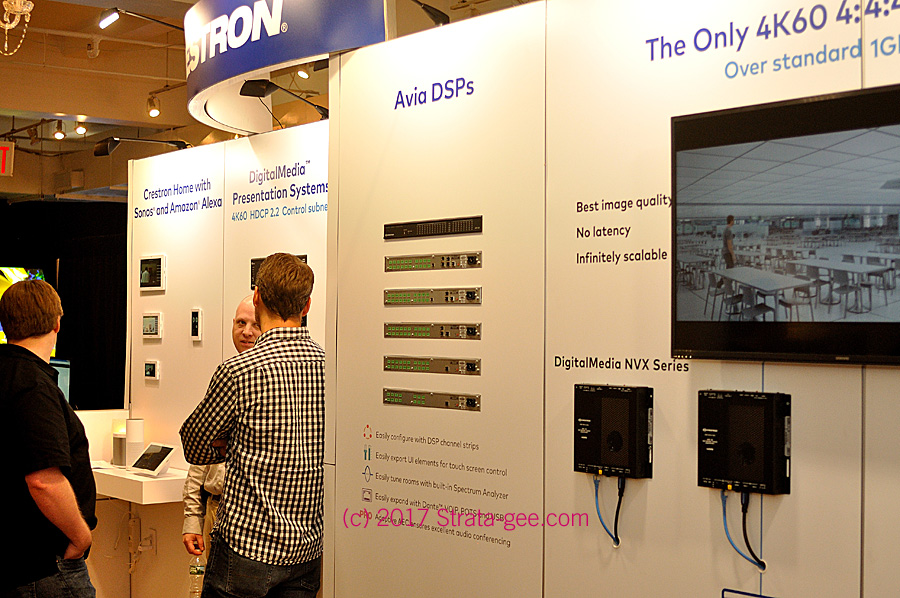 We also saw their Avia DSP product line, a new room scheduling solution – which was far more interesting than I thought it was going to be – a setup showing their DM Presentation System, their Mercury all-in-one console, and more.
Marshall Electronics
Bernie Keach, Global Sales Manager of Marshall Electronics, showed us a series of very interesting POV cameras. Giving us a quick demo, we saw one particularly impressive camera (CV620-BK) with HD broadcast quality resolution, fully motorized PTZ (pan, tilt, zoom) with remote control, and even controllable by an app. This model pans 340° horizontal, tilts 120° vertical, and offers a 20x optical zoom with a really impressive picture.
Keach also showed us another interesting design – a miniature POV camera model (CV502-MB/M) that is a huge seller for them, with some customers buying hundreds of them at a time. This thing was tiny, yet still had an excellent high definition picture. ESPN uses them for net cams, Keach told us. And Ellen uses it for her shots of guests waiting in the green room. This model sells for only a few hundred dollars, but offers an HD solution for those who want to stuff a broadcast quality camera in some really small space.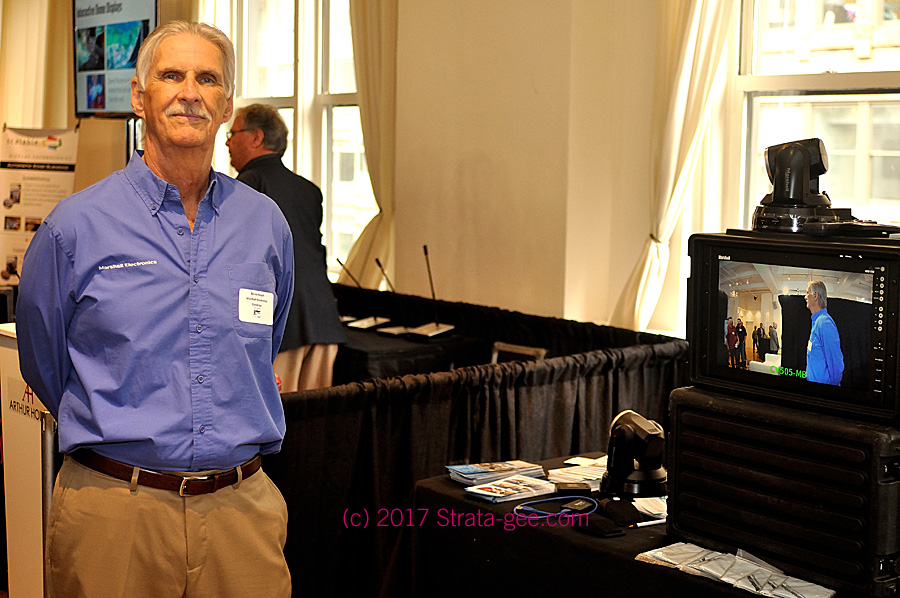 Leon Speakers
We also visited with Leon Speakers' Michael Fencil, their Commercial Sales & Marketing Manager. We had previously interviewed Michael two years ago, back when commercial products were relatively new for the company. Now, Fencil tells us, Leon is experiencing real traction with their commercial products. In fact, they are engaged in a couple of large-scale projects that will be a major showcase for Leon. Unfortunately, he could not identify the client for us at this time, so stay tuned for more on that.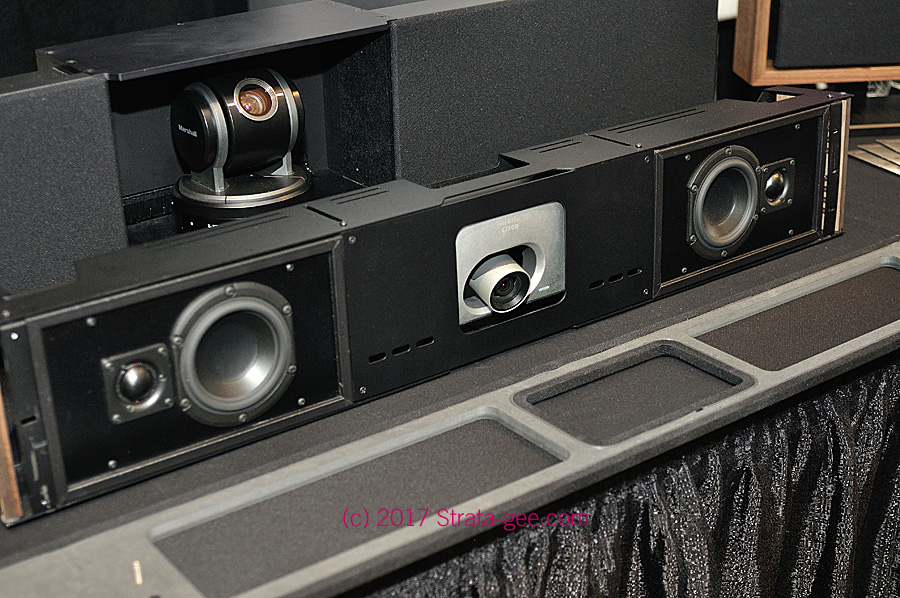 Leon's commercial line spans the gamut between perfect solutions for smaller "huddle spaces" and larger offerings more appropriate for a large video conferencing space. As we noted last time, the company offers both soundbar-like solutions with a center space for a video camera for video conferencing use. They now offer a sort-of hybrid partial customization capability in order to provide for different types of cameras – based on whatever the integrator chooses to use.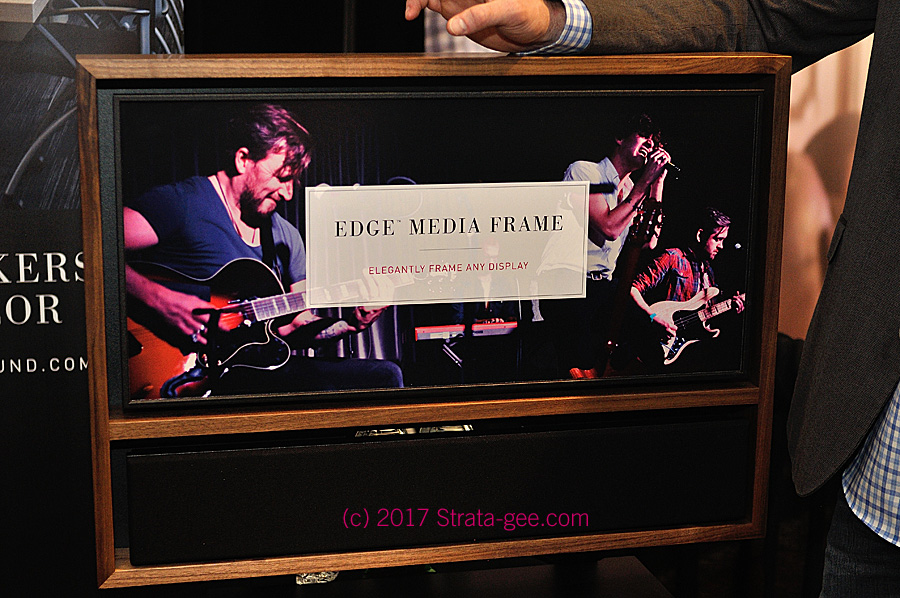 The company also offers a very nice looking product called the Edge Media Frame. The result of their acquisition of Media Decor some years ago, the Edge Media Frame can be combined with their Horizon soundbar product to offer an attractive, all-in-one media solution for boardrooms, conference rooms or the like. Not only does the real wood frame dress up the installation, including hiding the cables – but, Fencil noted, it provides for added security by preventing anyone from gaining access to the backs of the components.
Digital Projection/Stewart Filmscreen
Digital Projection and Stewart Filmscreen partnered to take up one whole end of the floor and set up three large displays of projection/screen theaters. The images were stunning, as you would most likely suspect. (My photos do not do justice to the amazing quality of the images our eyes were seeing!)
The darkened end of the hall seemed to magnetically pull event attendees to that end of the display space with a series of gorgeous images in Ultra High Definition that were thrilling. One of the setups included a new $40,000 laser projector that produced such a sharp and crisp image…I can't even come up with the right adjectives to adequately describe it.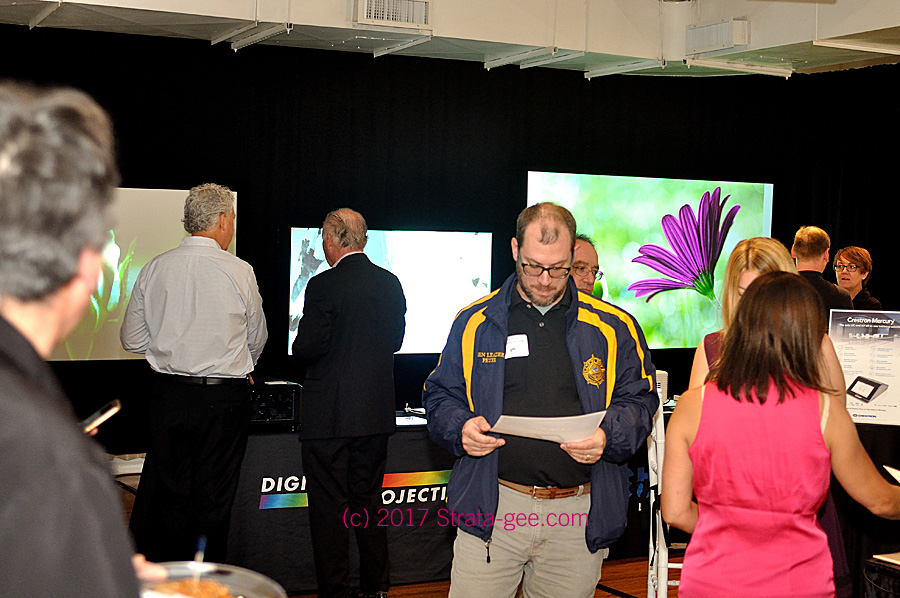 Analog Way/SiliconCore Technology
Another pair of technology companies that joined together to offer a particularly compelling display was Analog Way and SiliconCore Technology. When you walked in the main entrance of the NYC Road Show and looked to your left, you could see the impressive Digital Projection/Stewart Filmscreen theaters down at one end of the hall. But when you looked to the right, there was an equally impressive view that – at first glance – looked like a giant window looking down on the traffic 11-stories below us.
But it was not a window, it was SiliconCore's 110″ 1.2mm ultra high resolution LED video display, showing a 4K Ultra HD view of the street below us in vivid and lifelike detail. They used a Marshall Electronics 4K camera, through the Analog Way video processing equipment to drive the SiliconCore large LED display. SiliconCore specializes in large LED displays and laser diode controls. Analog Way specializes in computer and video signal processing and distribution.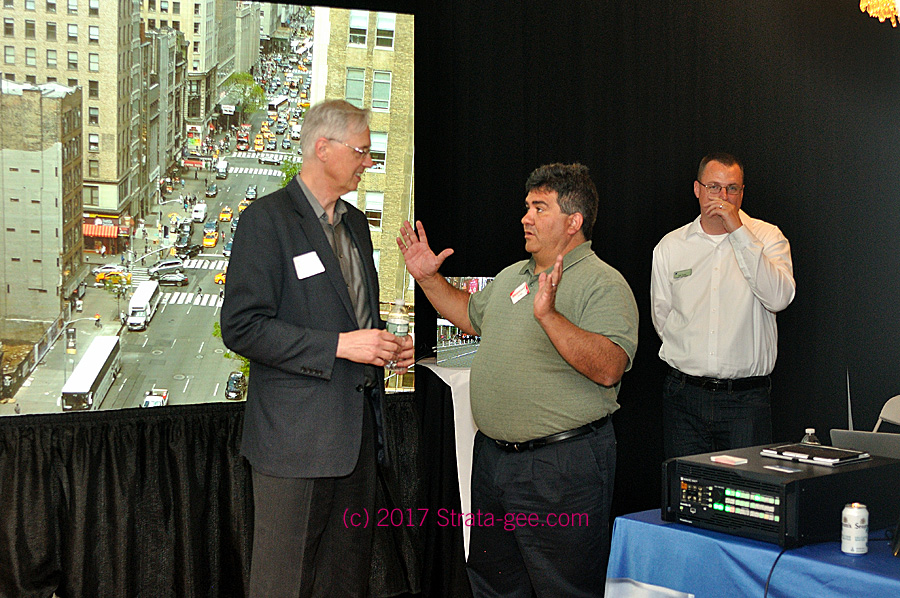 Analog Way's video processing gear offered some fascinating features, such as the ability to combine multiple layers and handle multiple outputs to make on-the-fly changes to the image. They specialize in true seamless video switching and processing, with edge blending, matrix switching, and up to four separate video sources on one screen. Kind of like a video wall on steroids. Analog Way products are used in the entertainment industry, presentation industry, and corporate and enterprise channels.
All-in-all, Sapphire Marketing's NYC Road Show – which is wrapping up as I write this on Thursday – is a fun and interesting way to see the range and flexibility that technology is able to offer end users, both commercial and residential.
Learn more about Sapphire Marketing at: www.sapphiremarketing.com.