On Monday, all Strata-gee SYNCH subscribers received an invitation to participate in a survey from me titled COVID-19 Impact on Tech. I am seeking your help in better understanding the impact of this strange new normal of pandemic propagation in which we all find ourselves trapped. Many of you immediately responded and I thank you so much for that. But more responses are needed…
See more on our COVID-19 Survey…
Lately, coronavirus COVID-19 has dominated our coverage with a story here and another one here. Strata-gee has received random pieces of feedback from many in the industry on the impact of the market disruption due to the rapidly expanding COVID-19 pandemic. The reactions I've been receiving were mixed, and so I decided to conduct a more formal search for data, which is why Strata-gee SYNCH subscribers received an invitation to participate in a survey on Monday.
Many of you sat down and filled out your responses immediately and we've gotten off to a really good start. But of course, the rule in statistics is that the more data points you have, the more accurate the results.
Please Fill Out Our Survey Now
For this reason, I am asking those of you who received the invitation but have not yet participated, to PLEASE take a few moments to complete this important survey. I have already heard from many in the industry who are VERY interested to learn what our readers are experiencing.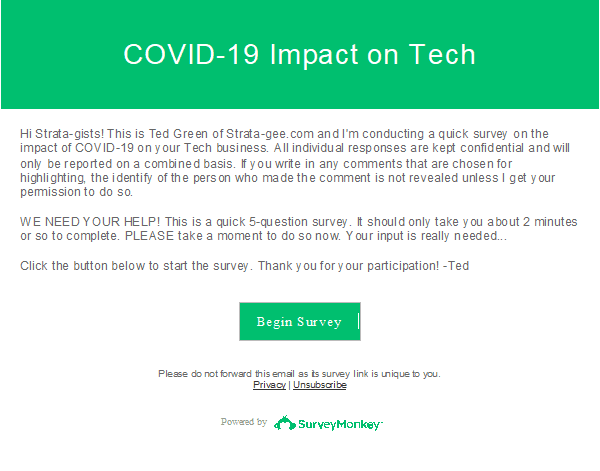 The entire survey is only five questions long – and most of them are multiple choice answers that you simply click off your responses. Answering the entire survey should only take a couple of minutes.
Time is Short, Results to Be Published Soon
There are also a couple of open-ended questions and I appreciate any extra effort you devote to providing a more complete description of the situation you are now experiencing.
Time is short – I hope to begin publishing a summary of the results later this week… All responses need to be submitted in the next day or two.
Not a Subscriber But Want to Participate?
If you are not currently a subscriber but would also like to participate, just send me your email address, name, and company name to info@strata-gee.com and I'll get you an invitation.