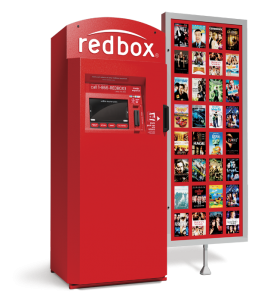 Outerwall, Inc. (f/k/a Coinstar), owner of Redbox – the national video rental kiosk powerhouse – made several surprising announcements on Tuesday that suggest the company is dealing with some serious business issues. First, the company announced that Redbox division president, Anne Saunders, has left the company. And second, the company said that it would make significant cuts to its staff…and to other projects.
How significant did Outerwall say the staff and project cuts would be? See more below…
There is a bit of irony in this situation, given the fact that Redbox's success was one of the primary factors for the ultimate demise of the Blockbuster Video chain. Redbox's ubiquitous automated video kiosks rented the same videos as Blockbuster – but for much less money. Blockbuster rushed to get their own kiosk out – but it was too late and the company collapsed.
Now Redbox appears to find themselves in a bit of a spot as well. In a kind of worms-birds-cats scenario, the Netflix cat is eating the Redbox bird (which had previously eaten the Blockbuster worm). And in a kind of echo of Blockbuster, Redbox set up a fledgling streaming service…but so far, it hasn't made a dent in the dominant Netflix's business.
No reason given…
Outerwall – which receives 80% of its revenues from Redbox – gave no reason for the exit of the division's president…saying only that it expected to fill the position within a few months. But at the same time, the company said it would cut company employment by a substantial 8.5%.
These staff cuts work out to the elimination of 251 employees. The company said the cuts will save it about $22 million annually – starting in 2014. Outerwall management said that it will take a $5 million pre-tax charge against earnings to provide for these staff cutbacks.
But wait…there's more!…
But the company had yet another surprise – the discontinuation of three previously announced major new ventures: Rubi coffee kiosks, Crisp Market food kiosks and Star Studio kiosks. Particuarly in the case of the Rubi kiosks – the company had announced in June 2012 its intentions to sell Starbucks Corp.'s Seattle's Best Coffee and roll out 500 kiosks by the end of this year.
But now Rubi, like the other kiosk ventures, has been cancelled. The company said it would take a $26 million – to – $29 million charge against fourth quarter earnings to provide for the discontinuation of these three ventures.
It wasn't all bad news, however. The company revised its estimate for year end profits, raising them from the previously forecast $4.89-$5.04 to $5.44-$5.59 per share. According to Thomson Reuters I/B/E/S analysts were expecting the company to book profits of $4.85 per share.