BREAKING NEWS
After only a little more than one year in operation, AudioXperts – a new specialty brand of audio electronics targeted at the luxury consumer market – has closed down operations. According to AudioXperts President Eli Harary, the company was forced to shut down last Friday after a key investor stopped all funding.
See more details on this startling development from a new and innovative company…
We met with AudioXperts at the CEDIA Expo last month to do a follow-up story conceived as a "one year later" retrospective – contrasted to our original profile of the company in August 2012. AudioXperts was at Expo proudly displaying their entire line and even showing a couple of new products – one, an extension to their well-received 4TV line of powered speakers; and the other a new line of products called VIEWS targeted at the commercial space.
But right after the show, we began to hear troubling rumors about AudioXperts. Over the last couple of weeks, these rumors have accelerated – leading us to reach out to Harary who told us that there was a major announcement imminent – without indicating just exactly what that announcement was.
Troubling rumors confirmed…
Now, a few weeks later, we learn from Harary that, as of last Friday, the company is no longer operating. This unexpected news, which seems to confirm the essence of the rumors we had heard, still hit us as a surprise nonetheless.
At this past CEDIA Expo in September, Harary had revealed to us that the company had struggled with growing pains – particularly with product delivery issues in its first year. Those product delivery issues had caused the company to struggle with their roll-out, especially in the U.S. Ironically, the company has had greater success in other parts of the world, such as Europe and Asia, where a more enthusiastic market adoption for their initial 4TV line overshadowed delivery issues on other models.
Late to the party, by many months…
Harary told us at CEDIA that their EVA and Korners lines were just now rolling out during August/September in the U.S. – many months later than initially expected. The 4TV products, which were the first AudioXperts products to ship, had been the company's only model in the market for months. This scheduling was clearly not in line with their original plan.
"We just didn't deliver enough products to build momentum," Harary told us at CEDIA in reviewing where the company was at so far this year. "It's kind of hard to build momentum on a new brand with only one product."
Even though Harary had disarmed us with his honest admission of first-year challenges at the CEDIA Expo – we were left with the impression that the worst of their issues were behind them at that point. Like a proud father showing off his new baby, Harary beamed as he showed us their new 4TV model and new VIEWS on-wall speaker line on the Expo show floor. VIEWS, in particular, was a focus for AudioXperts, as he said the line would surly expand the brands' appeal in the U.S.
But almost as soon as the Expo wrapped up, we began hearing rumors of dramatic changes taking place within the organization. Specifically, we learned that the company was quickly cutting staff.
What happened?…
This week, Harary helped set the record straight about what had happened. The core of the issue centers around the company that Harary had partnered with to both fund the company – and, to build its products. While Harary declined to name the partner, he did tell us: "They are a major audio manufacturer that is based in Taiwan with factories in China."
According to Harary, not long after putting an agreement together with this partner, his contact within the company retired and new people became involved. In fact, he told us that the company went through a major management changeover that had a real impact on what would later transpire in this partnership.
Hitting the ceiling…
The deal he had put together with this design, engineering, manufacturing – and most importantly, financing – partner had an agreed-upon "investment ceiling" which represented the maximum amount of funds the company was willing to invest in establishing AudioXperts.
But Harary noted that with the many changes that took place internally at this partner, product manufacturing and delivery were very delayed.  And even when those late products were finally delivered, they required much more reworking for quality and software issues, than was originally anticipated.
Investment cut-off…
"My partner concluded that the delay in the products, and the money being spent during that delay of products, had no impact on what the agreed-upon [investment] ceiling was," Harary lamented.
Translation: delays notwithstanding, there was to be no additional investment beyond that which they had already committed. But, Harary noted, the delay in product deliveries resulted in lower revenues being generated than expected – the company needed more money to keep operations going while they continued to attempt to build revenues. Something had to give…
"I'm calling you to let you know that as of Friday [October 11th], AudioXperts is closed," Harary said.
Surprising…and disappointing…
The news to us was surprising…and disappointing. AudioXperts had proposed, correctly we think, that there is a luxury customer who wants excellent sounding products, with luxury appointments as far as design is concerned, that is not being adequately addressed by existing products from existing brands.
This customer is not an audiophile, so to speak – but one who appreciates better audio performance in a more attractive package. For example, someone who buys a BMW or a Porsche is not necessarily an accomplished automotive engineer – they just appreciate the enhanced drivability and high-end interior of the luxury vehicle.
In our industry, we typically devote our greatest engineering to our high-end products. But many traditional manufacturers assume this customer is an audiophile – so we hand them a product that looks like the cockpit of a 747 – with a dizzying array of dials, buttons, and switches to operate. The customer has to adjust to the product – often after reading a 200-page operating manual.

Took a different path…
AudioXperts attempted to take a different path, offering products that were peak performing as far as audio quality is concerned. But these products were beautifully designed to fit a luxury environment and – most importantly – were easy to operate. There was an elegance in their simplicity as they are designed to work with the customer – rather than the other way around.
We considered this company fresh and exciting and were following their developments closely. They were clearly not another line of "me-too" products, preferring instead to create fresh approaches to appeal to new consumers. Unfortunately, the decision to close means that the new luxury market identified and defined by AudioXperts will remain unaddressed.
"Clearly this is a very difficult announcement for me," Harary said, in a somewhat halting voice. "I've pretty much put my heart and soul into AudioXperts for the last two-and-a-half years and it's a highly disappointing announcement. It's a really sad thing."
Putting support resources in place…
With the decision now made, Harary is focusing on making sure that all customers who have already purchased AudioXperts products will be fully supported for years to come. Harary is now in the process of putting the necessary resources in place to provide this support.
"The biggest concern to me – for weeks and weeks – about this whole thing, was [not] hurting any of my relationships," Harary told us earnestly. "The people that gave me an opportunity…to buy the first AudioXperts products, are friends of mine that I've had for twenty, thirty, in some cases forty years. And that, in my career in this industry, that has always been of primary importance to me."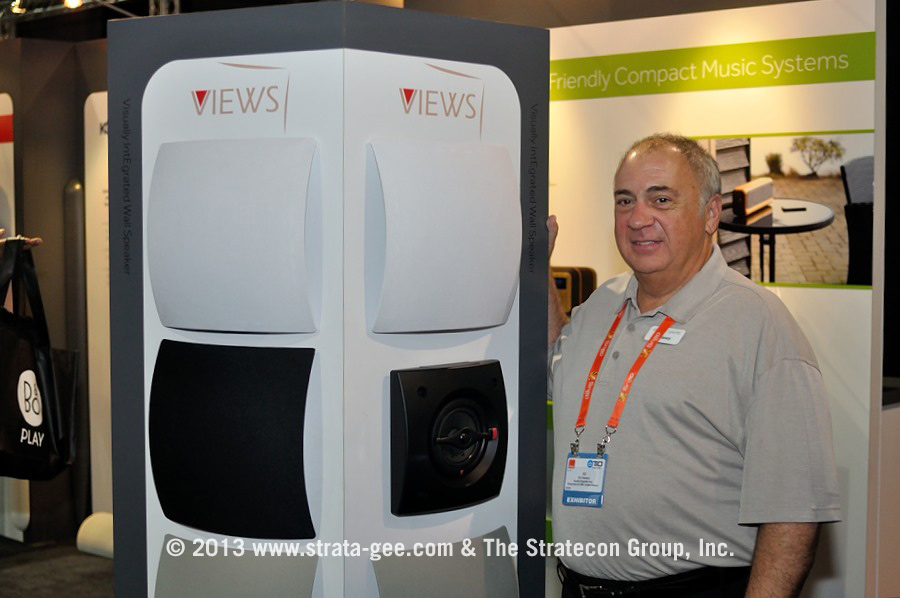 Parts and service for uninterrupted technical support…
Harary assured us that there are ample parts to provide for any future repairs. A national service center with trained technical staff is being set up that will continue to provide warranty repairs on AudioXperts products for years to come.
AudioXperts will have a similar arrangement set up in China to handle support for all of Asia. Harary also told us that he is close to finalizing an arrangement with a company in Germany who will support AudioXperts products for all of Europe – again, for years to come.
Support for U.S. dealers…
Back here in the U.S. the company is also prepared to offer dealers additional inventory to balance out their store stock at very attractive pricing. While not everybody is "whole" at this point, Harary assures us AudioXperts is ready to get them there.
Beyond that, Harary told us that sometime in mid-2014 he personally will be looking to "re-invent and re-evolve" his GEM CE consulting company to look for other opportunities to continue to animate new products for other brands or his own brand.
For anyone with AudioXperts issues, contact AudioXperts at: (845) 765-8547. You can also contact Harary direct at eli@audioxperts.com…or eli@gem-ce.com.
You can see more about AudioXperts at: www.audioxperts.com.