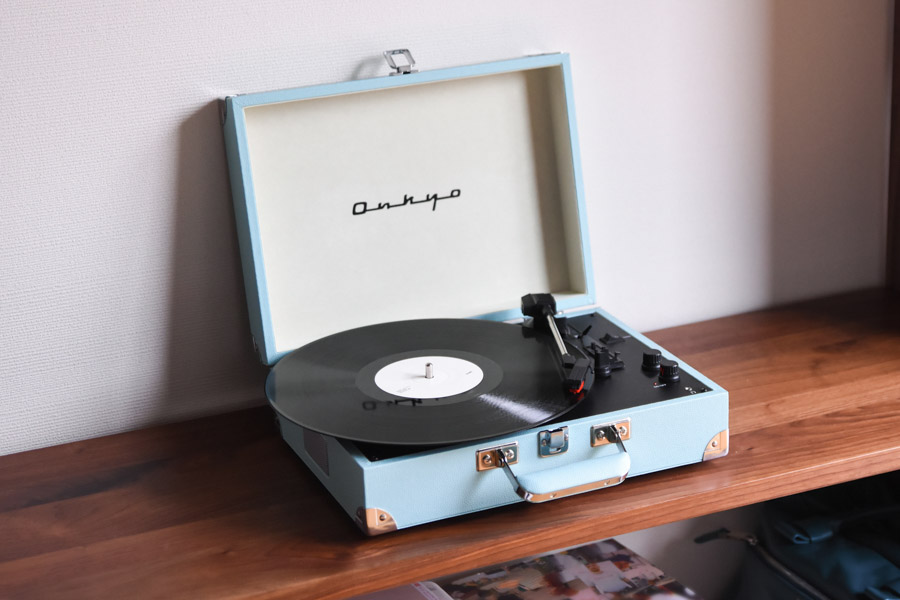 I recently told you that the Onkyo & VOXX/Sharp deal has been delayed from a firm May 20th date to sign a definitive agreement, to a more hazy "sometime" in late May, according to an announcement released by Onkyo to investors in Japan. At the same time the company put that announcement out, they also released the final numbers for their fiscal 2021 results – the fiscal year ending March 31, 2021. The only way I can characterize these numbers is to say that they are…in a word…stunning.
See the Onkyo results for fiscal 2021…
In November 2020, I told you that Onkyo had acknowledged that they were in insolvent (have a negative net worth) for their 2020 fiscal year, a situation where they find themselves with more bills due than they have the money to pay them. As I noted in that post, this does not mean that they are bankrupt, but it does mean that they are definitely in a bind.
As a result of that declaration of insolvency, this meant that the company was technically in violation of the Tokyo Stock Exchange's (TSE) rules that require all listed companies to maintain a positive net worth. Accordingly, Onkyo was given one year to "cure" the situation and return to a positive net worth. If they failed to achieve that, then a process would be invoked by the TSE that would result in the company's stock being delisted – or removed from the exchange.
Another Major Deal Falling Through Kept the Company Insolvent
As fiscal 2021 came to a close, and after tremendous effort involving pursuing a major debt-for-equity deal with one or more international equity companies that ultimately failed, Onkyo was forced once again to say their forecasts for 2021 show that the company remains insolvent. And even though this was based on a forecast, the TSE began the process to delist the company – a procedure that would take a few months to complete.
Now, Onkyo has finalized their numbers – confirming the state of their situation. Frankly, these numbers were stunning, worse than I had expected. It is a truly remarkable fall from grace for a once great and leading electronics supplier that has been a major influence on the audio industry.
Global Sales Drop Nearly 60%
In reporting their consolidated financial results for fiscal year 2021 – the fiscal year that ended March 31, 2021 – the company noted that total global sales had come in at just ¥8.9 billion ($81.6 million) or nearly 60% below the sales of ¥21.8 billion ($200.4 million) in fiscal 2020. (See the graph below showing Sales, Operating Profit/Loss, Ordinary Income/Loss and Net Income/Loss.) Just four years ago, the company's global sales were well over $500 million.
Operating profit and loss from global operations came in at ¥3.9 billion ($36.3 million), or almost $13 million better than the operating loss of ¥5.4 billion ($49.1 million) the previous year. Net income also showed a positive trend, coming in at ¥5.9 billion ($54.2 million), much lower than the loss of ¥9.9 billion ($90.1 million) in fiscal 2020. The company has worked very hard to lower their cost structure and as a result, all of their losses (except in their OEM division which I talk about below) were reduced substantially.
However, the stunning drop in sales will be extremely hard to turn around, and it is not clear that this business model is sustainable.
Segment Breakdown Reveals Home AV Biz Hardest Hit
In a breakdown of the company's results by business unit, we find that their largest category, Home AV, was the hardest hit segment. The Home AV segment (see "Cumulative Segment Status" graph below) sales dropped more than 70% to global audio sales of just $31.8 million – way below the $106.7 million booked in the category just last year.
In bullet points included to help explain their numbers, the company noted that while they had "focused on high value-added products such as installation business for housing manufacturers," their struggles with "continued delays in payment of duties" caused "production …to be reduced or stopped." This created a situation where customers' orders were not able to be filled and "sales opportunities were lost and sales decreased."

The Digital Life segment was the next most-impacted unit with global sales declining from $33.7 million in 2020 to just $15.3 million this year. That is a 54.6% decline in segment sales – from a segment that the company had hoped would help lead their business to new heights.
In this segment, the company noted that they had some sales wins with their line of anime themed wireless earbuds and even their Klipsch wireless headphones. But again, their production difficulties, including coronavirus shutdowns with "consignment factories" and because of "delays in payment of operating debt," sales declined and the segment experienced a loss.
Onkyo's OEM Segment was a Good News/Bad News Situation
Finally, the recently restarted OEM segment was hit hard as well. Timing in life is everything, and clearly this was a tough time to try and restart a business that had been shut down years ago. Global sales came in at $34.6 million or 42.7% lower than the sales of $60.4 million registered in fiscal 2020. Ironically, since the decline in this division was less than that of others, it is now the company's largest segment.

Onkyo says that the OEM division suffered due to the impact of COVID-19 on the global automobile business. Along with this, the difficulty of factory shutdowns due to the pandemic was a factor as well. Perhaps because it was a new division ramping up, I noted that it was the only part of the company that saw its profits decline from a $2.5 million loss in 2020 to a little over a $6 million loss in 2021.
Structural Reforms Improved Profit Leverage, Resulting in Reduced Losses
The company makes much out of the profit improvement that resulted from their "structural reforms" over the last year. By closing local sales divisions and outsourcing sales to third-party distributors, Onkyo could cut headcount and dramatically improve their operating expenses. By lowering their overhead, they are able to better leverage operations.
Of course, in this case, what the company deems to be a profit improvement is really just a reduction of losses. Still, they are right to take credit for the fact that "general and administrative expenses have decreased significantly."
Other New Growth Opportunities – Onkyo Classic Series OCP-1
To show how they planned to turn things around and get back to growth, Onkyo outlined several new business opportunities outside of their existing segments that they believe offer the company lots of opportunity for future growth. To my eye, many of these look as though they may take years of groundwork before they present a reasonable level of growth, while others seem more oriented to the domestic market in Japan. I'm skeptical. Still, I'll share some of them with you here and you can draw your own conclusions.
The first two I'll mention are especially unique, as the company has chosen the crowdfunding route to get them launched. First up – the Onkyo Classic Series…the company is going retro! Onkyo's new Classic Series is launched with its first product, a portable record player designated the OCP-1. Looking like something out of the 50s or 60s, the company was definitely making a nostalgia play – even changing the company logo to give it a 50s look.
Onkyo OCP-1 Record Player: Three Colors, Three Speeds…and Bluetooth to Boot!
In one handy carrying case, you have the record player, amplifier and stereo speaker. It is pretty much what you would expect from a record player of the time, including three speeds – 33 1/3 rpm, 45 rpm, and 78 rpm, and simple operation. The company has added some updated touches, however. For example, the tonearm has a lift & drop lever like a better turntable, there is a pitch or speed control on the belt-driven drive motor, it automatically shuts off at the end of the record, and it has Bluetooth built-in so you can stream music from your smartphone through the system.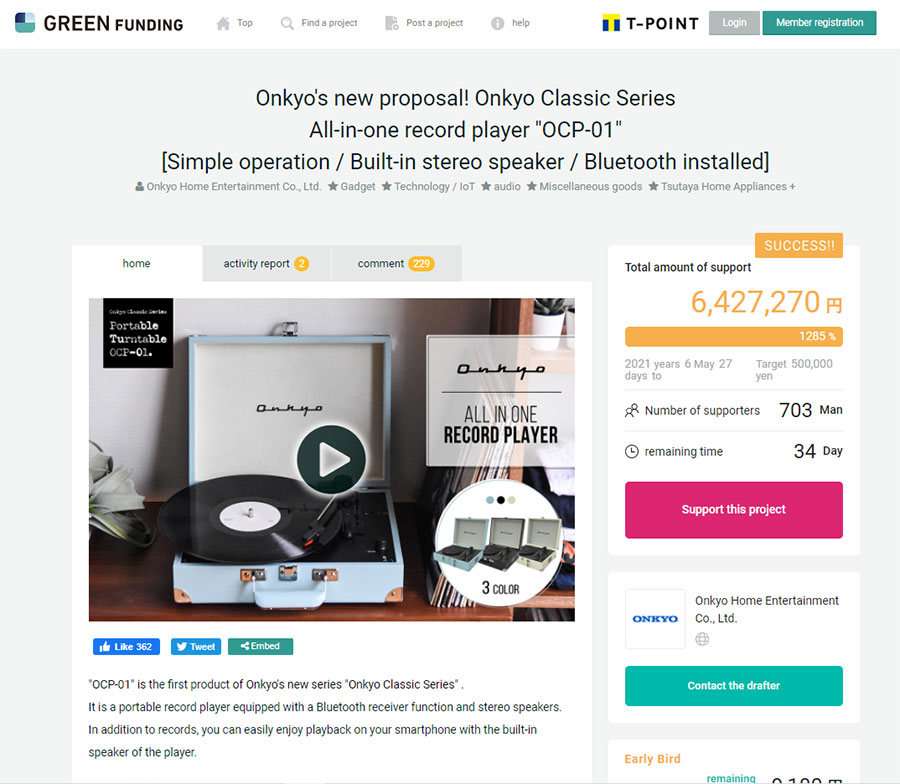 The OCP-1 also features an auxiliary input and RCA stereo outputs. It is offered on the GREEN Funding crowdfunding website in Japan and the company has already sold a little over 700 units worth about $60,000 in sales. It is offered in three colors – Mystic Black, Sonic Blue, and Vintage White. The "early bird" price is just ¥9,180 (a little over $84). After July 2021, the price increases to ¥9,580 ($88).
Other New Growth Opportunities – Sound Sphere WiSA Wireless 5.1-ch. Home Theater Speaker System
Next up is the Sound Sphere – a wireless, up to 5.1-channel home theater speaker solution. Onkyo says it is the first such system introduced in Japan based on WiSA technology for "low delay and high sound quality." Fully compatible with Dolby ATMOS surround technology, the company assures consumers, "We will further upgrade your daily video viewing…" turning your home into "a movie theater, a live venue, and a stadium."

The company is offering the system in three configurations: a 2.1-ch version, a 3.1-ch version, and a 5.1-ch version. Their listing on GREEN Funding website extolls the WiSA technology's low latency, uncompressed files, and high sound quality. Users can conveniently control it via a special available app.
Very, Very Compact Speaker Design; 5.1-Channel Configuration Sold Out
These are very compact speakers. The front speakers (which are the same you buy for the rear speakers) features a 7.6cm woofer and a 2 cm tweeter with a 30-watt amplifier built-in. The center speaker uses 2-7.6cm woofers horizontally configured and the picture shows a 2 cm tweeter although the text doesn't mention it. The center channel has a 50-watt amplifier built-in. The subwoofer uses a 16.5 cm woofer and comes with a 150 watt amplifier inside.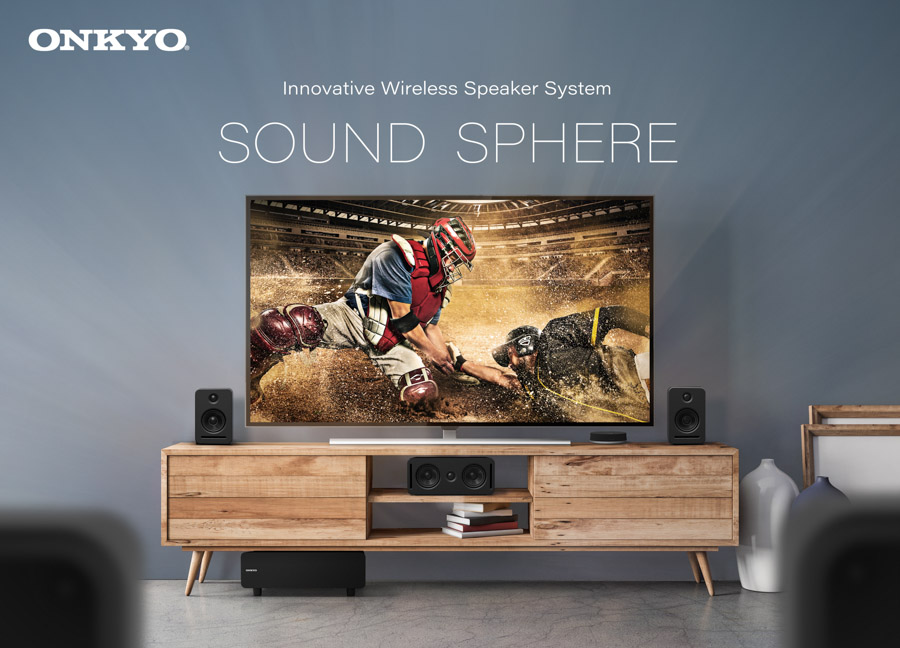 Onkyo also offers optional floor standing speaker stands.
In scanning the "support" options, it appears that the 5.1 channel theater configuration is the most popular, with most of the lots offered at a discount completely sold out. Prices were based on when you committed your support and if you wanted one today, you'll pay at least ¥97,800 (just under $900).
The company had hoped to receive ¥5 million in funding commitments. However, it received total commitments of over ¥105 million ($965,000) with almost 1,500 units sold.
Other New Growth Opportunities – Sake…'Matured by Onkyo'
Onkyo, it seems, is entering the value-added alcohol distillery business producing Sake. For those who are unfamiliar with the drink, Sake is a Japanese alcoholic beverage that is made from fermented rice. Some people call it Japanese beer, others compare it to wine – either way, it is an extremely popular drink in Japan.
So what is Onkyo's value-add in the Sake venture? In a joint venture with the Japan Century Symphony Orchestra and Daisai (the distiller, I think), Onkyo infuses the Sake with…are you ready for this…music. Using its "Vibtone" technology, which I believe to be some type of electro-mechanical transducer, the company mounts several of these devices to the fermentation barrels and piped music – specifically, migaki~ the company says – as the Sake fermented.

The resulting musically-infused Sake was then bottled and sold at a music festival where the orchestra was performing the same piece. The company is looking for other similar opportunities such as this.
Other New Growth Opportunities – Anime Sound & Apparel Collection
The company plans to launch multiple licensing tie-ins with popular anime characters. Anime – animation characters and media – is huge in Japan and getting bigger around the world. Onkyo believes that there is a strong connection between this visual art and the art of "sound."
Mostly their efforts so far have been employed via the graphics of certain popular anime characters that are reproduced on earbuds or headphones. However the company has indicated that they will also be getting into the anime influenced apparel business with what they call the "en.365°" brand.
Onkyo also will have a special store in the Akihabara – a large retail center in Tokyo that is renowned for the amount of technology products sold there. And now perhaps, anime products sold there will be the new buzz.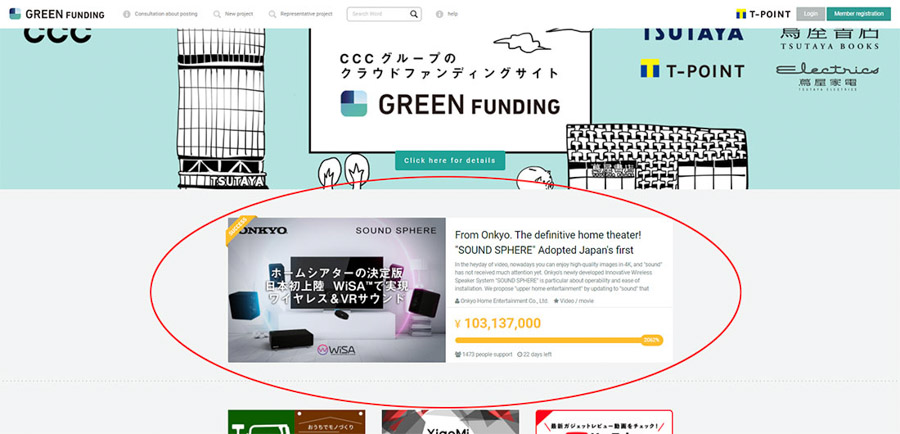 Other New Growth Opportunities – Infrastructure Collaboration with Kyoto University
Onkyo says that they are now engaged in a joint research project with the Structural Mechanics Laboratory of Kyoto University studying the use of sensors to predict impending failure of various infrastructure, such as bridges, tunnels, roadways, and the such. The research is attempting to verify the accuracy of results to see if this concept is viable.
While not a lot of details were provided, the study is apparently based on using vibration sensors with audio technology to determine weaknesses or vulnerabilities in aging infrastructure. The idea is to find scientific ways to gauge the condition of of the aging process of the item being tested. Sensors are placed at critical junctures, such as joints or other intermediate points, and the goal is to detect cracks or depressions in variance to the original build.
So there you have it – the company's plans to drive future growth. What do you think? Have they identified solid prospects? Let me know in the comments below.
See more about Onkyo by visiting: onkyousa.com.