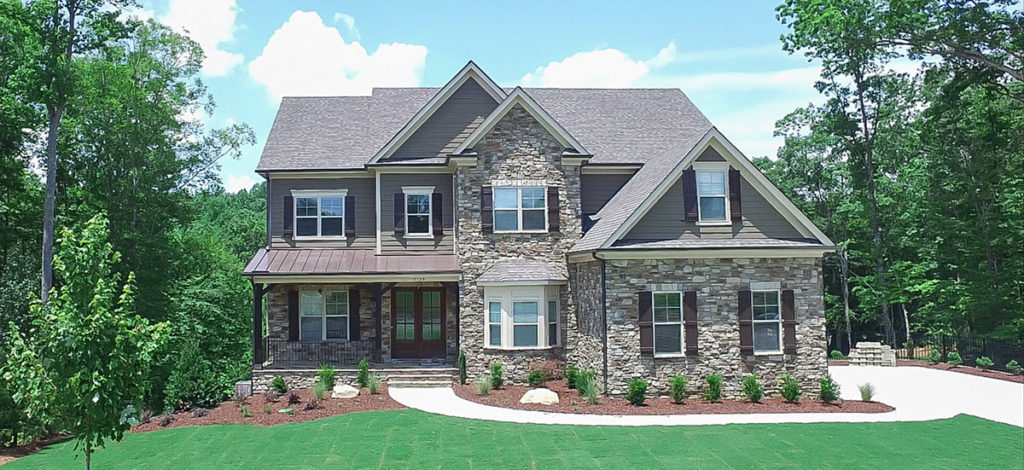 For the last couple of months, I've reported that residential construction – commonly known as housing starts (as in starting construction) – have returned mixed results, suggesting the housing industry recovery was potentially stalling. Now, in new data from the U.S. Department of Commerce, we see that housing construction began a more durable return to growth.
Learn more about the October housing starts data…
Longtime Strata-gee readers know that I follow residential construction data fairly closely, as I believe it to be a fairly reliable indicator of future growth for the Tech industry. Quite simply, once a house is built and sold, there's a family looking to turn that house into a home by adding all sorts of products, such as furniture, appliances, and certainly…technology.
And especially now, in the 2020 Age of COVID, where consumers are spending more time in their homes than ever before, with many forced to work from home (WFH) or learn from home (LFH), technology has taken on even greater significance in today's world.
Housing Starts Resume Their Climb in October
In October, the government is reporting that overall construction starts of both single-family and multi-family residences combined came in at a rate of 1,530,000 units. This rate is 4.9% higher than the September rate of 1,459,000 units – and an impressive 14.2% above the 1,340,000 rate in October 2019. This is a nice rebound for the overall figure, which for the last two months had stagnated as construction of multi-family units dropped off.
Single-family housing starts – a statistic I think is most directly connected to the residential technology business – also showed growth, coming in at a rate of 1,179,000 units on a seasonally adjusted annual basis. This rate is 6.4% above the September figure of 1,108,000 – and is a stunning 29.4% higher than the 911,000 rate in October 2019. It is also the highest rate of single-family construction starts since April 2007, Reuters says.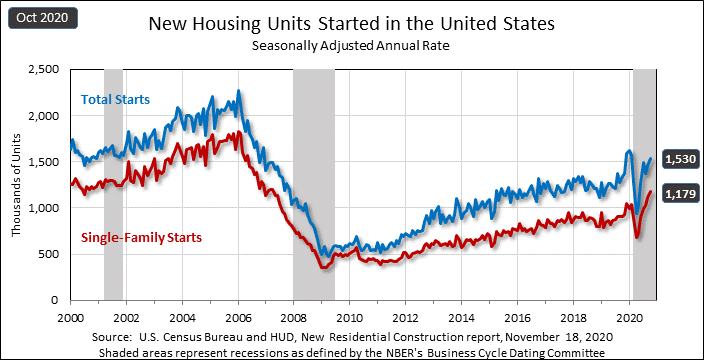 Regional Breakdowns Show a Shift to the South & West
On a regional basis for single-family construction starts, we see the best performing region was the Midwest which saw a +22.0% explosion in new housing starts. The poorest performing region was the Northeast, which saw its single-family starts drop -17.9%.
The South and inland and mountain regions of the West are seeing a huge influx of residents from the large metro areas in the Northeast and West Coast. Just over 80% of all single-family homes built over the past year have been in the South or West, which means that construction can continue at a much higher pace during the winter months than in prior years."

Mark Vitner, Wells Fargo senior economist in Charlotte, NC told Reuters
Likewise, the regional breakdown for overall starts (adding multi-family residences back in the numbers), we see the best performing region is the South with +12.9% growth in overall residential construction…while the worst region, once again, is the Northeast with a dismal -38.6% drop in October overall construction.
October Results Were Well Above Economist Estimates
In a poll of economists by the Reuters news agency, they projected housing starts for October to come in at 1,460,000 units, which means the initial number of 1,530,000 came in well over this rate. Reuters suggested that the motor driving the housing market is the continued historic low mortgage rates. Still others believe that consumers are fleeing metro markets in favor of more suburban locations where they get more land and space for their dollar, with larger homes to accomodate the new WFH/LFH lifestyle of today.
Even so, Reuters warns, with the U.S. now averaging more than 100,000 new COVID cases a day, the economy is once again threatened by the strong resurgence of this difficult pandemic.
Looking out further ahead, building permits issued in October – an indicator of future construction – at 1,545,000 was up just 1.3%, or as the Commerce Department put it, "virtually unchanged," compared to September. However, this rate is a the highest rate of permits issued since 2007.