As regular Strata-gee readers know, I follow basic economic data for our readers. Not all economic data, just that data I feel are germane to the custom integration and consumer electronics industries. Normally, that is a fairly sane and sedate task – but lately, it has gotten a bit crazy, with wild up/down swings the likes of which I haven't seen since the last great recession. Take housing starts, for example…
See the latest data on housing starts…
One of the key drivers of the custom integration business is residential construction, or housing starts. When a house is built and then sold, the buyer seeks to turn that empty shell of a house…into a home. Which means that Mr. and Mrs. House Buyer will buy lots of products, such as furniture, appliances and technology, to facilitate that conversion.
The last major recession of 2007-2009 was largely led first by a drop in consumer demand for housing. Housing, a major component of the U.S. economy, impacts many related industries…and so like dominoes, they all began to fall.
For this reason, I keep a close watch on on the data on residential construction, as it is often serves as the 'canary in the coal mine' for the greater economy as a whole. Generally, these numbers trend slowly over time. But lately, economic data has been swinging wildly.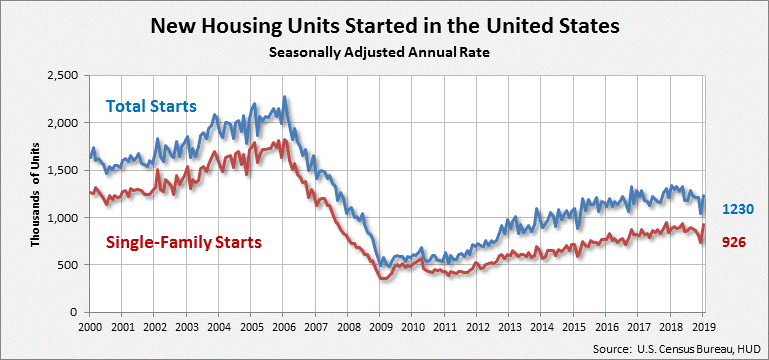 Job Growth Volatility
I first noticed this dramatic change in volatility in recent data on job growth. A couple of months ago, we saw huge job growth, way more than economists had predicted. Then last month, it came crashing down, with job growth coming in well under economist's predictions.
Similarly, last month, I reported that housing starts had dropped double digits or by 11.2% to 1.08 million units on a seasonally adjusted annual rate basis. This was the lowest rate of starts since 2016, or more than two years ago. What you don't know is that after that report, the Census Bureau actually revised that rate down even further, to 1.037 million units.
Housing Starts Leap 18.6% Up
Then in January, housing starts apparently took a big leap with overall starts jumping 18.6% to 1.23 million units. While this is a big double-digit jump from the 1.037 million rate in December, it is still 7.8% below the rate in January 2018 of 1.334 million.
Single-family housing starts, the figure that most directly correlates to custom integration clients, took an even bigger jump, coming in at a seasonally adjusted annual rate of 926,000 units or 25.1% higher than the 740,000 units in December.
All Regions Show Increases for Single-Family Starts
On a regional basis, single-family starts increased in each of the Northeast, Midwest, South, and West tracked regions. On an overall basis (including multi-family construction), only the Midwest showed a 5.7% decline, all other regions increased, with the Northeast being the big winner with a 58.5% (!) increase in overall housing construction.
Still, these swings in the data seemed quite big. What the heck is going on here? Why such big swings, double-digits down…followed by double-digits up?
Note from Census Bureau Explains Volatility
Perhaps the answer lies in a special note included by the Census Bureau on this month's residential construction report:
Data collection and processing were delayed for this indicator release due to the lapse in federal funding from December 22, 2018 through January 25, 2019. While response rates were consistent with normal levels, delays in data collection could make it more difficult to determine exact start and completion dates. However, processing and data quality were monitored and no systematic issues were identified.

U.S. Department of Commerce, Census Bureau
So it appears that there may have been an impact by the recent government shutdown influencing the data collection process recently, which may explain the recent wild swings. These have hardly been normal times for many government agencies lately.
Single-Family Permits Decline
In any event, we should see this all shake out over time and more normal operations continue.
In the meantime, single-family construction permits issued in January declined 2.1% to 812,000 from December's rate of 829,000. Permits are a leading indicator and suggest housing construction starts will show declines based on this lower rate of issued permits.