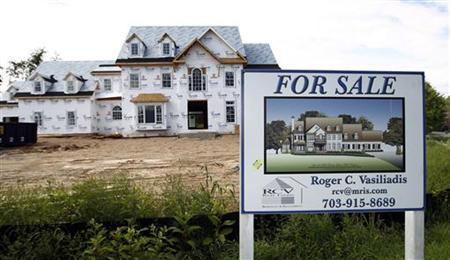 On Tuesday, the U.S. Department of Commerce released their latest report on residential construction for the month of September 2020. Like last month, the results on housing starts were mixed, with both good news for custom integrators and bad news for the overall industry – suggesting again that housing growth, while robust, is beginning to moderate.
See housing starts results for September…
According to this latest report from the Commerce Department, overall residential construction starts grew only modestly in September, coming in at 1,415,000 units or just 1.9% above the revised August rate of 1,388,000. By the way, the government made a major revision of their originally announced forecast for August, first reported at 1,416,000 or a 5% decline as Strata-gee reported last month – but had to drop it to 1,388,000 which meant the actual result was down 6.7% from the July result.
The September overall rate was up 11.1% as compared to the rate of 1,274,000 in September 2019. While this result looks a little better, keep in mind that economists had estimated that September would come in at 1,457,000 as housing has exploded with urban dwellers seeking to move to more suburban locations with more space for larger home offices and home schooling areas in the wake of the COVID-19 pandemic. So the 1,415,000 rate missed estimates of further growth momentum.
May Be a Further Revision
Ironically, this new report for overall starts in September is actually lower than the original report for August. So there's that to consider, as this number will likely be revised again…perhaps another downward revision as it was last month.
On the other hand, single-family home starts actually showed stronger growth, coming in at 1,108,000 or 8.5% above the revised August rate of 1,021,000. And this September reading is an impressive 22.3% over the 906,000 unit reading in September 2019.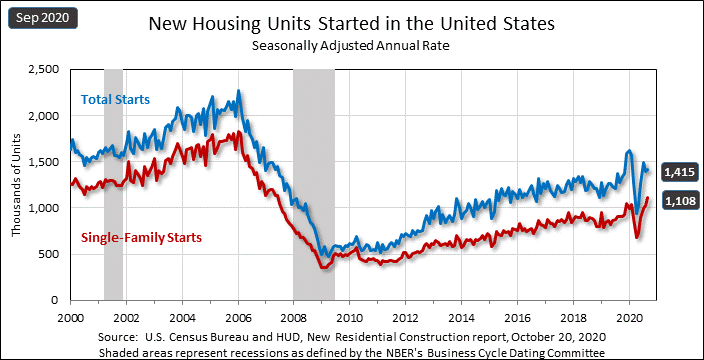 Single-Family Starts Show Some Momentum
This September's growth in single-family starts is actually more than twice as robust as the 4.1% growth last month, so this may indicate some growing momentum for single family homes. This news is a positive sign for integrators, as newly constructed houses generally require a lot of technology to be turned into a family home. Again, this stronger single-family result is likely due to the urban flight/suburban move, along with the historically low mortgage interest rates.
Clearly, housing is one of the businesses currently benefitting from the impact of COVID-19 and even if this growth is moderating, it is still better than the set of circumstances faced by many other industries, such as commercial real estate, restaurants, air travel, and hotels.
Sept. Regional Results; Outlook for Future Activity
On a regional basis, September starts breakdown as follows for overall/single-family: Northeast 66.7%/20.7%…Midwest -32.7%/-16.4%…South 6.2%/17.7%…and West 1.4%/1.6%.
Looking forward, building permits issued in September – a leading indicator of future construction – grew 5.2% in overall construction to a rate of 1,553,000…and 7.8% to 1,119,000 for single-family homes.