On Monday, Premium Audio Company (PAC) announced the launch of the Onkyo TX-RZ70, a flagship audio-video receiver that the company says provides "stellar audio performance" along with "studio-level processing." As a "flagship," by definition, this model is at the top of the Onkyo AVR line-up and is being launched just three-and-a-half weeks after the launch of Integra's flagship model, the DRX-8.4.
See more on this top Onkyo AVR
As a flagship – and as you might suspect – the new Onkyo TX-RZ70 has pretty much everything and the kitchen sink thrown in. Saying the RZ70 is targeted at music lovers, home theater enthusiasts, and gaming fanatics alike, Onkyo says that they've packed this chassis with the technologies and features to meet – and exceed – all of those needs.
The RZ70 is a robust 11.2 channels of 140 watts/channel of room-shaking power and the company says it delivers "the ultimate home entertainment experiences." I have to say that the language of this announcement seems quite similar to the previously announced AVR from sister-brand – the Integra DRX-8.4. PAC even calls the RZ70 a "Premium Audio Video Receiver" which may confuse the market a little, as in the past Integra has traditionally been marketed as the premium brand.
Getting in the 'Zone'; THX Certification
It offers a set two-zone capability, and an additional set of the "height" speakers can be repurposed to use as a zone 3 if you so desire. Keep in mind there are a total of 11 powered channels, so you may need to do some planning to decide on just how you want to divvy those up amongst the more than 11 available output options.
This AVR is THX Certified and supports HDMI 2.1, 8K/4K resolution, HDCP 2.3, Dolby Vision, HDR10+, and 40GPS speeds with full bandwidth functionality for fast refresh performance. Also included are all the latest major surround modes such as Dolby Atmos, DTS: X, Neural: X, IMAX Enhanced, and Auro-3D (via a firmware update in June 2023).
Premium ESS Sabre DACs; Dirac Room Correction
PAC says the RZ70 features a Klipsch Optimized Mode for peak performance with compatible, presumably Klipsch, hi-fi speakers. For those who don't know, Premium Audio Company is a division of VOXX Int'l, which also happens to own Klipsch.
As they touted on their Integra announcement, the company says the RZ70 employs premium ESS Sabre DACs for "unprecedented dynamic[s] and ultra-low distortion." And, again as on the Integra DRX-8.4, this Onkyo model also includes Dirac Live Room Correction Full Bandwidth to automate, optimize, and adjust the sound performance based on the acoustics of your room. Onkyo also offers an optional upgrade to Dirac Live Bass Control which adds machine learning and AI to quickly determine the optimal settings.
The flagship Onkyo TX-RZ70 AVR is one of the first projects our PAC product development team has worked on with the existing Onkyo engineering team and represents a new standard of performance in its class.

Rob Standley, Premium Audio Company SVP of Global Brands – Elite, Pioneer, Integra, and Onkyo
A Streamer's Dream; Massive Connectivity
The RZ70 is also a streamer's dream, with Chromecast built-in, AirPlay 2, Spotify, Amazon Music HD, Tidal, Deezer, Pandora, and TuneIn all built-in. It is even Roon Ready (via a firmware update sometime in 2023).
Connecting to this AVR is easy, for those of you who are wired, there is a readily available Ethernet connection. But for the wild and wireless among you, the RZ70 has Wi-Fi and Bluetooth that features the Qualcomm aptX HD codec. Other connectivity: Let's just say that there are tons of connectivity including the all-important 7 HDMI inputs and 3 HDMI outputs (eARC) and more RCA inputs/outputs for preamp outputs, subwoofer outputs, and more. I lost count…
And, by the way, the RZ70 is fully conversant with whichever is your favorite digital assistant, whether Alexa, Google Assistant, or Siri.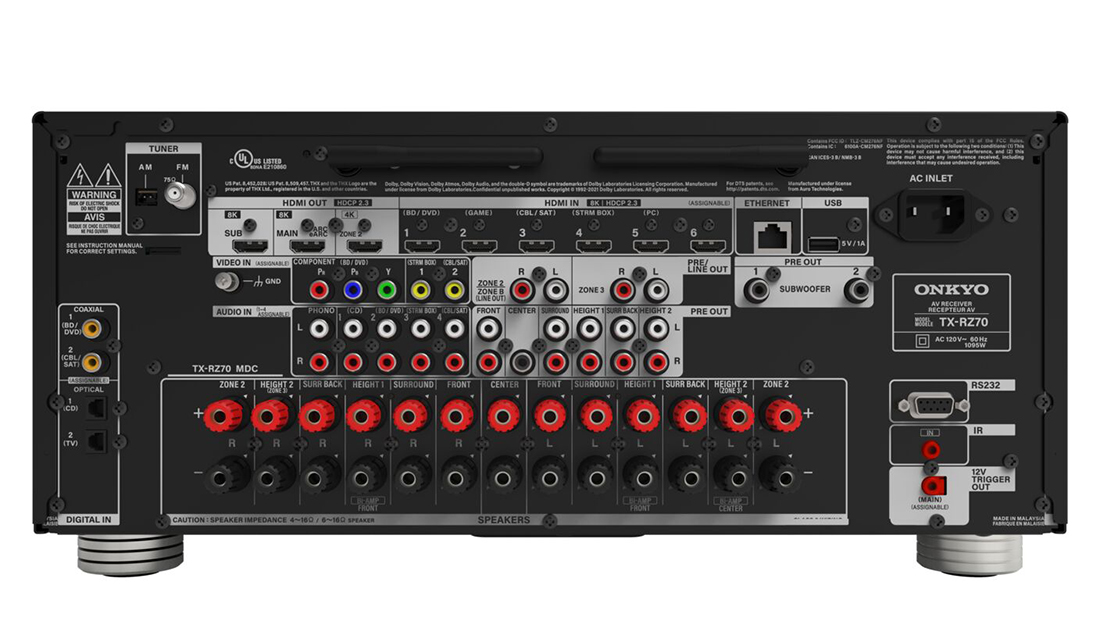 Onkyo Engineers Say, Don't Miss the Robustness of the Amplifier Section
I want to take just one more minute to highlight something that was not in the prepared materials, but appeared in a video created for a press presentation that featured Onkyo engineers discussing elements of the RZ70 they feel are important. What they highlighted was the robustness of the amplifier and power supply section of this AVR – a traditional Onkyo strength.
The power section of this AVR features a high-current capable amplifier that can handle anything your theater asks of it – even with wonky speaker impedance. They also noted a low negative feedback design and closed loop ground system. They used a shielded transformer for lower noise performance. They also pointed out that THX fully tested and certified this unit for cinema-level performance.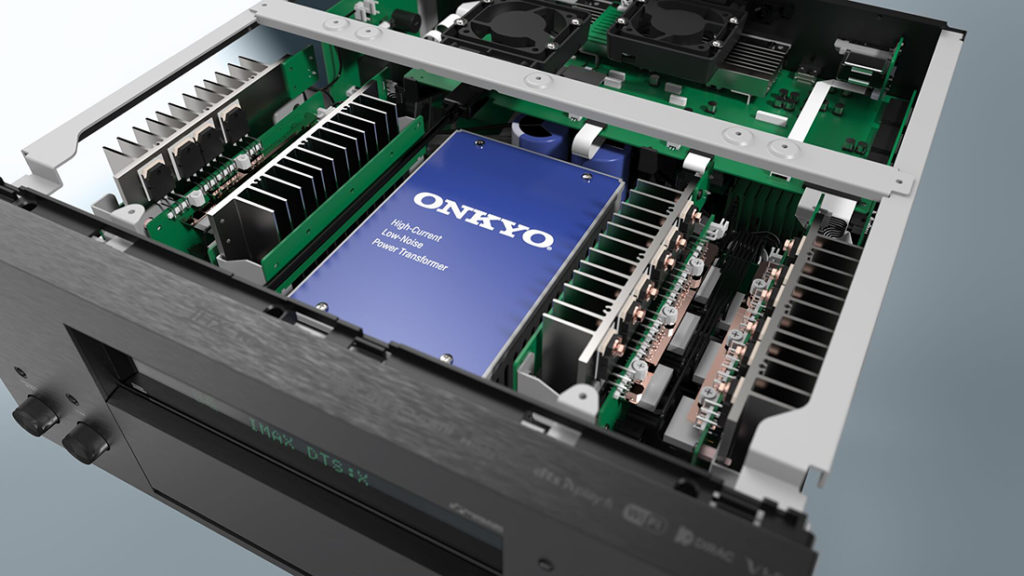 Pricing and Availability
PAC/Onkyo has set the price of the Onkyo TX-RZ70 at $2,799 (U.S. MAP – Minimum Advertised Price). The unit will be available in "Spring 2023" – so very soon – from Onkyousa.com, Curtchfield.com, and other authorized retailers.
For more information, visit onkyousa.com.