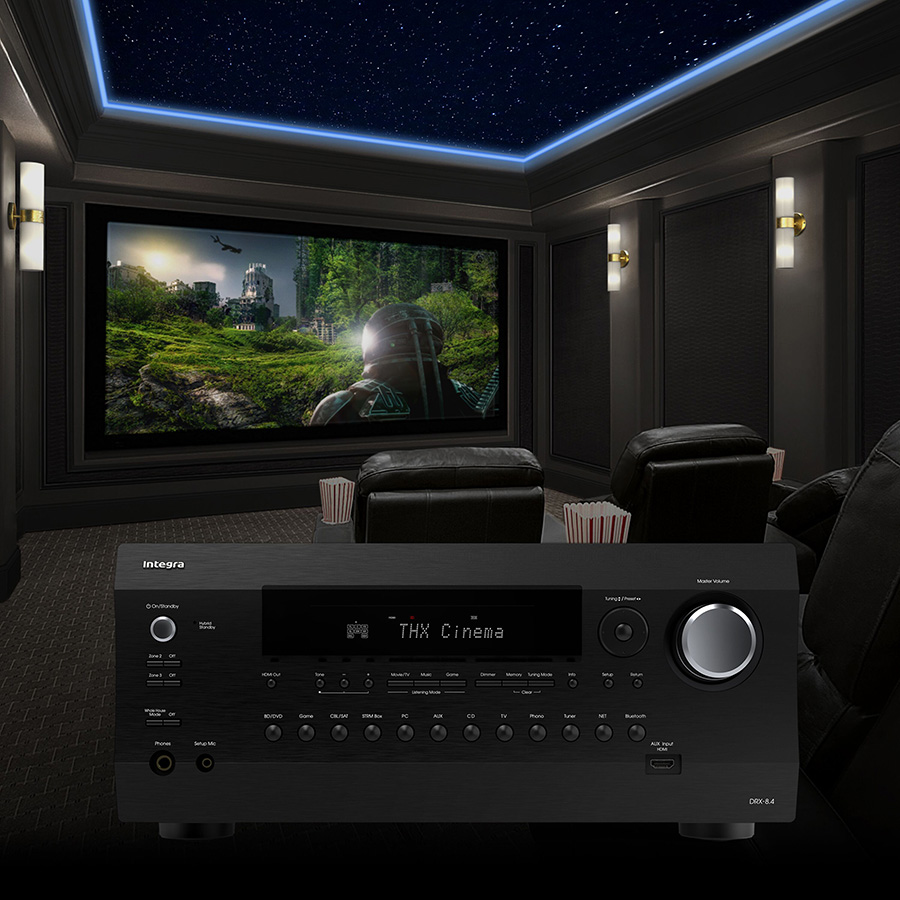 Premium Audio Company, a VOXX company, announced this week the launch of an all-new, deeply featured Integra flagship audio/video receiver (AVR) to cap its remarkable DRX line first introduced in 2021. The new DRX-8.4 offers 11 channels of 150 watts of Integra symmetric class AB room-shaking power. This unit is stuffed with all of the latest technology offering integrators an unprecedented level of flexibility and system control.
Learn all about the new Integra DRX-8.4 AVR
Throughout the history of audio, it seems as though products tended to break down into one of two groups – lots of technology and features stuffed into a so-so performance quality box…or super high-quality performance with a dearth of flexibility or technology. To some degree, audio/video receivers over the last few decades seemed stuck in these opposing camps.
Then Onkyo, broke the stalemate by inventing and launching the world's first over-$1,000 AVR – I know, I was there at the time. The company essentially created the flagship AVR category – a category that offered a balanced blend of both superior performance and the inclusion all of the latest technology, such as advanced surround modes.
Taking the Tradition to Greater Heights
By the looks of it, this latest Integra model carries that tradition to even greater heights. The company says the DRX-8.4 was created and built through "close working relationships with professional installers," and was "exhaustively tested." The goal was to push the leading edge of the premium AVR category by "tailoring holistic, end-to-end solutions for the premium lifestyle consumer" and the installing integrator.
I already mentioned the 11 channels of power, enough channels to set up a full 7.2.4 configuration out of the box. These channels are pumping out 150 watts of power (@8Ω, 20Hz-20kHz, 0.08% THD, 2-chs driven, FTC) based on a new design they call Integra symmetric class A/B amplifier. Also adding to the quality of the performance, the company is employing two precision 32-bit ESS ES9026PRO Hyperstream audiophile-grade DACs.
Flexibility on Top of Flexibility
The company notes it has packed in the most complete selection of integration software tools, as well as a massive amount of input/output connectivity, networking, room calibration, and more. They even built-in flexibility on top of flexibility. For example, there are two independent subwoofer channels plus two parallel outputs for greater connectivity convenience. And there are two XLR subwoofer outputs for even greater flexibility.
The DRX-8.4 contains a copious amount of connectivity. Besides all the usual suspects, Integra has included 11.4 channel RCA pre-outs, and XLR pre-outs for L/C/R/SW1/SW2. There is also a set of balanced XLR inputs.
Of course, you'll find a full slate of the latest surround mode options including Dolby Atmos, DTS:X, Auro-3D (via firmware update June '23), IMAX Enhanced, Dolby Atmos Music, and more.
Looks (as in Video) are Important Too
While this receiver sounds great, looks are important too – not to mention that video is critical to home theater performance…and here too, this AVR shines. The company says the DRX-8.4 incorporates newly designed HDMI 2.1 signal paths with six (6) 40Gbps inputs capable of 8K/60 and 4K/120. There are a total of 7 HDMI inputs/3 outputs & eARC. Also included is HDR10+, DolbyVision, HDR10, VRR, ALLM, and HDCP 2.3.
Included in the DRX-8.4 is wireless Dirac Live room calibration (full version), a popular tool for calibrating the system for the acoustics of any room. It also comes with an optional upgrade to Dirac Live Bass Control (Multi subwoofer) which incorporates machine learning and AI to quickly and accurately calculate ideal settings for any room layout.
Dreaming of Streaming? This is the AVR for You
For those dreaming of streaming, this is the AVR for you. The DRX-8.4 has Chromecast and AirPlay 2 built-in and supports Spotify, Amazon Music HD, Tidal, Deezer, Pandora, and TuneIn. It also works with Sonos Certified. Also included is bidirectional Bluetooth with a Bluetooth transmitter using the AptX HD codec for high-quality personal music listening.
Sure to delight music lovers, by the way, is that this AVR is also Roon Ready certified (with a firmware update June '23). This capability puts entire high-resolution music libraries right at your fingertips.
Could I Get a Little Help Here?
We could all use a little help sometimes. Well with the DRX-8.4 you get a lot of help via three built-in smart home assistants, including Josh.ai, Amazon Alexa, and Google Home. Ask and ye shall receive!
The company says that this AVR works with most major control systems, including Control4, Crestron, Savant, URC, Elan, and RTI. It is also completely compatible with remote monitoring platforms, such as Domotz, Luxul Pro Watch, VPN, OvrC and more.
It's a Beast
I just have to say, this thing's a beast. Weighing in at nearly 50 pounds (49.6), the DRX-8.4 continues on the tradition of past Integra flagship products…built to last.
By the way, looking at that interior shot above, you can see the massive extruded aluminum heat sinks which the company says are designed to be anti-resonant. And though they are a little hard to see, the company has included premium-grade capacitors.
Pricing and Availability
The Integra DRX-8.4 will sell for $3,200 US MAP (minimum advertised price). Availability is Spring 2023 through your local authorized Integra integration partner. There is an optional IRK-180-4C rack adapter available, as well.
Learn more about Integra by visiting integrahometheater.com.