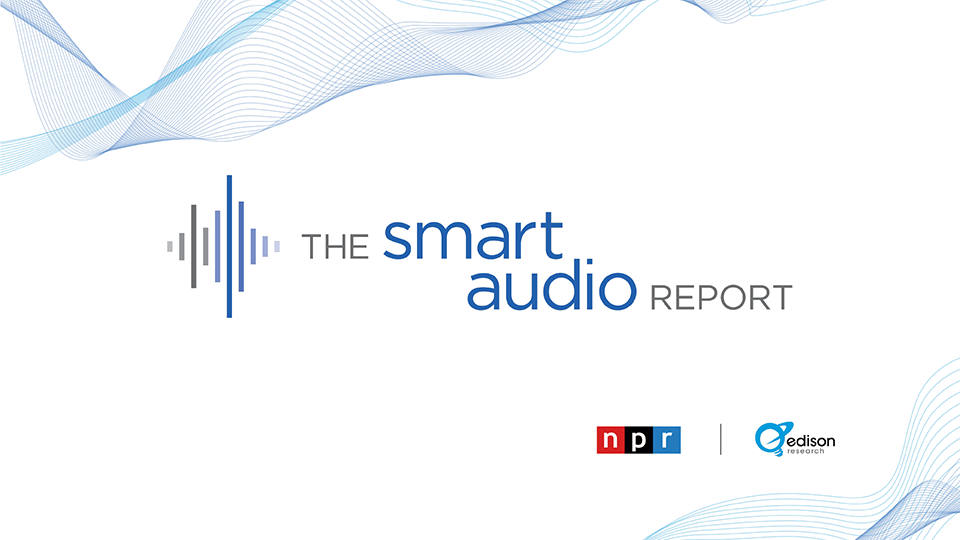 In the latest research on the smart audio market, analysts see clear progress in the expansion of voice technology both in terms of the growing number of devices containing it, and the expanding uses to which voice control is being used. While much of the results of this latest survey are specific to smart speakers, this version goes well beyond that to looking at voice in all sorts of devices.
See all the latest on the growth of Smart Audio
The Smart Audio Report is a joint research project between NPR and Edison Research. It has been conducted every spring since 2017 – in the case of this year, from February 28, 2022 to April 18, 2022. This year, researchers came to three bottom-line conclusions: voice is everywhere, use is increasing, and voice is developing as an effective vehicle for advertising messages.
In total, the survey included 1,190 smart speaker owners, 560 participants who use voice but don't have a smart speaker, and 564 participants who don't use voice-operated assistants at all. Results were compared with and tracked to the previous incarnations of the survey back to 2017.
100 Million Americans Own Smart Speakers
The study says that in 2022, 35% of all Americans over the age of 18 own a smart speaker. Smart speaker ownership has increased steadily since the survey began in 2017, but the growth from 32% share in 2021 to 35% share in 2022 – a growth rate of 9% – was the lowest rate of growth over the six-year span of the survey.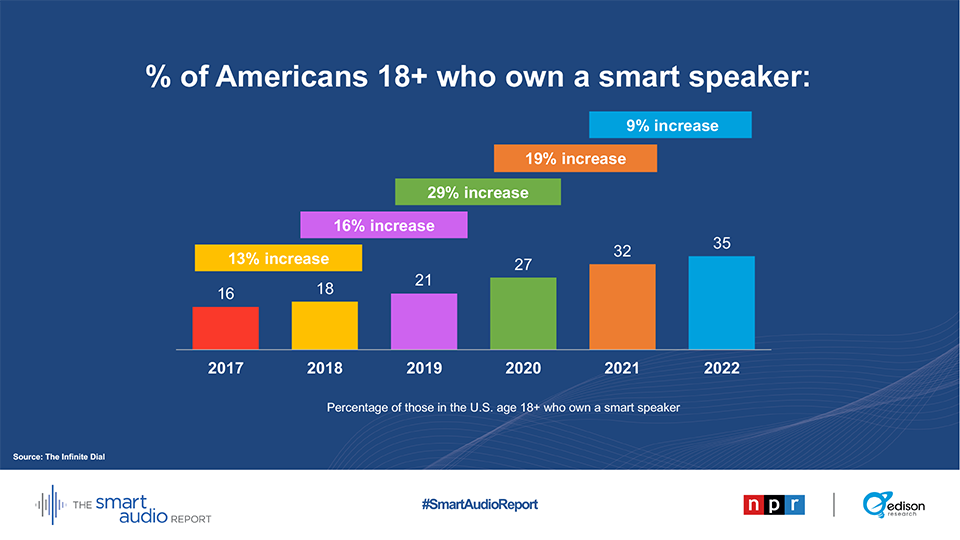 According to the report, 35% of all Americans over 18 years old works out to around 100 million smart speaker owners. The top three reasons they purchased a smart speaker are: 1) To listen to music; 2) Ask questions without needing to type; 3) Seems like a fun new gadget.
Top Trends Driving Acquisition of Smart Speakers
The report also noted that out of all the potential reasons users wanted to buy a smart speaker, there was big growth in three of them – technology upgrades, access to media, and accessibility.
Technology upgrades – in the latest survey, respondents said a key reason they wanted to upgrade to a smart speaker was to replace an old radio. That was 31% more than said this in the 2017 survey. In fact, 86% agree with the sentence: "Smart speakers allow for a more convenient living experience."
Media access – Gaining access to media is also gaining, as 18% more respondents said in 2022 that they wanted a smart speaker to listen to podcasts, 19% more wanted to discover new songs, and 36% more said they wanted a smart speaker to entertain their children. A significant 80% of respondents agree with the sentence, "Smart speakers make it easy to discover new content or events."
Accessibility – There was a 150% increase in the number of respondents in 2022 who wanted a smart speaker to help out an elderly person, and a 50% increase in the number of survey takers who said they wanted a smart speaker to help with a disability. Fully 90% of respondents agree with the sentence, "Smart speakers interactions are short and easy, with low level of effort."
How are End-Users Engaging with a Voice-Operated Personal Assistant
As I said above, the report looks at voice control across a spectrum of devices beyond just smart speakers. And in fact, the device containing voice control that has experienced the greatest growth is "On your TV/TV remote," which has grown from 24% in 2020 to 34% in 2022. And the largest category that is accessed by voice control the most is "On a Smartphone," chosen by a majority of respondents (56%).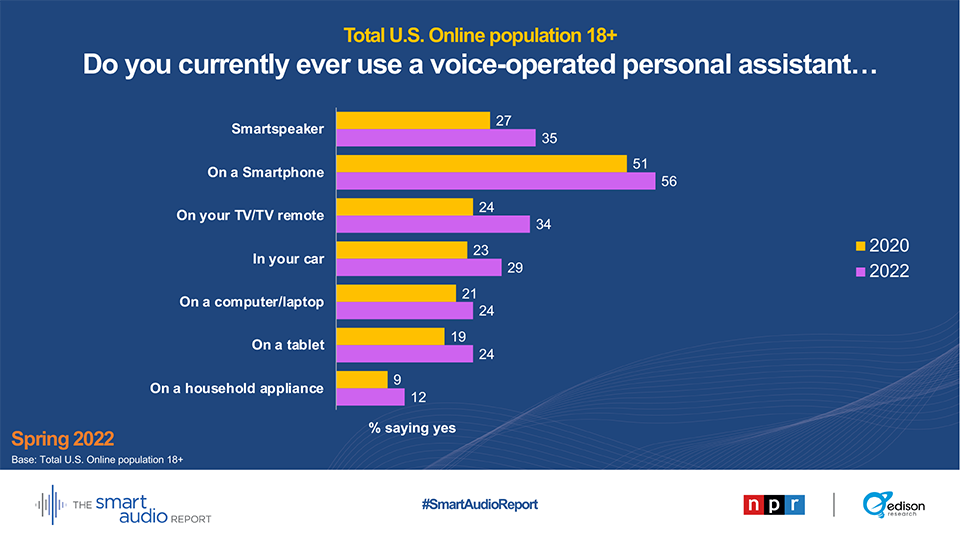 But the Fact that Devices are 'Always Listening' Remains a Primary Concern
Throughout the life of this survey, one significant concern with voice-operated assistants is the fact that they are always listening. In today's age of hackers, identity theft, and phishing scams, there is actually an increase in the number of survey respondents who identify privacy issues with smart speakers as their greatest concern. In 2017, 48% of survey respondents agreed with the sentence, "You worry that hackers could use your smart speaker to get access to your home or personal information." In 2022, 52% or a majority of the respondents agreed with that sentiment.
Also, in 2017, 38% of respondents agreed with the phrase, "It bothers you that your smart speaker is always listening." That increased to 47% of respondents in the 2022 survey.
By the way, in the 2022 survey, 50% of those who do not own a smart speaker say the "hackers" phrase is the reason that they don't own one. And 51% of the 2022 respondents say the fact that the speakers are always on is the reason they won't buy one.
Purchase Intent Drops
Interestingly, while many metrics showed strong increases in 2022 versus the same reading in 2017 – that's not the case with purchase intent. In 2017, 54% of survey respondents said that they were "Somewhat likely" (13%) or "Very likely" (41%) to purchase a voice controlled speaker in the next six months. Less than half (46%) said that was "not at all likely."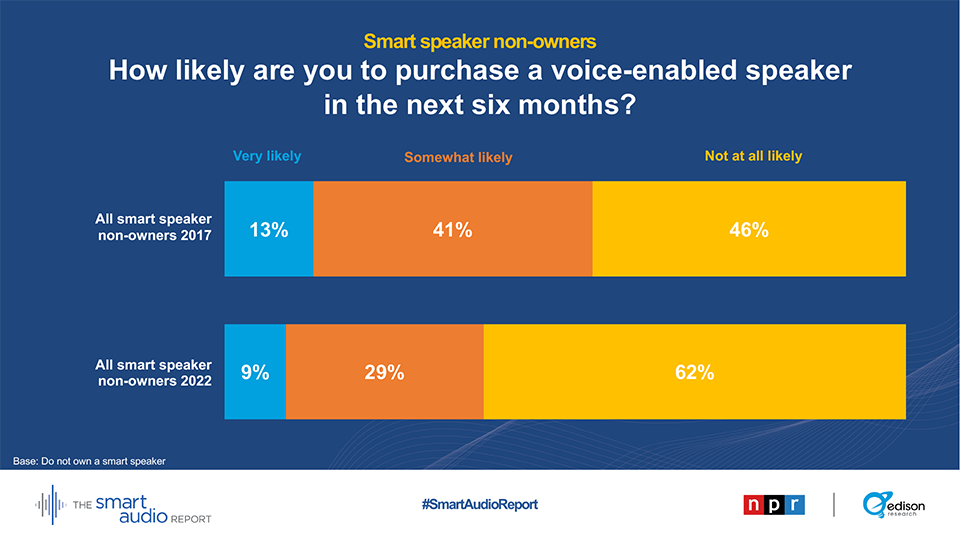 However, in the 2022 survey, only 38% said they were "Very likely" (9%) or "Somewhat likely" (29%) to make that purchase. A surprising 62% said a smart speaker purchase was not likely. This may be swayed by the fact that so many folks had already purchased one by 2022. Still, that result was a bit of a surprise.
Audio Listening Through Voice-Enabled Devices is Increasing
There were some eye-popping numbers in the report, however. When surveying users about the amount of time spent listening to audio through a smart speaker with voice control, the results show that there has been a 400% increase (users aged 13 yo and above)!
Similarly, the results show that there has been a 200% in the "Share of Time" spent listening to podcasts through a smart speaker. So the share of users' time using these devices for audio listening has really taken off.
As an interesting side note, when asking smart speaker owners how they "most often" listen to audio, the majority of them, 34%, say they listen to audio through their smartphones. Only about 20% of smart speaker owners said they mostly consume audio through their smart speaker.
What Are Folks Using Voice-Enabled Devices For?
The study contains a word map, showing the variety of responses they received to the question of what owners of voice-enabled devices are using them for. The size and font thickness denote the number of times that response was offered.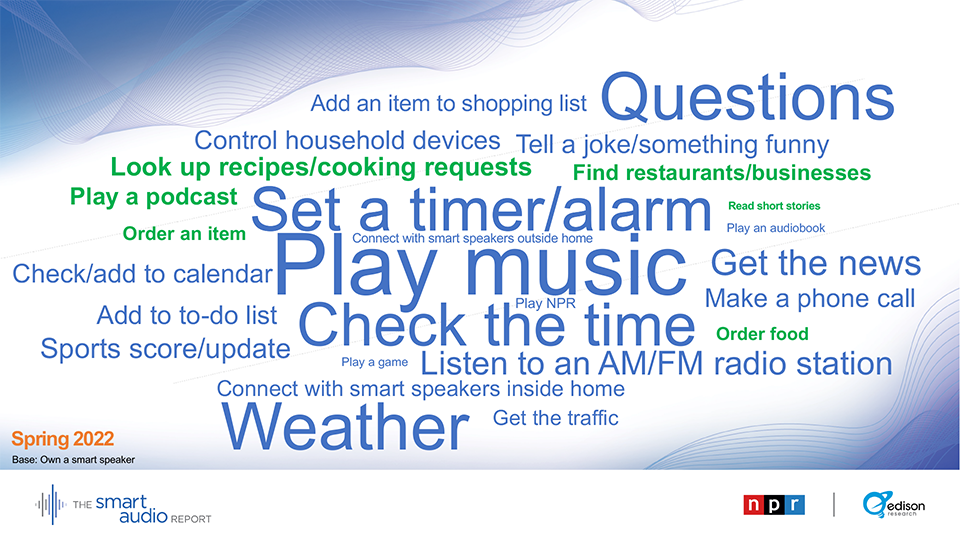 As you can see in the word map, "Play music" was the most prevalent response, followed by "Weather," "Check the time," "Set a timer/alarm," "Questions," and so on. I'm guessing that NPR wasn't too happy with how few mentioned "Play NPR."
Advertising Messaging Data is Meaningful for Marketers
Finally, this year's survey provided some interesting data for companies advertising on smart speakers or thinking about advertising there. When smart speaker owners were asked if they have ever heard an advertisement on their device, 50% said yes, 37% said no, and 13% were not sure.
Then when smart speaker owners were asked to agree or disagree with the sentence, "You are likely to respond to ads on smart speakers," 41% of all owners agreed. But 53% of smart speaker owners – a majority – who said they had heard an ad on their device agreed with that sentence.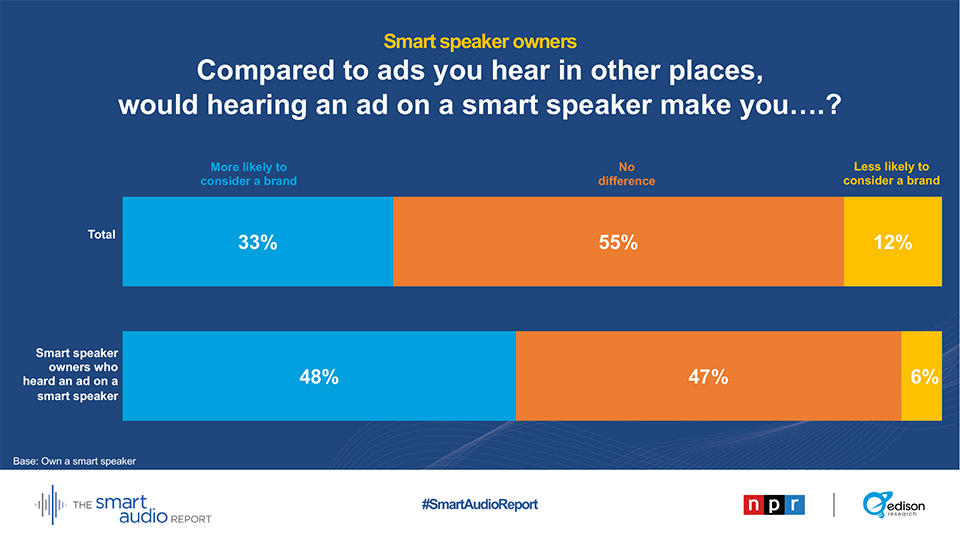 As Many as 80% of Respondents Say Smart Speaker Advertisers are 'Innovative'
In fact, the study showed that smart speaker owners hearing an ad on their device would make them more likely to consider a brand, or so says 33% of all smart speaker owners and 48% of smart speaker owners who have heard an ad on their device. That is big for marketers.
Not only that, but when smart speaker owners were asked to agree/disagree with the statement, "Brands that advertise on smart speakers are innovative," 66% of all smart speaker owners agreed. And a walloping 80% of smart speaker owners who had heard an ad on their device agreed with that as well.
So get ready to be inundated with ads on your favorite smart speaker!
Learn more about Edison Research by following this link…