In a letter to dealers sent Thursday evening, Kaleidescape CEO Cheena Srinivasan says the company is back in business, but in a leaner, lower overhead way. The news, which the industry rumor mill was buzzing about all day Thursday, is a bit of a surprise considering the company was completely shut down just a couple of weeks ago.
See more about the new Kaleidescape…
The letter from the CEO is addressed "Dear Kaleidescape Stakeholder" and talks about how the company had only "temporarily ceased operations" because of a lack of funds. But then, the letter says, there was a tremendous outpouring of support from "our shareholders, employees, suppliers, other luxury A/V component manufacturers, the major motion picture studios, distributors, dealers, and (most importantly) our customers."
The result of all this support was to re-energize the company, Srinivasan suggested. The company has been restructured, expenses have been cut, and – perhaps most importantly – an investment was received that allows the company to reopen. Srinivasan does not identify who the investor was, but takes pains to note that there is no change in control of the company.
A Narrative of How This Happened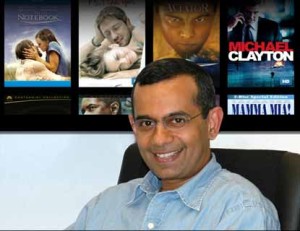 The letter goes on to provide a narrative on how the company got into trouble in the first place. Most notably, they admitted that it was a mistake to pre-announce features that relied on third parties to provide. When those third party schedules slipped, Kaleidescape began to see their reputation damaged and sales of the unfinished Strato drop.
This new Kaleidescape will be smaller, with fewer employees, and "will take on fewer projects." The company will continue to support both the Premiere and the Encore lines. An operating system update, kOS 7.3 should be ready "in the near future."
A Focus on Forward-Looking Technologies
The company promises a new focus on "forward-looking technologies" that will allow them to offer even more titles in their movies store. They also hope to be able to launch Blu-ray disc support for the Strato in a 2017 operating system update sometime in 2017.
The letter is sort of a mea culpa, although it seems to name unidentified third parties as the primary culprits for their problems. There is no dissection of the many decisions made by the company's management, a management which ran the company to this point of closure, and will continue to run it moving forward.
Still, for many dealers, this is good news indeed.
See the full dear-kaleidescape-stakeholder-1
See more on Kaleidescape at: www.kaleidescape.com.