In a new updated report by market research firm Strategy Analytics, the global smart home market is said to have had a great 2017 and updated forecasts expect industry sales of this technology to continue to rise ever higher to an expected $155 billion by 2023.
See these updated smart home market estimates…
Thanks to a plethora of new products targeted for the smart home market from major players such as Amazon, Google (Nest), ADT and Samsung, Strategy Analytics says consumer adoption is picking up speed. Their latest report, titled the 2018 Global Smart Home Market Forecast, looks at the status of the smart home market not just in North America, but around the world.
According to the SA report, the global smart home market in 2017 hit $84 billion, a full 16% more than the $72 billion achieved in 2016. They forecast that for 2018, the market will grow to a robust $96 billion, again on a global basis. These figures are meant to represent the total of industry sales for smart home devices, systems, and services.
Strong Global Growth Over Next Five Years
SA goes on to project that the market will continue to grow on a 10% CAGR (compound annual growth rate) for the five-year period of 2018-2023. This is how the company calculates the 2023 market value of $155 billion, as mentioned above.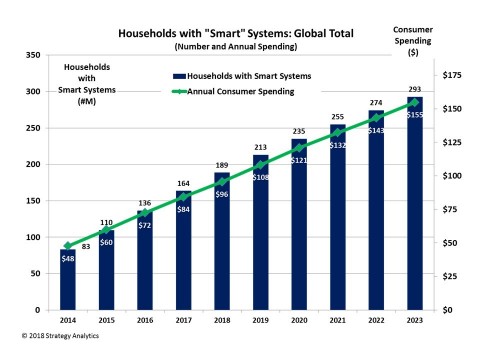 "The market continues to mature," stated Bill Ablondi, Director of Strategy Analytics' Smart Home Strategies advisory service. "Consumer awareness is rising, prices are coming down, and the technology is becoming more intuitive. Yet, there is still a high degree of fragmentation, with numerous firms competing for smart home consumers. Who will ultimately succeed in capturing growth in this market remains unclear."
North America Gets the Lion's Share
While these figures again are for the global total, the researcher did provide a glimpse of the smart home market here in North America. According to SA, North America is expected to represent 41% of the total spending in 2023. This calculation equates to a total market value of $40 billion for North America. The next closest region is projected to be the Asia-Pacific region, whose market share is expected to be around $26 billion in 2023, followed by Western Europe at $17 billion.
While ruler straight lines in industry forecasts graphs always strike me as a little suspicious, it nonetheless shows a "best guess" at where the smart home market is heading. That looks like a train that many of us should be jumping on.
Learn more about Strategy Analytics by visiting: www.strategyanalytics.com.