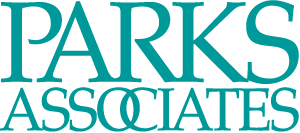 Wow, surprising numbers from a new research report from Parks Associates shows that control system adoption jumped a full 38% in 2019 as compared to 2018. That's a really big jump in a really short period of time.
See more from this latest Parks Associates research…
The results from this new report from market researcher Parks Associates titled, Smart Home Buyer Journey and User Experience, was reported just this week and it suggests a surprising forward momentum for smart home technologies. However, keep in mind that these results are for 2019 – well before the Coronavirus epidemic hit during the first quarter of 2020.
In the synopsis of the report I saw, no particular reason was offered for the big jump – a jump that appeared to be orders of magnitude greater than the gains shown in their graph for the previous three years. However, it could be a good sign that the category – a perennial next-most-likely-to-succeed category – is finally gaining some traction.
Nearly 1 Out of 5 Broadband Homes Have a Control System
The survey was conducted with 10,000 broadband households at the end of 2019. According to the researcher, 18% of all U.S. broadband households now have some form of control solution. And of those, nearly 50% of them purchased their control system when they acquired their first smart home device.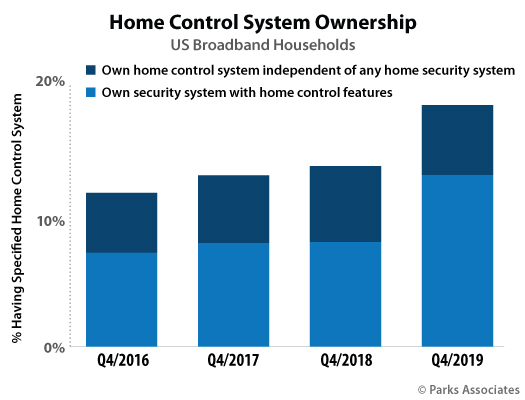 Biggest Winner Appears to Be the Security Segment
However, one finding might disappoint some custom integrators. According to Parks, most control solutions are sold not as a home automation solution initially, but as a security solution with home automation features. So in other words, it would appear that security installers and suppliers are getting better at presenting home automation and control solutions as part of a security system installation.
"The majority of home control systems are integrated into a home security system, indicating the success of the security channel in particular in promoting the value proposition of home systems. The conversion of legacy security subscribers to interactive security services that support smart home automation is driving the increase in home control systems, while adoption of DIY home control systems independent of security has remained flat."

Brad Russell, Research Director, Connected Home, Parks Associates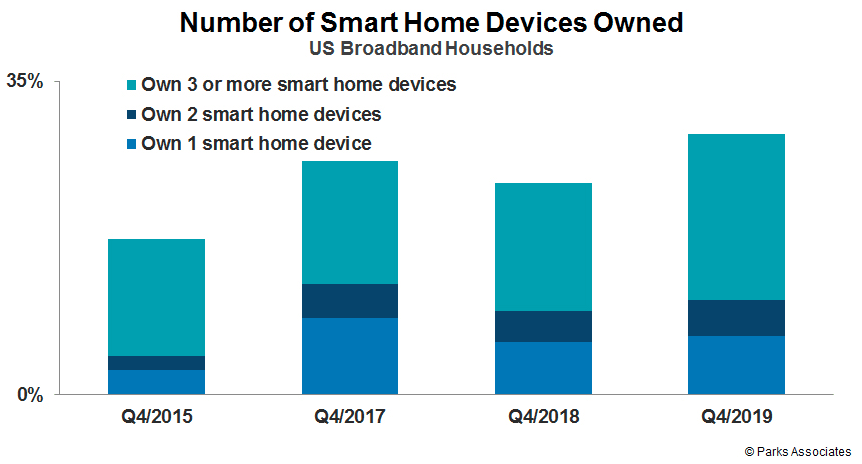 Consumers Commit to a System Early
The study further suggests that consumers tend to commit to a home automation control system when they purchase their first or second smart home device. As the announcement notes, "Most consumers do not buy three or more smart home products and then look for a system to control all their devices…"
The research also suggests that trying to get users of multiple devices to move to a control solution "…is currently a challenge for the industry."
"The pattern of home system adoption could change as more households acquire multiple devices," Russell said. "right now most smart home owners use multiple apps to control their devices, but as more become multi-device households, these consumer segments will start to seek out a simple, unified experience."
More Details on This Report
Like all research companies, Parks Associates offers this report for sale. Interested parties can reach out to them by contacting Rosey Ulpino at rosimely.ulpino@parksassociates.com…or by calling 972.996.0233.
Learn more about Parks Associates by visiting: www.parksassociates.com.