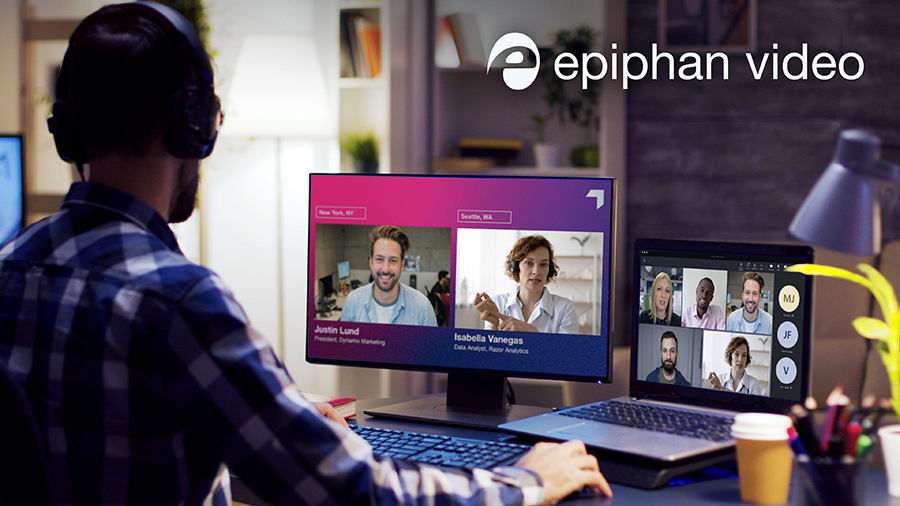 Epiphan Connect Delivers a Better Conferencing Experience
Epiphan Video announced today that it is launching a new cloud-based solution known as Epiphan Connect, bringing broadcast-quality live streaming capabilities to remote workers and hybrid workforce deployments via the increasingly ubiquitous Microsoft Teams. This development brings a performance upgrade to the normally experienced quality of video conferencing – a much relied upon tool of the pandemic era…and a much-maligned experience of often disappointing quality.
But there is more than just a quality upgrade in the streaming performance, there are tools to help create even more compelling content as well.
See how Epiphan Video & Microsoft Teams delivers more
After almost two and a half years of seemingly endless video conferences taking the place of direct interpersonal interaction – often with dubious quality and results – I welcome this announcement from Epiphan Video which it says will, in essence, turbocharge your video conferencing events with upgraded quality and added capabilities. Wisely, Epiphan Connect works with Microsoft Teams, one of the most popular business communications suites in broad use today by companies to facilitate team interaction.
Bringing Broadcast Quality to Video Conferencing Convenience
The company says that Epiphan Connect allows users to extract Teams participant feeds and bring them into any device or software capable of decoding the Secure Reliable Transport (SRT) streaming protocol. It provides for the display of feeds up to 1080p with isolated audio – much like what is possible with broadcast-quality solutions – and all through what they say is a more intuitive interface.
These days we're all aware of the critical role video plays in keeping people engaged and informed, and there's a growing understanding that quality matters for those outcomes. We've heard from more and more organizations searching for a tool like Epiphan Connect that blends the best of both worlds: the convenience of video conferencing and the quality of professional broadcast.

Nic Milani, Epiphan's VP of Marketing and Business Development
Not Only Look Better, But Deliver More Impactful Content
The company says that in addition to upgraded quality, users get many upgraded content features as well. Elements like branded layouts, live switching, and dynamic titles and graphics – all powerful tools for creating compelling content and all used in professional broadcasting – are now available to all users of Epiphan Connect and Microsoft Teams.
Epiphan Connect unlocks the full Microsoft Teams experience, giving people powerful new options for creating compelling content. In collaboration with Epiphan, we aim to offer an easier, more convenient way to create high-quality live and on-demand content, powered by Teams.

Aaron Linne, Microsoft Teams senior program manager at Microsoft
Most Companies Plan Ongoing Hybrid Workforce Deployment
Even though companies are beginning the process of bringing employees back into the office, most companies plan on the continuing utilization of remote workers and hybrid workforce deployment. Thanks to COVID, we've all had a lot of experience of countless video conferencing meetings through Zoom, Teams, and other providers – often of dubious quality.
Not only that, but several really smart companies have told me that they intend to continue with video conferencing connections with customers for customer support and interim sales meetings. Yes, they will go to in-person meetings for more important presentations and sales meetings – but video conferencing will continue as a tool that will both allow them to potentially communicate more frequently with customers and prospects, but in a more cost-effective manner.
Want More Impactful Sales Presentations & Customer Support Video Conferences?
What if those video conferencing communications could be of a noticeably higher quality? And what if they included more compelling content?? With Epiphan Connect in conjunction with Microsoft Teams…this is all possible.
To learn more about Epiphan Connect, visit: www.epiphan.com/connect