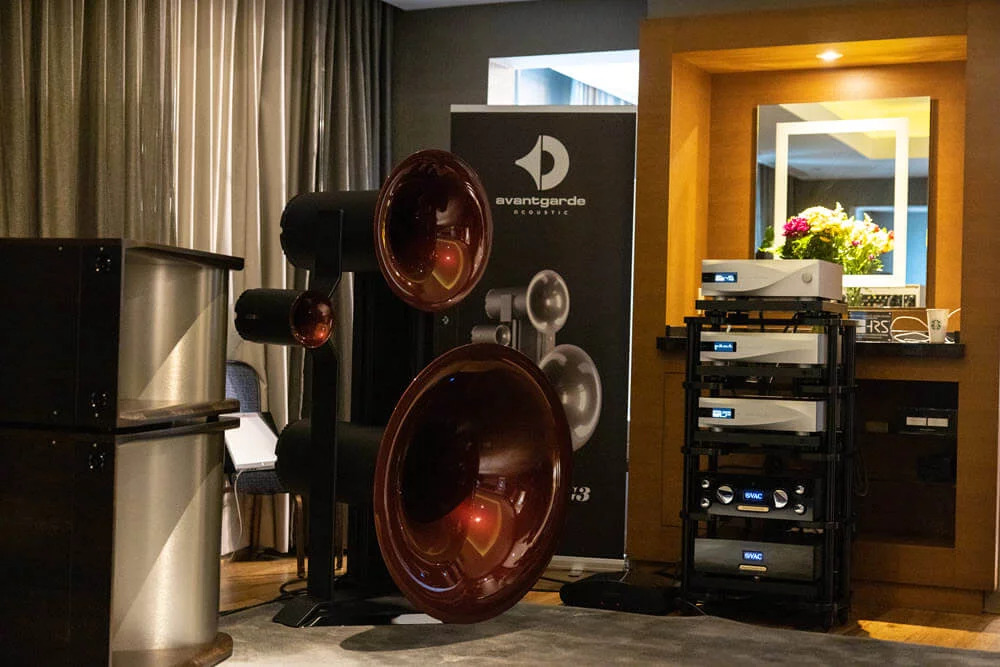 Hearing is Believing – Expo Runs April 14 -16
This week, one of the industry's premier audio expositions, JD Events' Audio Expo North America (AXPONA), kicks off again in full force – and many in audio are buzzing in excitement for a full frontal, fully immersive audio experience. Starting Friday (with a pre-event party Thursday night for exhibitors and industry folks), the Expo is being held at the Renaissance Schaumberg Hotel & Convention Center in Schaumberg, IL.
Learn more about AXPONA
Like many live events, AXPONA had its share of struggles as it attempted to adapt to a COVID-impacted world. It hasn't always handled some of the emerging controversies well, as I talked about in this post from 2020.
But that's all ancient history now, and the high-performance audio industry is gleefully coming together for a full Kumbaya moment…or a "happening." A unique event that brings together all parts of the audio enthusiast industry together, including consumers, dealers, manufacturers, reps, and distributors, AXPONA offers an opportunity for all to bask in the glow of high-performance audio and the world that surrounds it.
Event is All About Experiencing High-Performance Audio
An AXPONA exposition really emphasizes the experience of audio. This year is the 12th AXPONA and it builds upon that history with 500 exhibitors (of which 25 are new this year), over 200 interactive listening rooms, an expanded Expo Hall, the ever-popular Ear Gear Experience (headphone and gear auditioning for attendees), Record Fair, and an impressive schedule of expert presentations and seminars. All of this to ensure that there will be plenty of experiences to be enjoyed by attendees.
Oh, and by the way, the expert presentations and seminar schedule were planned, scheduled, and coordinated by our very own popular Strata-gee guest poster Bill Leebens.
An Impressive Array of Top Exhibitors
Last year's 2022 AXPONA reported an attendance of 7,596 enthusiasts and 500 exhibitors and was their first in-person event in three years. This year is looking to be even bigger and better.
There is a whole array of top brands exhibiting this year including ELAC, Wilson Audio, Focal Naim North America, Krell Industries, Audioquest, Quintessence Audio, Scott Walker Audio, SAE, Bryston, Golden Ear, Kimber Kable, KLH, Linn, Luxman, Magico, Mark Levinson, Martin Logan, McIntosh, Monitor Audio, Sennheiser, SVS, Tannoy, Totem Acoustic, Tributaries, Trinnov, Vandersteen Audio, and many, many more.
Expert Presentations, Seminars, and Roundtables
There is a great roster of expert presentations, seminars, and roundtables. Some notable sessions include a roundtable on speaker design called Speaker Design: Outside and Inside the Box, moderated by Bill Leebens with a world-class panel of Andrew Jones (MoFi Electronics, previously ELAC), Richard Vandersteen (Vandersteen Audio), Chris Brunhaver (PS Audio), John DeVore (DeVore Fidelity), and Steven Norber (PranaFidelity).
Other sessions I like include: Reviewers on Reviewing (moderated by Scot Hull), The Audiophiliac Speaks! (featuring the incomparable Steve Guttenberg), Michael Fremer's Internationally Renowned Turntable Set-up Seminar (with the renowned Michael Fremer, obviously), Streaming Made Straightforward (David Solomon), and many more. This is a lot of expertise and education for Expo attendees to access on a variety of audio world topics.
Those Who Love Audio Love Music
Finally, because people who love audio almost certainly love music, AXPONA will have live after-event music concerts each night of the Expo. This includes Canadian Jazz singer/songwriter Anne Bisson on Friday evening and singer/songwriter Amber Rubarth on Saturday.
Tickets for 1-3 days of attendance at AXPONA run for $25-$50 in advance…and $30-$90 onsite.
Learn more about AXPONA by visiting axpona.com.