Joel Davis of JD Events (JDE) announced a little more than a week ago that AXPONA, the high-end audio exposition scheduled to take place in Schaumburg, IL in August, is now canceled. Citing the health and safety of attendees, Davis' letter said "we do not feel 100% confident that we can provide a safe environment for all of our customers and press…" But in a separate communication to exhibitors, Davis informed them the that JDE was in dire financial straits and unable to return their deposits – further angering the still unhappy AXPONA exhibitors.
See more on the AXPONA turmoil…
Cancellation of the AXPONA high-end audio show is something that a large group of over 100 exhibitors were looking for, as Strata-gee wrote about here initially, and here in a follow-up. This group of exhibitors raised two issues that, in their minds, dictated that the event should be fully cancelled (it had already been rescheduled from its originally planned April dates).
The issues that had originally animated this group of exhibitors who sent an open letter to JDE were: 1) In this day and age of the COVID-19 global pandemic, it would not be safe to mass a large group of people in one space at one time; and 2) The economic downturn has had a huge negative impact on exhibitors. When that cancellation was accomplished, it seemed as though the exhibitors would be satisfied.
'Facing Financial Calamity'
And they would have been except for the fact that, perhaps seeking to modify expectations, in a separate letter Joel Davis sent to exhibitors and sponsors announcing the cancellation of the show, Davis notified them that "JDE in particular is facing financial calamity…"

Davis adds:
"Our exhibit space contract language does not obligate JDE to pay refunds if the event is cancelled due to circumstances beyond our control. The pandemic could not have hit JDE at a worse time. Virtually all deposit monies were spent on producing and marketing the April show, including salaries, overhead and other service providers. Due to the havoc wrecked upon AXPONA and our entire business, JDE is simply not in a position to pay out refunds."

Joel Davis, JD Events
[NOTE: You can see the full text of this letter which was posted into the comment section of our update article in it's entirety. Be sure to scroll down below the article to find the comment section.]
An Unpopular Position
This position by Davis, as you might imagine, was NOT popular with many of the exhibitors. Because of the way that most trade shows are operated, by the time you get close to the event, most booth space is fully paid for. So the reality is that the "deposit" for this event, by January, represented the entire cost of renting the space.
With Davis suggesting that they are not in a position to offer refunds (note that JDE did offer a full refund to ticket holders), this means that exhibitors were out the full cost of space rental – a significant part of the total cost of attending the event. Many exhibitors were outraged…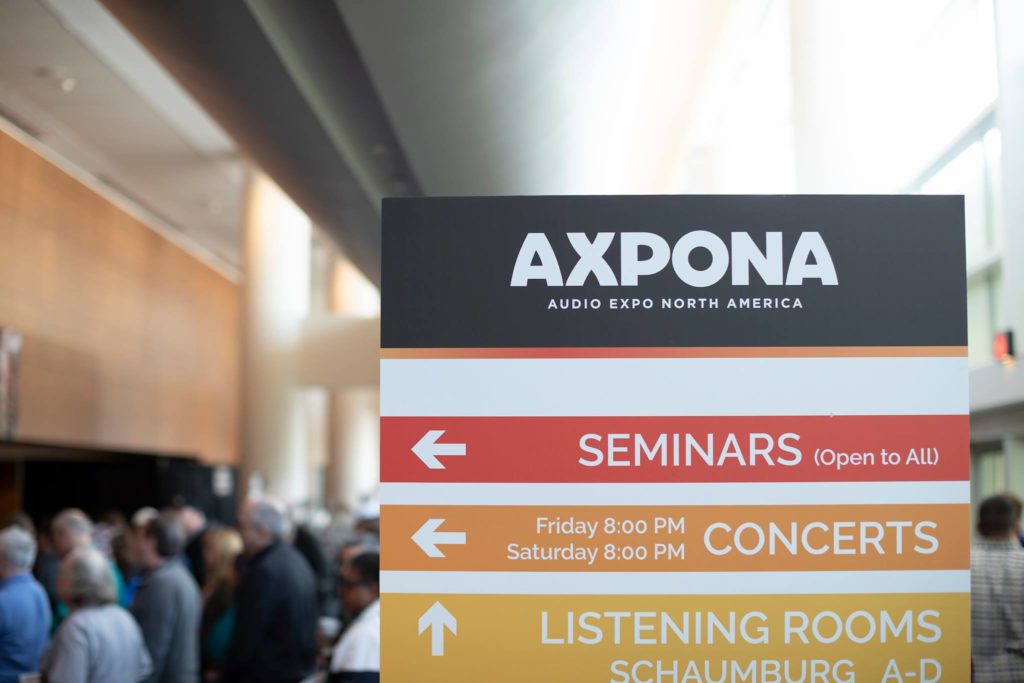 You'll Be Fully Paid Back…in 3 Years, That Is
In a new letter to exhibitors dated May 5, 2020, JDE had a new offer – they will apply a credit for their investment in this year's canceled event to future space rental over the next three years. Suggesting a schedule of credits: 50% towards their 2021 space, 25% towards their 2022 space, and 25% towards their 2023 space. The show's promoter suggests they are making exhibitors "whole" again with a full "refund" over three years.
Interestingly, in this same letter, Davis says that they "are appreciative that the majority of exhibitors understand the disastrous financial predicament we are facing and are willing to give us time to get back on our feet." Yet the very next sentence adds, "We have also received our fair share of criticism, lawsuit threats and demands for refunds. We get it. Many of you are hurting badly too. Unfortunately, JDE does not have the ability to issue refunds or respond to legal claims."
Just Whose 'Long Term Commitment' Is It?
Joel Davis suggested that his proposed "payment rollover plan" somehow "demonstrate[s] our long-term commitment" to AXPONA. But some exhibitors suggest that this actually represents a forced long term commitment by exhibitors by tying their hands to the event for three years to get their 2020 investment back.
As one exhibitor told me, this proposal is like the exhibitors giving JDE a three year, interest free loan. And what confidence should exhibitors feel about JDE's ability to even be around in three years, after going out of its way to warn them of its financial frailty and instability.
So the AXPONA saga continues.
See more about AXPONA by visiting: axpona.com.