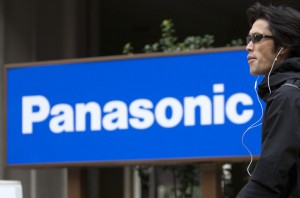 Panasonic Corp., once one of the most powerful electronics companies in the world, now finds that its credit rating has been lowered by Moody's Investors Service to the lowest level still considered investment grade – only one step above junk.  Moody's, one of the largest credit rating agencies, has revised Panasonic's rating twice before this year – and this third revision dropped the company's credit rating two grades to Baa3…the lowest level considered investment grade.
What prompted Moody's to make this huge downgrade of Panasonic's credit?…
Moody's adjusted the rating on Panasonic's long-term debt and noted that its outlook remains negative. Panasonic's short-term credit rating is Prime-3 and Moody's has stated that this rating is under review as well.
Moody's credit rating scale contains a total of ten levels for investment grade bonds. Like other Japanese manufacturers, Panasonic has struggled with difficult market conditions that combines increased competition, especially in their core television division, along with declining prices and slackening demand.
2nd largest net loss in history…
The review by Moody's was likely stimulated by the company's recent forecast that it would report a net loss of ¥765 billion ($9.4 billion) for the current fiscal year ending March 2013 – its second largest net loss ever in the history of the company. And when was the largest net loss ever for the company? Well, that would be last year when the company booked a net loss of an impressive ¥772 billion.
Credit downgrades by agencies such as Moody's or Standard & Poors have a real impact on companies. There is a direct correlation between a company's bond rating, and the higher level of interest they have to pay in order to convince investors to buy their bonds. This increases their borrowing costs, reducing their profits – just at the point when they most desperately need to preserve their profitability.
Another problem can arise…
Should a company's credit rating drop into junk status, then another problem can arise. Many funds have policies that prevent them from investing in any junk bonds. So not only do companies have to pay higher interest on their bonds, but their market can be severely limited making it tougher to find investors.
"Panasonic may need to undertake additional restructuring measures," Moody's statement said. "Challenging market conditions will continue to hinder the timely recovery of Panasonic's financial profile."
Moody's also noted that Panasonic's net debt is now at ¥1.1 trillion, up substantially from ¥740 billion just one year ago.
Bond buyers triple their demands…
According to a report by Bloomberg, the extra yield that investors demand to hold Panasonic debt has more than tripled since October 31 – the day the company forecast this year's loss. This fact alone has raised the company's refinancing costs as much as ¥151 billion on notes maturing in March.
As news of the move by Moody's circulated today, Panasonic's stock price fell 3.8 percent in trading in Tokyo. While the overall benchmark Nikkei has appreciated 8.7 gain so far this year – Panasonic's stock has dropped 38 percent over the same period of time.