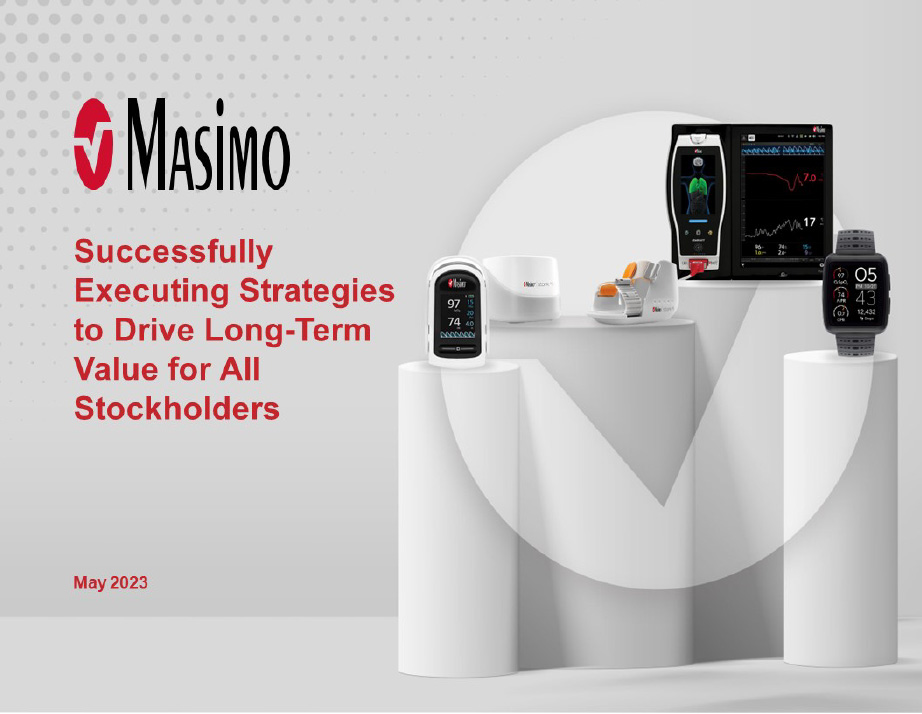 These are turbulent times at Masimo Corp. [NASDAQ: MASI] as the company continues its pitched battles against Apple Inc. for patent infringement and against activist investment group Politan Capital Management which seeks two Board seats for new oversight at the company. Mailings to MASI investors began in early May and continue to increase in frequency – and intensity – in the days leading up to the company's Annual Meeting of Stockholders on June 26, 2023.
What's it all about? Largely, it is about Masimo's $1 billion acquisition of Sound United (now Masimo Consumer) which caused the company's market value to drop over $5 billion the day after the acquisition was announced. It appeared to be a clear repudiation of the management strategy by Masimo investors.
Learn more on the proxy war with Politan and what it means for Sound United
The raging proxy battle between Masimo and Politan is taking the form of rapid-fire dueling messages to shareholders, and is getting increasingly hotter and uglier by the day, with Masimo CEO Joe Kiani calling out Politan's Quentin Koffey personally…and vice versa. But just where did this all start?
Back in February 2022, markets were surprised when suddenly Masimo announced after the close of markets on the 15th, that it was acquiring Sound United from Charlesbank Capital Partners for $1 billion. Masimo, a medical products company that is a leading provider of pulse oximetry technology to hospitals, did not seem an obvious fit for Sound United, and vice versa. Perhaps overconfident, the company provided little explanation or justification for the acquisition.
Investors Reacted Immediately; $5 Billion in Market Value Erased
Investors reacted immediately. After closing at $228.84/share just prior to the announcement, the stock opened on Wednesday at just $172.50 a share, finally closing the day at $144.20 with nearly 8.5 million shares trading (versus 548,000 the day before) and erasing just under 40% of the company's total market value.
In fact, as Politan likes to remind Masimo stockholders, the company lost just over $5 billion in market value in only one day. Now, more than fifteen months later, the company's stock value has yet to recover to pre-announcement levels.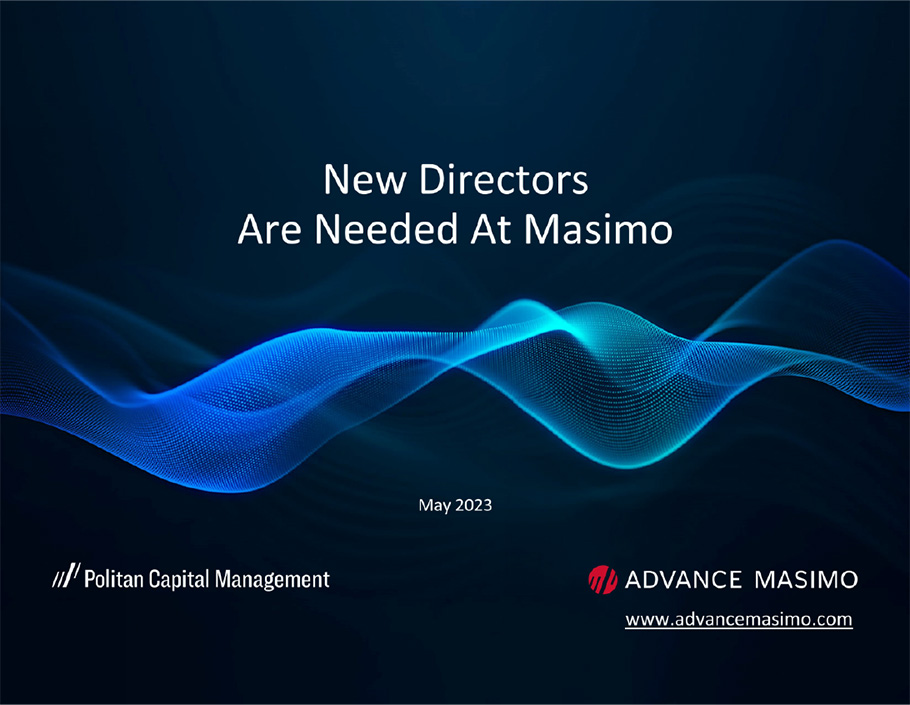 Entering the Consumer Health Market
Masimo has gone on to inform stockholders that it intends to bolster its efforts to enter the consumer health market with Sound United's connections with retailers. Also, Sound United's HEOS brand offers a home networking solution that Masimo believes it can leverage to facilitate consumer medical device monitoring in the home.
But Masimo has never been in the consumer market at all. And Sound United has never been in the medical products business either. It seemed a tenuous connection at best.
Hospital-to-Home Strategy
More recently, we learned that Masimo is working on a new long-term strategy called hospital-to-home, in which patients can be released from a hospital procedure at an earlier stage than currently in order to further recuperate in their homes, while hospital medical professionals can continue to monitor their various vital signs via telemetry at the hospital.
However, the fact that its stock price remains well below pre-Sound United acquisition levels, suggests that investors are not embracing the new direction. Masimo blames poor performance on the fact that an activist investor is making a play for the company – a characterization that Politan denies.
Politan Invests in Masimo
In October 2022, Politan Capital Management, an investment company that acts as an activist investor filed a Schedule 13D notifying the Securities and Exchange Commission that they now held 9% of outstanding Masimo stock as a "beneficial owner." They also filed a "Verified Complaint" against Masimo, CEO Kiani, and its Board of Directors.
Masimo and Kiani responded to this challenge from Koffey by implementing several new Bylaws, some of which Koffy says are illegal, and certain "poison pill" provisions seeking to stop Politan, or any other shareholder, from attempting to wrest control away from Kiani and the board. Perhaps the most dramatic poison pill – which was a preexisting part of Kiani's contract – is a "change of control" provision in Kiani's employment agreement that triggers an immediate payment to him of $600 million by the company if ever there is a change of control. This action is designed to make the company unattractive as an investment to corporate raiders.
Politan Sues Masimo
Koffey is challenging these Bylaws and other various provisions in court with some level of success as the court has forced Masimo to undo some of these provisions, at least temporarily. All of this leads us to today's battle – the upcoming Board elections.
With $800 million invested in MASI stock, Politan is seeking two seats on the Masimo five-man Board of Directors. The chairman of the Board, by the way, is Joe Kiani.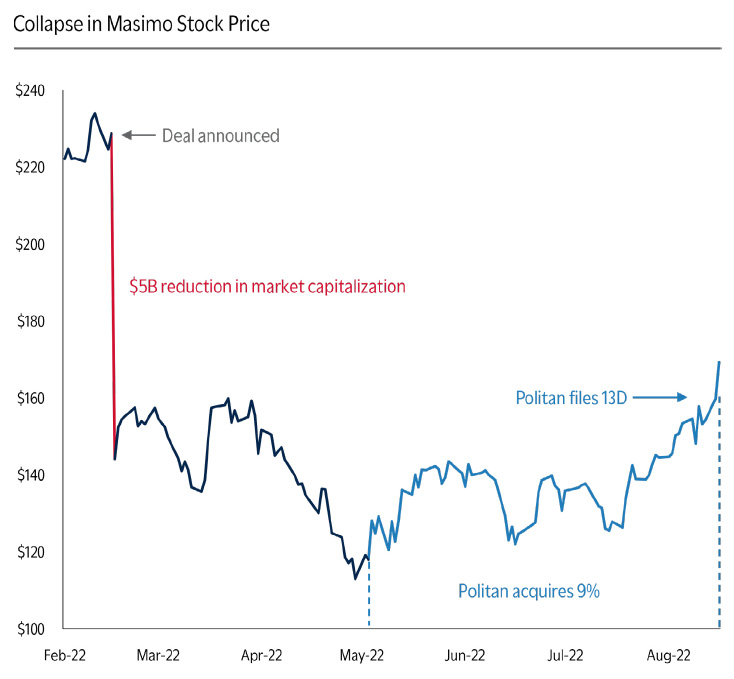 Politan Nominates Two Candidates for Masimo Board
Politan has nominated two candidates for the board: Michelle Brennan and Quentin Koffey. Brennan looks like a really solid candidate with over 30 years of experience at Johnson & Johnson, a massive healthcare company, where she was a member of the Medical Device Executive Leadership Team and previously held P&L responsibility for its $5 billion medical device division.
Quentin Koffey, the head of Politan Capital Management LP, says he would bring the shareholders' perspective to the Masimo Board, he is also said to be an expert in corporate governance matters and capital allocation. In some of Masimo's proxy materials, they note wryly that Koffey has never served on a Board of Directors. Still, there's no question that he's worked with several Boards over his investment career.
Masimo – Stick with What We Know, Re-Elect Two Existing Board Members
For its part, Masimo is seeking the re-election of two current Board members – H. Michael Cohen and Julie Shimer Ph.D. Cohen is currently the "lead independent director" a recently added moniker, possibly in response to Politan's lawsuit which claims that the board is not independent enough.
Cohen is also a former investment banker with Deutsche Bank covering healthcare investments. He also is an advisory board member of Paragon Biosciences. Shimer was formerly President and CEO of Welch Allyn and Vocera Communications. She is also a current Board member of Avanos Medical.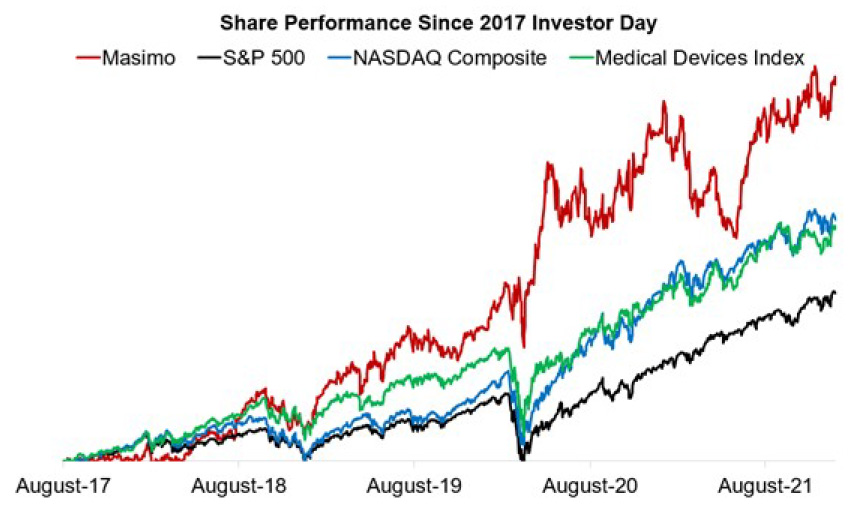 If Koffey Wins These Two Board Seats, He's Just One Seat Away from a Majority
If Koffey is successful in this proxy challenge and takes both seats on the Masimo Board of Directors, he won't have a majority of the Board, but he will be in a serious position of influence within the company. And clearly, this is but the first step for him. He would only need one more seat to hold a majority of the Masimo Board.
Recently, Masimo added a new proposal to be voted on at the upcoming annual meeting. The company wants to expand the Board by an additional two seats, for a total of seven Board members. This is most likely an effort to further dilute Koffey's influence, should he succeed in getting Brennan and himself on the Board.
Koffy has Perked Up Some Interest with Other Masimo Investors
Politan's Koffey has been successful in perking up interest with some of the other Masimo investors. In March, Reuters reported that the second largest pension fund in the U.S., the $311 billion California State Teachers Retirement System (CalSTRS) is joining with Politan to fight Masimo management on Kiani's $600 million change of control payout. Both Politan and CalSTRS have gone to Delaware's Chancery Court to challenge the CEO's pay package with the unusual provision.
CalSTRS has owned Masimo stock for more than a decade but felt the need to take a stand. Kiani's contract is not in the best interest of investors and "sets a dangerous precedent," said Aeisha Mastagni, CalSTRS Portfolio Manager of Sustainable Investment and Stewardship Strategies.

CNBC Notes Politan Success in Other Battles
CNBC commentator Kenneth Squire has also spoken in support of Koffey's initiative. As I noted in a previous post, Squire said Politan is an investment company that looks for "(i) high quality businesses that underperform their peers or potential, (ii) where there is a clear fix and (iii) a clear pathway to implement that fix." The company is also known to hold its investments over a four-year or more period before they seek an exit, Squire said.
Squire added that Koffey knows what he's doing, he had "won five of 14 board seats at Centene, as well as three of nine board seats at CoreLogic when he was at Senator (another investment company). He knows how to play the game and in the instance of Masimo, Koffey is helped by evidence of existing shareholder discontent. Koffey could be just what they are looking for."
The Sound United Situation
So why do I say Sound United hangs in the balance?
Koffey believes that there are several things that need to be fixed at Masimo, but it all starts with the issue of the value-destroying investment in Sound United. In a letter to Masimo shareholders, under the heading "An unprecedented collapse in value reveals a crisis of confidence," Koffey said:
The decline in Masimo's valuation following its acquisition of Sound United last year demonstrates just how concerned Masimo's shareholders are. Upon announcing the $1 billion cash acquisition, Masimo's market valuation fell by over $5 billion. At five times the purchase price, such a loss of value is unprecedented. It is 19x the standard deviation seen in US public markets following a deal, and three times worse than the second largest decline in the past decade.

This violent market reaction revealed a long-simmering crisis of investor confidence. In fact, seven of the Company's 20 largest shareholders exited their investments, despite on average having owned Masimo for six years. If Masimo had dropped by $1 billion (the purchase price), perhaps that could be seen simply as shareholders not supporting the Board's specific decision to acquire Sound United. But declining by $4 billion more than the acquisition price reveals something much more fundamentally damaging: a concern there is no Board oversight in place to stop future value destruction.

Quentin Koffey, May 23, 2023, 'Dear Fellow Masimo Shareholders' letter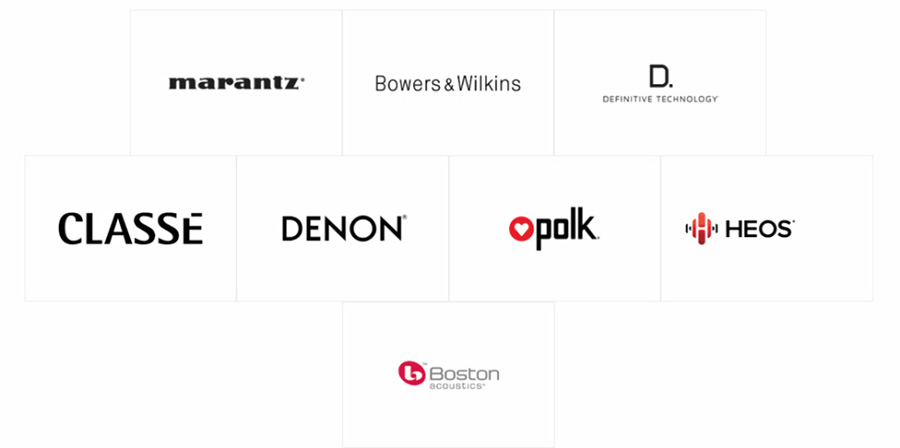 A Bad Strategic Decision
Koffey appears to believe that acquiring Sound United was a bad strategic initiative that takes the company's attention away from its core medical business in general, and pulse oximetry business specifically – accounting for 90% of the company's EBITDA.
It is clear that should Koffey win the two board seats, he will immediately begin to advocate for the jettisoning of Sound United and a refocused commitment to Masimo's core business. It may take some time and he may not succeed, but Koffey has spent $15 million in legal fees to get to this point. I don't think he intends to stop now.
For More Information
See more about Masimo and its products by visiting masimo.com. Also find out more about Masimo's proxy fight at keepmasimostrong.com.
Reach out to Politan Capital Management to request more info at politanmgmt.com. See Politan's proxy materials at advancemasimo.com.