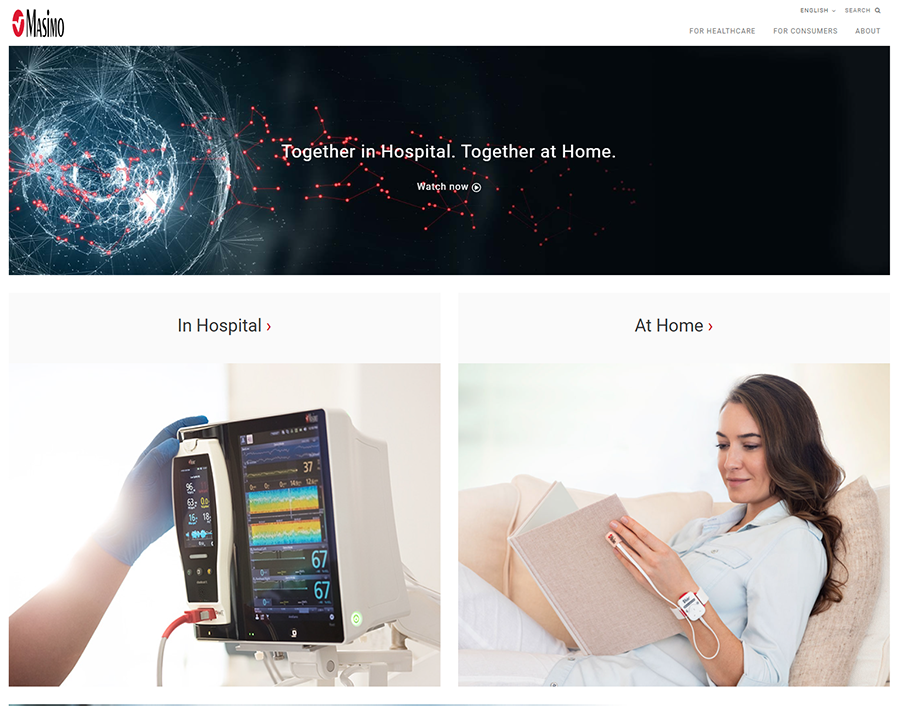 BREAKING NEWS
Sound United, LLC, one of the audio industry's leading providers of high-quality branded electronics and loudspeaker products, announced late Wednesday that it is being acquired by Masimo Corporation, a global provider of medical products, in a deal valued at $1.025 billion. The two companies have entered into a definitive agreement in a transaction that is expected to close later in 2022.
See more on Masimo acquiring Sound United
In an announcement that caught most in the industry by surprise, well-known audio entity Sound United was purchased by an unknown entity (to most in our industry) medical products maker Masimo in a billion-dollar deal. Not a lot of details are included in the original announcement, other than the fact that the two entities have signed a definitive agreement on a deal that is expected to close sometime around the middle of 2022 (subject to regulatory and "normal closing conditions").
Sound United, as most Strata-gee readers know well, is a portfolio company owned by private equity kingpin Charlesbank Capital Partners. Under their corporate umbrella are gathered great and historic audio brands such as Denon, Polk Audio, Bowers & Wilkins, Marantz, Definitive Technology, Classé, and Boston Acoustics.
Who is Masimo? From Their Website…
Our core business is measure through motion and low perfusion arterial blood oxygen saturation and pulse rate monitoring, known as Masimo SET® pulse oximetry, but our product offerings have expanded significantly over the years to also include noninvasive blood constituent, brain and breath monitoring, including rainbow® Pulse CO-Oximetry, brain function electroencephalogram (EEG) monitoring, respiration rate, capnography and anesthetic agent monitoring.

Masimo Corporation Website, Company Profile
Whew! Say that five times fast! The "synergy" between these two companies is not immediately obvious. However, Sound United says that within their core competencies, "Sound United delivers significant competitive benefits through its platform advantages including global distribution across online, retail and custom installation channels; a cloud-connected home ecosystem; and state-of-the-art R&D function focused on creating the highest-quality consumer products with world-class industrial design."
What Appears to Have Attracted Masimo to Sound United?
Apparently, the "cloud-connected home ecosystem" is a significant element of the Sound United offer that has attracted Masimo. You see, Masimo is involved in "hospital and home monitoring" which may be able to take advantage of Sound United's cloud-connected home ecosystem.
Sound United's revenues, according to a profile of the company provided to investors by Masimo, is approximately $900 million. This means that the transaction is a little more than a "one times revenues" calculation. In the world of private equity, this is not considered a particularly generous multiple. But then again, we have no idea how much Charlesbank paid for Sound United initially.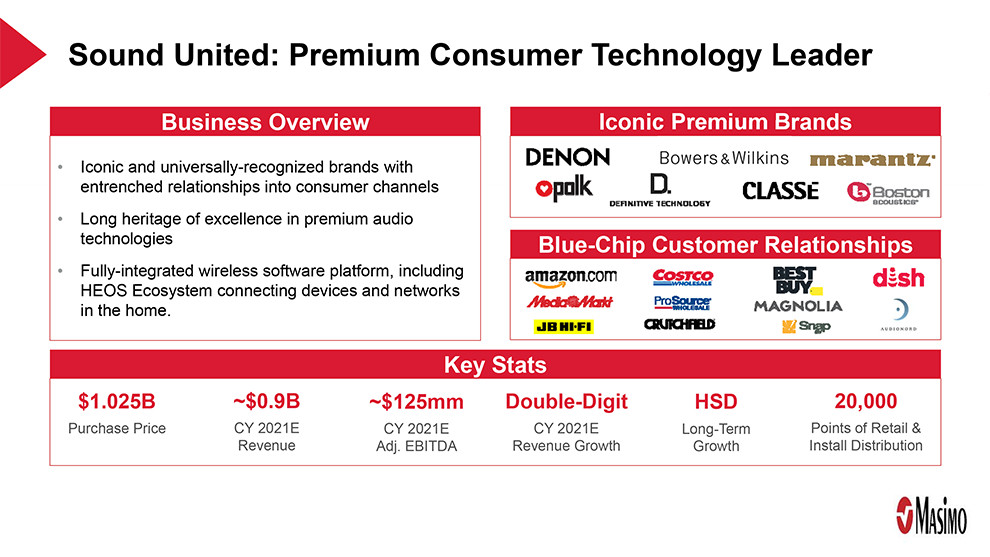 Masimo's Take on the Deal
Sound United is a company with a premium consumer technology platform and iconic universally-recognized brands like Bowers and Wilkins, Denon, Polk Audio and Marantz, as well as an integrated wireless software platform, HEOS, connecting devices and networks in the home. The Sound United transaction aligns with Masimo's priorities, objectives and vision by advancing our strategy of enabling connected monitoring across both the hospital and home. We see significant opportunities to cross-leverage technologies, bringing Masimo's clinically superior solutions into the home and on-the-go as well as bringing Sound United's premium technologies into the hospital to advance our hospital automation connectivity and cloud-based technologies. The technology and expertise within Sound United will serve us well as we aim to augment our Masimo SafetyNet strategy. Their well-established reputation and presence in the home can help us accelerate adoption of our wearables, and integrated, home-based telemedicine solutions.

Joe Kiani, Chairman and Chief Exeutive Officer of Masimo, Masimo Reports Fourth Quarter and Full-Year Financial Results and Announces Agreement to Acquire Sound United
It is interesting to note that the purchase price of $1.025 billion is equal to about 83% of Masimo's total annual revenues of $1.2 billion (2021). Considering that Sound United's annual revenues are just under a billion dollars (~$900 million), this is close to being a merger of equals…revenue-wise.
Actually, Masimo to Acquire Viper Holdings Corp., Owner of Sound United
However, when talking about earnings, the story changes significantly. According to Masimo, Sound United earned about $125 million in the current year (CY 2021E, adj EBITDA). However, Masimo's financial report shows their net earnings at $229.6 million.
Masimo told their investors that actually, they were acquiring Viper Holdings Corporation, the entity which owns Sound United. They also noted that the company has "Blue-Chip Customer Relationships" with retailers like Amazon, Costco, Best Buy, Dish, and others (see the profile image shown above).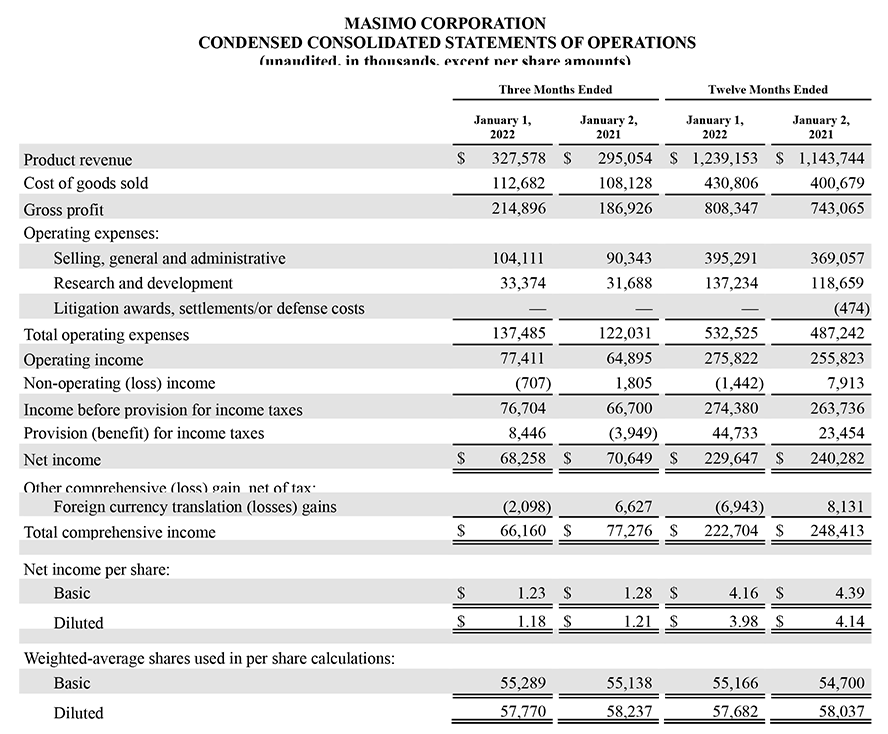 How Will Masimo Pay for It?
How will Masimo pay the $1.025 billion to acquire Sound United? They told their investors that they will pay for the deal "…through a combination of cash on hand and borrowings under a new credit facility."
We're excited about this transaction and see significant potential in combining our expertise in consumer electronics and audio engineering with Masimo's strengths in healthcare and monitoring. With our track record of industry-first innovation, best-in-class products, and a global distribution network, we are the ideal partner for Masimo to transform the consumer healthcare experience. I look forward to working with the Masimo team to enrich the lives of consumers.

Kevin Duffy, Sound United CEO
Masimo told investors that Sound United CEO and President Kevin Duffy "and his leadership team" will continue on in their roles at the company after the deal closes, "as well as support Masimo's consumer health business."
So Far, Little Reaction from Dealers; BIG Reaction from Investors
It is not clear how Sound United dealers feel about this development – especially in light of the fact that the new owner is from outside of the industry. I will continue to seek input from around the industry.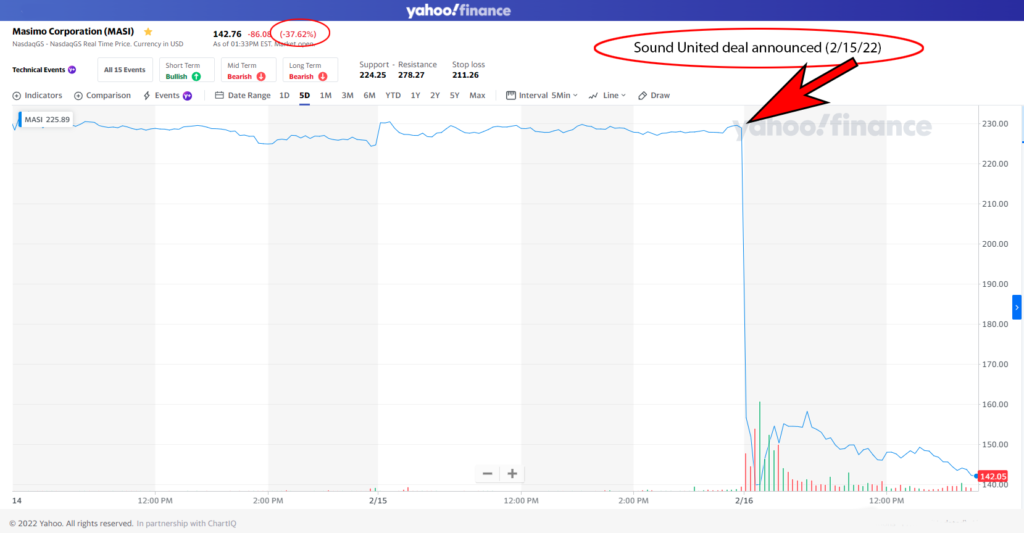 How about investors? Well, looking at a graph which is a mid-day snapshot of their stock performance I've included above, I'd say investors had their own idea about this deal. Note that the chart above is from mid-day trading on February 16, 2022 and that the NASDAQ, where Masimo's stock is listed, was down overall by approximately 0.05% at that time. Even so, Masimo's stock value dropped by almost 38% in the wake of the announcement of their purchase of Sound United.
Ouch!
What Do You Think About This Deal???
What do you think? Does this deal bring home wellness products to our traditionally A/V centric channel? Or is it something else altogether? Do you have a thought on this transaction?
Leave your thoughts on this deal in a comment below…
See more on Sound United here: soundunited.com.
Learn all about Masimo by visiting: masimo.com.