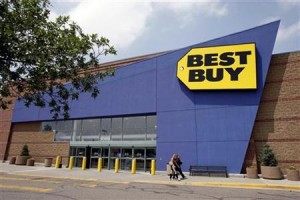 In a report provocatively titled "Best Buy Isn't Dead, but It Is Dying," top investor service The Motley Fool (TMF) suggested that number one consumer electronics chain Best Buy's "…best days are in the past." Written by Rick Munarriz, the report dissects Best Buy's last financial quarter report, as well as its future forecast.
See more on why The Motley Fool took this position on Best Buy…
TMF noted that shares of Best Buy's stock dove 7% Tuesday after the company released their last quarter's results (it gained back a few percentage points on Wednesday). That report is best described as mixed, with plenty to be concerned about. But even more concerning than that was the company's guidance for the upcoming quarter, which seemed to suggest a further decline in results rather than improvement.
The key touch points for TMF were: a 1.4% drop in overall revenues, an 8% drop in international revenues, and comp stores declined 0.1%. Think they're being picky pointing out a 0.1% comp store sales decline? Well, consider the fact that Best Buy, like some other bricks and clicks retailers, includes their online sales growth in their comp store calculations – and online sales were up 24%. So the stores must have done poorly – although TMF suggests they may have been flat. (A generous interpretation in our book.)
Not All Bad
The news wasn't all bad. For example, adjusted earnings increased 10% to $144 million. Consequently, earnings per share rose 19% to $0.44 per share. But like many companies, this earnings per share growth is largely driven by the company's aggressive share buyback program – which takes shares out of the float and give a perceived per share boost. This is not nearly as impressive as an apples-to-apples boost of actual operating results.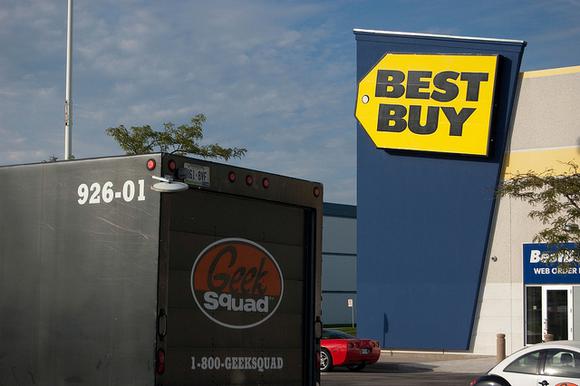 So clearly the results were mixed…but not horrible. In fact, results even beat analysts' estimates with a margin expansion on flat sales…normally good news for Wall Street. And yet, Best Buy's share price crashed…why?
The Future is the Problem
The answer was the guidance the company gave for the current quarter. In short, not only could they not forecast improved performance…they suggested a further degradation in profits. The company said they anticipated flat sales, once again held back by declines in international markets. Sales are forecast to come in between $8.35 billion to $8.45 billion for the quarter which runs to the end of July. This is 1% to 2% lower than the same quarter in the previous year.
But Best Buy's profit forecast is the problem. The company is forecasting earnings per share of between $0.38 to $0.42 a share – well below the $0.49 per share it earned last year. Worse than that, it is far below analysts' expectations of $0.50 per share. Wall Street does not like these kinds of surprises. Adding insult to injury – the company's estimates forecast shrinking margins.
Big Box is a Bad Place to Be
TMF notes that all of the big box consumer electronics retailers are struggling…losing out in the battle with online retailers. For different reasons, Conn's, H.H. Greg, and Best Buy are all on the same sinking ship.
As TMF put it: "As good a job as CEO Hubert Joly has done in keeping the blood loss to a minimum, it's hard to deny that Best Buy's best days are in the past."