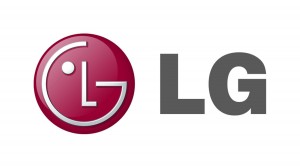 Starting off press day at CES 2015 with a bang, LG Electronics, Inc. seemed to us to convey a decidedly cool confidence. In the past, LG could be defensive…often struggling to emerge from the shadows of its larger rival – Samsung.
But this year, LG was confident and optimistic…
Yes, we know, CES is a show and everybody goes to great pains to look strong. But this year LG put on one of the better press conferences we've seen from them…ever. Some of that verve or confidence likely comes from the success of OLED – a technology that they virtually own in the market. And maybe there's a bit of maturing as LG continues to grow and gain market share.
Although the company took pains to describe some of its efforts in the IoT market, it was pretty obvious that the big story for LG this year is largely centered on OLED TVs. The company made no bones about the fact that it is raising the OLED flag…and vowing to make the technology a household name.
A vast color spectrum…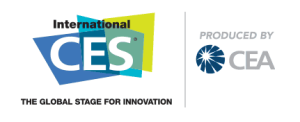 Quoting Joel Silver of ISF fame, Tim Alessi, LG Electronics USA director of new product development told journalists that OLED has "the ability to deliver perfect black" levels and that this is the key to picture performance. Alessi also said that OLED has "unmatched contrast levels," the "ability to generate a vast color spectrum"…and it offers the "perfect viewing angle for just about anywhere in the room."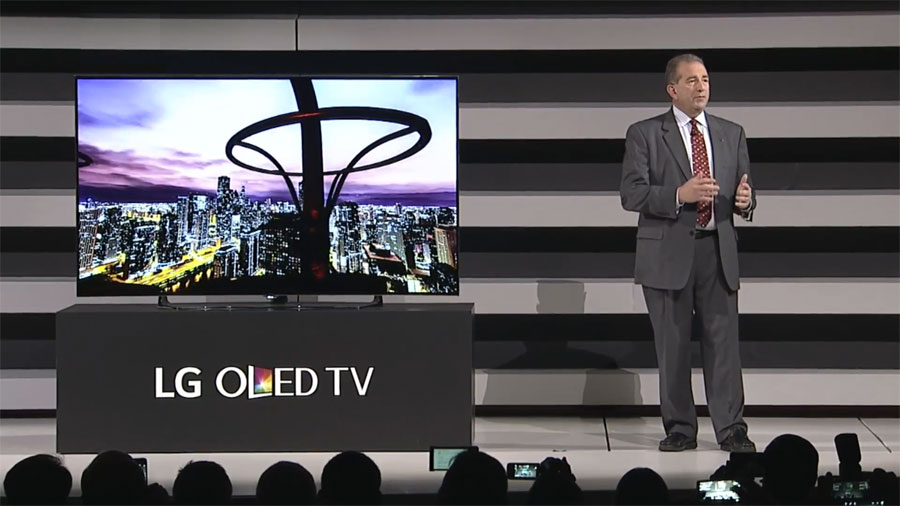 Just how excited is LG for OLED? Alessi told reporters that their sister company LG Display has made a $600 million commitment to expand OLED production. This represents four times the existing capacity.
A million reasons to love OLED…
LG believes that the OLED market will hit 1 million units by 2016…"in a market primarily driven by LG," Alessi proudly proclaimed. And to help drive that market, the company announced seven new OLED models – including a wild 77-inch model that can either be used flat, or at the push of a button, converted into a curved model.
"OLED is quite simply the best TV ever," Alessi said enthusiastically. "And [it's] the future of television."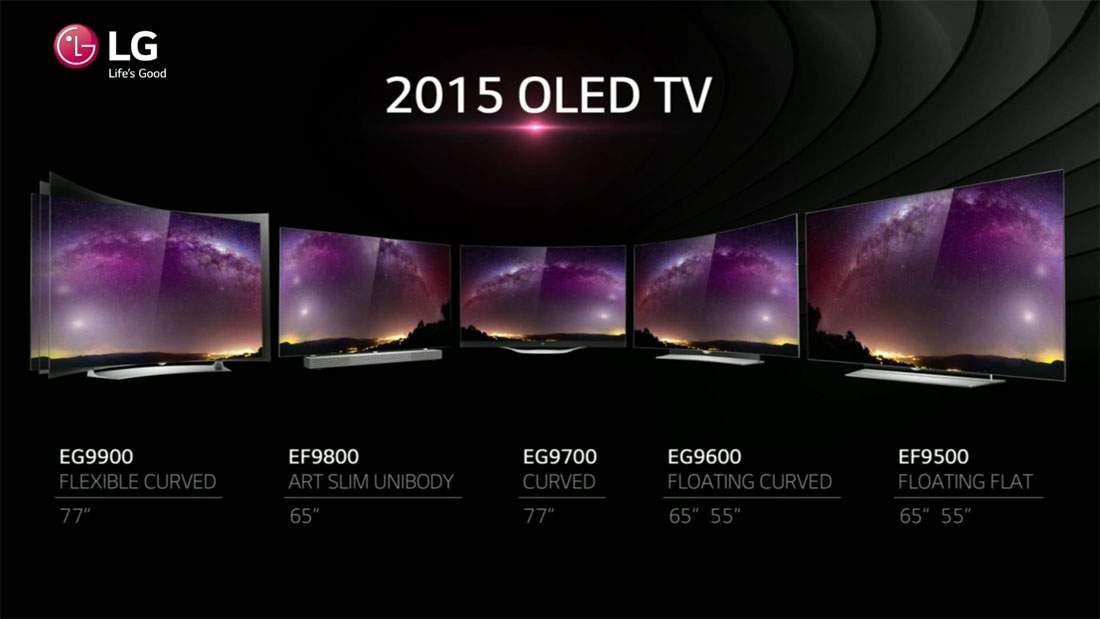 All of LG's new OLED TVs models sport full 4K Ultra HD resolution. The company offers OLED in both models that are curved – and, perhaps hedging their bets – flat. Screen sizes include 55-inch, 65-inch and 77-inch models.
OLED is almost exclusively LG's…
As has been previously reported – most manufacturers have abandoned the OLED technology due to the fact that manufacturing yields were unacceptably low – preventing the normal cost efficiency improvement as volume increases. But LG has a proprietary panel that does not suffer this problem. Hence, they are virtually the last man standing with a technology that offers a breathtakingly beautiful picture.
As has been true in the past, the design of the LG line is quite attractive…sleek and featuring the obligatory thin panel design. LG calls it Art Slim and it is among the best looking designs out there.
With updated TVs, an updated Smart TV operating system…
LG, in conjunction with this launch, has also announced an updated WebOS Smart TV platform which the company says is simpler and even more intuitive than the first version. Besides providing access to content, WebOS offers what the company calls a Launcher Bar where favorites can be stored and instantly launched.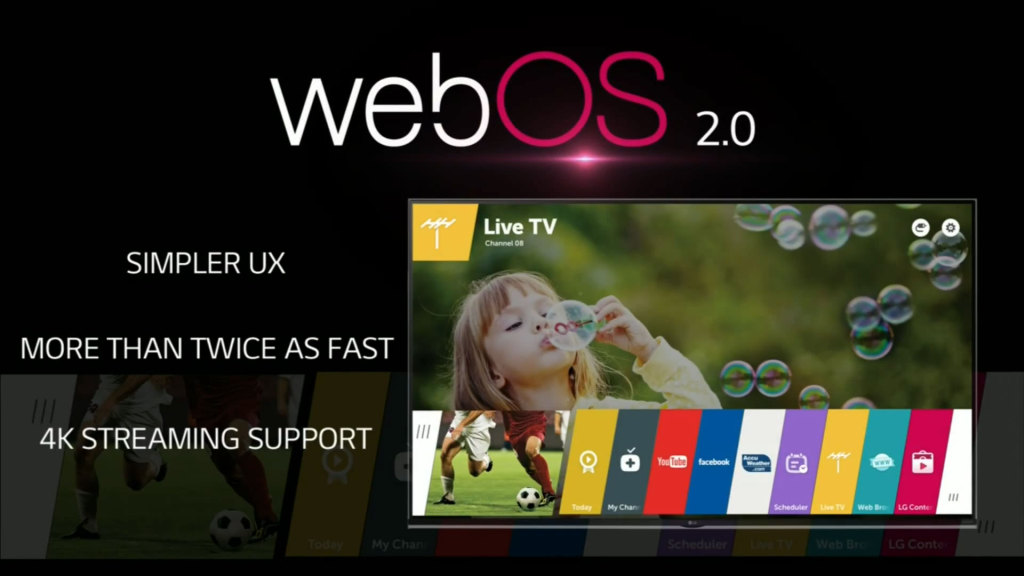 Of course, LG hasn't abandoned the LED market either – offering a line of new 4K Ultra HD LED TV models and – perhaps anticipating Samsung's position – even announced quantum dot technology (that Samsung, in their press conference, said was "better than OLED"). This new series is said to offer an even wider color gamut thanks to the inclusion of either Wide Color LED or Quantum Dot technology.
Covering all the technology bases…
Wide Color LED technology is said to use different phosphor-based LEDs that give greater color depth and a 25% increased color gamut reproduction. Quantum Dot technology goes ever further, delivering a 30% wider color gamut for even more realistic images..
Like some of their OLED models, many models feature upgraded audio packages created in conjunction with Harman/Kardon.
Finally, LG announced that they would be demonstrating 8K technology to show goers in its booth. They did not announce any marketing plans for 8K.
Learn more about LG at: www.lg.com/us