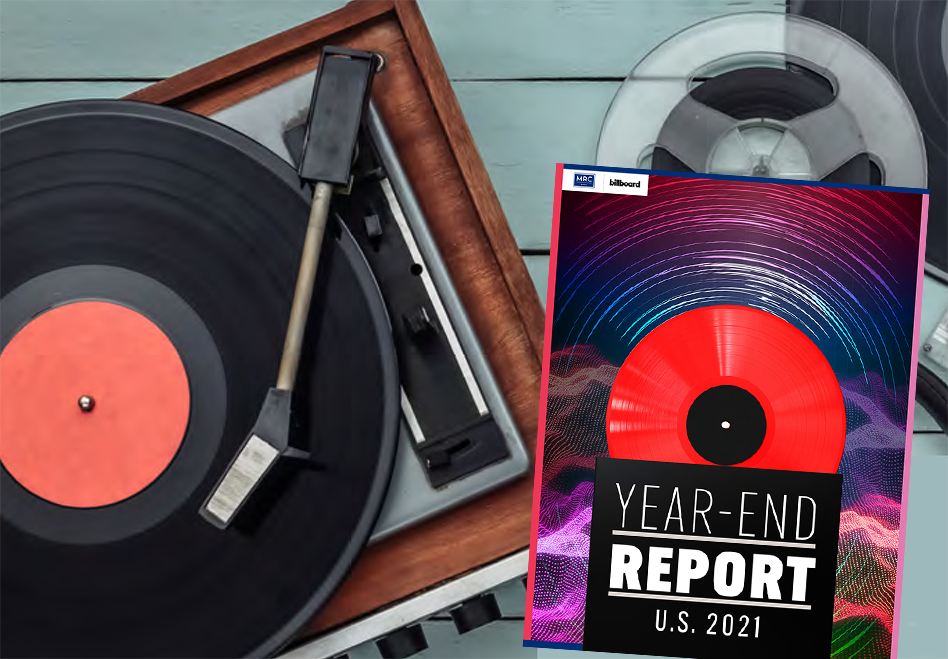 Musicians Counterattack, Gain Against the Geeks
In the latest report from the music world, we learned two surprising facts: First, for the first time in 17-years, retail sales of physical compact discs actually increased. And second, for the first time since 1991, vinyl records are the most popular physical media format. It's big news and much of the media – even mainstream news outlets like CNN – reported on this development. It appears to be part of a surprising swing by consumers back to physical media, as sales of vinyl records in 2021 saw a stunning year-over-year increase of 51.4% – the biggest increase of ANY format, physical or streaming.
What the heck is going on here?
See more on physical media clawing its way back into the hearts of consumers
Something is happening in music…something big…something counter-trend to the last couple of decades of digital proliferation. Many in the music business, including professional musicians, have felt it happening and now the latest report from MRC Data – collected in conjunction with Billboard – quantifies it. Consumers are swinging back to physical media in a measurable and significant way.
But I shouldn't get ahead of myself. Of course, music streaming still rules in terms of raw numbers. For example, U.S. on-demand song streams (both audio & video) went from 1.03 trillion (yes, with a "t") streams in 2020, to 1.13 trillion streams in 2021. That's a 9.9% increase in song streams.
Sales of Digital Albums are Down; Sales of Vinyl Albums are Up…WAY Up
But consider this analysis…total digital album unit sales came in at 26.2 million in 2021, down -23.9% from the 34.4 million in 2020. But physical vinyl album unit sales came in at 41.7 million in 2021, a whopping +51.4% increase over sales of 27.5 million in 2020.
Of all of the stats quantifying sales results for the various types of media – both physical and streaming – this increase in vinyl sales was the single largest percentage gain of any category.
Perhaps even more surprising than that, for the first time in 17 years, sales of physical compact discs (CDs) came in at 40.6 million in 2021, or 1.1% higher than the sales of 40.2 million units in 2020. It is the category's first uptick in sales in a very long time, and many are wondering if this category has hit a turning point, much as vinyl did back in 2006. As researcher Statista noted, the current level of vinyl sales is up more than 45-fold over that period of time.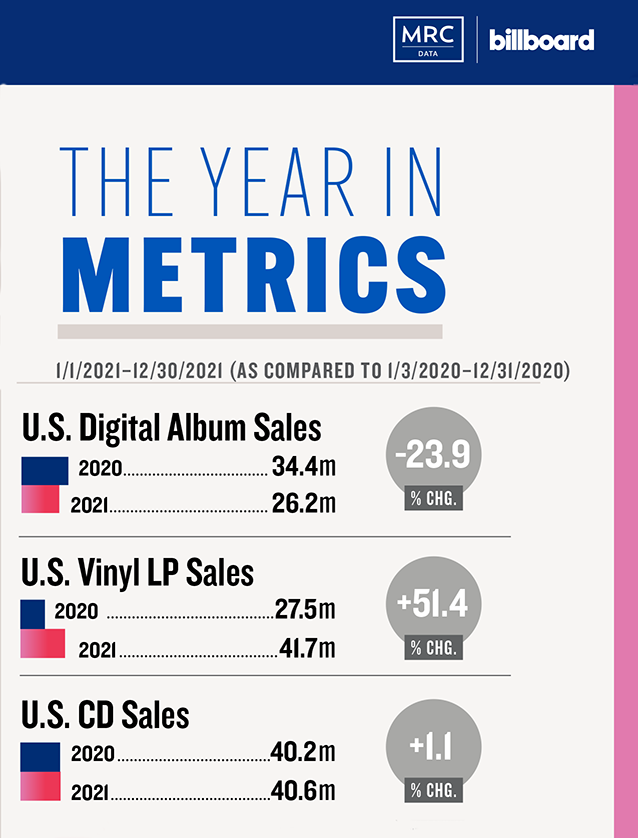 MRC Data/Billboard Say Jump in Vinyl is a Top Ten Trend for 2022
The news was so big, that it was listed by MRC Data/Billboard as one of the top ten trends that will impact music in 2022. Even as recently as 2011, ten years ago, some predicted that vinyl was dead as everyone had moved to digital. Yes, sales in vinyl had begun to show some small incremental increases in 2006 – but many disregarded that as "only a fad" among the "hipster" crowd. At that time, many consumers purchased songs from iTunes that they downloaded to their iPod. Eventually, streaming exceeded digital downloads and evolved to become the dominant music media of choice.
But things appear to be changing…
I've been reporting on this surprising trend back to vinyl for a while now, and it is now quite clear that there is a growing appetite for vinyl albums, if still a relatively small subcategory compared to streaming overall. But consider this – vinyl is now the most popular physical format for the first time since 1991!
Record Store Day
What could be driving these trends?
One factor that an analysis by MRC Data/Billboard points to is the growing awareness and popularity of Record Store Day, an indie retail-led promotion that typically is held in April. In this event, independent record stores across the country promote exclusive new releases and reissues of popular vinyl albums. Also, musicians – who make much more money off of their album sales than the pennies they are allotted from song streaming – have taken to releasing and promoting their vinyl versions. Certain artists, such as Taylor Swift who is re-releasing several of her early albums have especially put vinyl or CDs in the forefront of their release.
Fans Show Support of Favorite Artists by Buying Their Vinyl Albums and CDs
Also, with the advent of artists building large social media communities of their fans, many are drawing fans' attention to their physical albums. Many artists hated it when Steve Jobs (Apple Inc.'s chief geek) convinced the record industry to allow digital downloads of their catalogs on a song-by-song basis. Many albums are conceived as a cohesive collection and artists prefer they be consumed that way. Recently, artists such as Adele restricted access by the streaming services to her latest album release, letting the first wave of access to only physical media with streaming to follow later.
Many fans have also become hip to the reality that their favorite bands and stars make little to no money off of streaming, and one way they show their support is by buying physical versions – vinyl or CD.

In recent years, I notice customers preferring to physically own music, other than streaming, usually in it's best format (vinyl). Many are also having vinyl parties and creating online content as businesses or hobbies. Likewise, the inclusion of record players in movies/show scenes spotlights the resurgence of records in today's music culture. But most importantly, I see the love of customers digging for a particular vinyl that bring back wonderful memories. We are still selling quit a bit of CDs as well.

Tobago Benito, Owner, DBS Sounds
Top Vinyl Hits = Top Hits of the Day
More and more artists are embracing vinyl for their latest releases. For example, the top five releases on vinyl are all these artists' latest music (with the exception of Taylor Swift which is a re-release of an earlier album) and include: 1) Adele, 30; 2) Olivia Rodrigo, SOUR; 3) Taylor Swift, Red (Taylor's Version); 4) Harry Styles, Fine Line; 5) Billie Eilish, Happier Than Ever.
For the release of Adele's 30, retailer Target offered a special edition with 3 extra tracks…only on CD. Target sold 378,000 copies in the first week of release – the biggest CD sales week of 2021, MRC said.
Tech Dealers Need to Offer Systems with Turntables & CD Players
The lesson of all of this for Strata-gee readers? Are dealers and integrators hip to this trend? Are you offering system setups in your showrooms and in your system proposals with CD players and turntables?
If I were you, I'd take another look to make sure that I'm linking my offerings in line with my customers' desires. Because when it comes to music, consumers are increasingly looking to get physical.