Panasonic Corp. has laid off 20% of their workforce – or 600 employees – in its lithium ion battery operations, according to a report by the Nikkei yesterday in Osaka, Japan. The move was made in an attempt to help turn the division profitable. The company has also decided to restructure their manufacturing processes as the layoffs alone won't likely be enough to achieve profitability.
See more on this dramatic restructuring from the struggling Japanese giant…
Panasonic, like most of the Japanese electronics companies, is struggling with a global slowdown, negative currency exchange, and increasing industry competitiveness driving down profits. The company is expected to report another fiscal year net loss. This will mean the company has lost money three of the last four years.
To address its challenges, Panasonic has said all operations must be profitable by fiscal 2015, which ends in March 2016. This move to restructure its lithium ion battery business is seen as part of that goal. Currently, the lithium ion division is losing about ¥20 billion (US$201 million) on revenues of a little less than ¥300 billion (US$3.1 billion).
Must dramatically change the way…
The company has decided it must dramatically change the way it produces lithium ion battery products and so it will move production of smaller batteries for mobile phones and personal computers to China. As a result, workers for these products are no longer needed in Japan. The company will have a savings by cutting their payroll directly – but also by lowering their cost of production and improving margins.
The company will continue to produce larger-scale lithium ion battery models, such as for automobiles, in Japan. But even with these products, Panasonic will no longer create these batteries from scratch, as has been done up until now. Going forward, the company will purchase various parts and materials from overseas and assemble them in their Japan production facilities.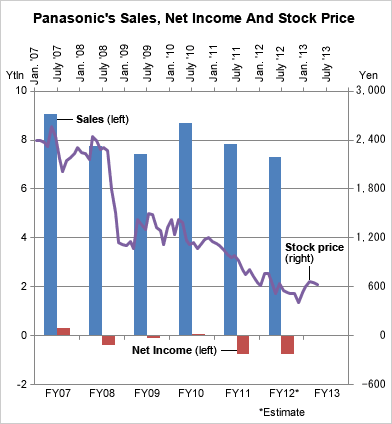 Cut in-house materials by 50%…
Panasonic say it will be able to purchase enough materials to make up about 50% of these products – cutting the in-house manufacturing by half. Panasonic believes that this goal can be reached by 2015.
Finally, Panasonic says that by only focusing on large-scale automobile lithium ion battery models, it can layer back its overall capital investment in the division by at least 25% by fiscal 2015. With the successful completion of all of these initiatives, the company believes that this struggling division will return to profitability.