At the end of last week, JVC Kenwood Corporation released a summary of results for their fiscal year ending March 31, 2013. On the eve of this announcement, the company recast their forecasts for the year to reflect their actual results. In both cases, the news was not good as the company's results failed to meet both their original…and revised forecasts.
See more on JVC Kenwood's results…including our analysis of their overall trends…
On Thursday, April 25th, the company released a document titled Notice on Revision of Consolidated Earnings Forecast for the Fiscal Year Ended March 2013 and Incurrence of Non-Operating Expenses (Foreign Exchange Losses) which announced a significant revision of their most recent forecast revision announced on February 1, 2013. The company revised all key parameters downward anywhere from a 1.1% decline in sales to a 63.3% decline in net income.
This was a significant revision of a previously significant revision…and some of the numbers were pretty ugly. Sales were revised downward from ¥310.0 billion ($3.2 billion) to ¥306.5 billion ($3.1 billion) – only about a 1.1% decline. However, net profits dropped from an originally forecast ¥3.0 billion ($30 million) to a revised ¥1.1 billion ($11 million) or a 63.3% drop.
A revision of a revision…
In discussing the reasons for the revision of their revised forecast, the company noted that a European economic recession "during the third quarter continued into the fourth quarter." However, the impact of the recession was being offset by: new products launched in their car electronics business; "new order acquisition" in their professional systems business; a new camcorder launch in their home and mobile electronics business; as well as company-wide cost reduction activities.
But the company also noted that they experienced material foreign currency exchange losses at a rate higher than their original forecast. As a result, income was hit harder than revenues The company also noted that income taxes came in higher than anticipated which impacted their net income numbers.
What a difference a day makes…
The next day, Friday, April 26th, the company released its initial report summarizing their financial results for the fiscal year ending March 31, 2013 – which were now in line with the latest revision released the day before.

But while the comparisons versus the forecasts were tough, they looked even worse as compared to the previous year. For example, while their sales for the fiscal year ended March 31, 2013 at ¥306.6 billion were only off 1.1% versus their February 1st forecast – they were a full 4.5% off of FY2012's sales of ¥320.9 billion. And net income at ¥1.1 billion was down a full 81% below last year's net income of ¥6.0 billion.
All but one segment touched…
JVC Kenwood has four major business segments – Car Electronics, Professional Systems, Home & Mobile Electronics, Entertainment – and one minor "Others" segment. With the exception of their Entertainment segment, all others showed revenue declines. And we should also mention that, next to Others, Entertainment is JVC Kenwood's smallest segment.
As far as income, both Professional Systems and Entertainment showed increases. However, these were more than offset by the losses  generated by all of the other segments.
Partnering in 2007, unaware of the rough road ahead…
JVC and Kenwood began forming a business and capital alliance back in 2007. The company merged its management in October 2008 and finally officially merged the two entities into one company in October 2011. Initially, the company faced many challenges integrating two very different companies.
But as operations were merged, the company benefited from greater leveraging by rationalizing redundant resources – with profits initially improving. However, timing in life is everything and the company has faced the challenges of a global economic slowdown, negative currency exchange environment, and a hyper-competitive industry.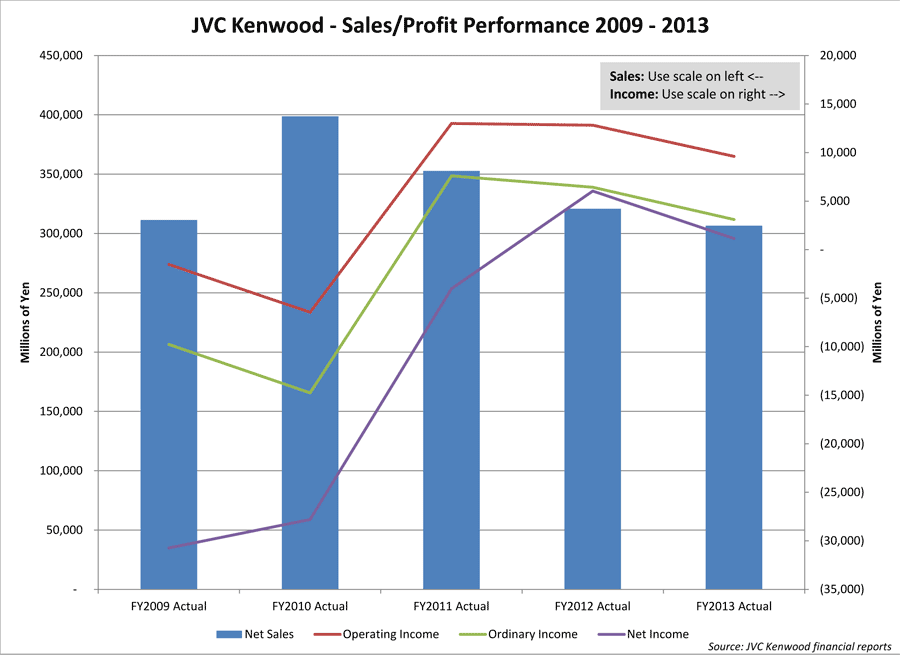 Struggles continue…
Thanks to these factors – as well as others – the chart above shows that the company continues to struggle. Covering the five years of their cooperation and merged operations, JVC Kenwood has experienced sales declines for the last three years in a row. And both operating and ordinary income have declined for the last two years.
Finally, the company released their forecast for the next fiscal year which ends March 31, 2014. We couldn't help but notice that the targets were almost identical to the ones set for fiscal year 2013. Well…if at first you don't succeed – try, try again!