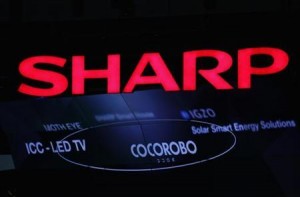 Toshiba, who is on the verge of announcing a record loss and plans another round of layoffs, is far from the only Japanese giant who is stumbling. A new analysis by the Nikkei suggests it's possible that Sharp Corp. may not have enough cash to survive the winter – despite the fact that multiple potential suitors are swirling around them in a head-spinning series of negotiations that, so far, are unproductive. And the news of these new troubles have surfaced after they successfully concluded negotiations for a ¥200 billion bank bailout in April.
See more on how Sharp's situation has deteriorated this year…
Within a month of gaining the support of their principal banks, Sharp's reorganization plans began to fall apart. The main culprit is its LCD display division, which is said to be performing very poorly. Although the company is attempting to diversify its business into areas other than LCD panels, it has a long road ahead of it to accomplish that goal.
And while the other divisions of the company are performing according to their revised plans, LCD is sucking up way more cash than was originally anticipated. As a result, the company has embarked on a very well-recognized route for companies in its situation – a death spiral.
Suppliers Cut Sharp's Credit Lines
The company's problems are so well-recognized and reported, that the many suppliers to the company have cut their credit line. This forces the company into a difficult situation – they need the parts to manufacture the finished goods, they need the finished goods to sell them in the market, they need to sell the goods on the market to generate cash, and they need the cash to pay the suppliers. But with suppliers unwilling to sell parts on credit, the company either has to pony up cash to pay the suppliers or end up cutting production schedules – either of which reduces their cash position.
According to the report, Sharp has instituted policies internally that only plays to the suppliers concerns. In October, Sharp circulated an internal memo instructing all facilities to only use one elevator, cut down the number of lights they use, and to hang on to the same old desk and chairs longer before replacement. All of this in a bid to cut costs and save money, but seem a surprising group of activities for such a major company.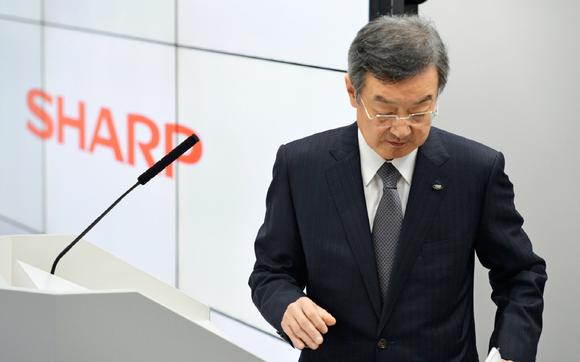 'We Decided that All Employees Should Be Involved'
In late October, president Takahashi told employees in a meeting, "We need to firmly secure cash, a prerequisite for business activities. I believe we should do our utmost with a state of mind that may prioritize cash over profit from time to time."
Then in November, on an internal website used by employees, Sharp management posted a notice titled "Special Sales of Sharp Products to Employees." The message, which was authored by Senior Executive Managing Officer Yoshisuke Hasegawa, who is president of the Consumer Electronics Co., was surprising.
"As you know, conditions surrounding our company are extremely tough," the message said. "We decided that all employees should be involved in the promotion of a program to boost sales of our products as part of company-wide efforts. I ask you to understand the purpose of the decision and exercise tremendous cooperation by actively participating in the program so that we can overcome the difficulties."
Employees Each 'Asked' to Buy a Certain Amount of Sharp Products
The message then went on to list target purchase amounts of Sharp products, broken down by class of employee: ¥200,000 ($1,637.20) per person for executive vice presidents, executive officers, board members and higher executives; ¥100,000 for department chiefs and other managerial office holders; and ¥50,000 for regular employees.
When questioned about the program by the Nikkei, an executive officer denied that these target levels were mandatory, saying only that they were the amount if purchases that management "hoped" employees would make. But the Nikkei said that "employees tend to see them as quotas." Some employees told the Nikkei that the program is designed to use employees money to directly beef up corporate profits.
Of course this program could have produced even more cash for the company if they had announced it before cutting 3,500 employees – 10% of its workforce –  through an early retirement program in May. Employees told the Nikkei that the pragmatic process of letting thousands of employees go, meant that surviving employees were getting emailed "farewell" messages every day for weeks – a tremendous drag on employee morale.
Employee Morale Sinks Along with Company's Fortunes
In September, the company sold its headquarters building, along with other assets in a bid to raise cash. The company also hoped that by selling its long-held headquarters employees would gain a sense of crisis as a form of incentive to work harder. Not surprisingly, it has mostly served to further dampen morale.
The current headquarters building of the 104-year-old company was built in Osaka by Sharp's founder, Tokuji Hayakawa in 1923. For decades, employees saw it as a symbol of the company's growth. Now, Sharp headquarters will become a furniture company's store and possibly HQ.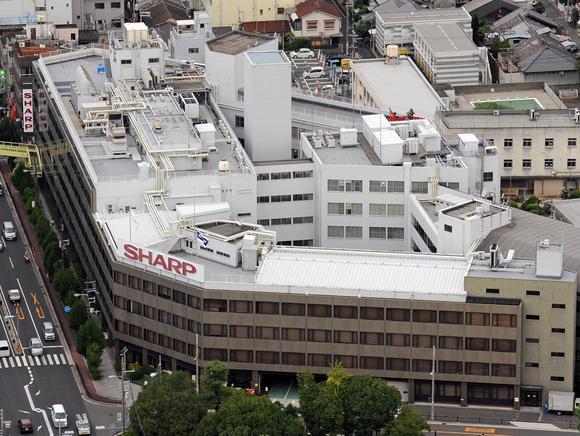 The company is said to be in negotiations to sell its Sakai plant – a large LCD factory, as well as another large company-owned building in the Makuhari district in Chiba (east of Tokyo).
"We have come to the point where few sell-able assets remain," an official told the Nikkei.
A Slew of Suitors, None Attractive
In the meantime, the company has a slew of suitors – or vultures, depending on your viewpoint – circling around in a series of so far unproductive negotiations. But, for a variety of reasons, none of these suitors are particularly suitable to current Sharp management.
Terry Gou, Chariman of Hon Hai Precision Industry Co. Ltd – better known by its subsidiary Foxconn – had previously cut a deal with Sharp and is a partner in their Sakai plant. However, negotiations over a deeper investment in the company broke down when Sharp's stock values dropped. Sharp doesn't trust Gou and he finds them difficult to negotiate with. But Gou carries a big stick – Foxconn has a deep partnership with Apple and is its largest supplier. Gou could be a key in turning around the struggling LCD business.
Japan Display – a major LCD producer in their own right, is a competitor to Sharp. Japan Display has held discussions with Sharp as they would not like to see a deal between Sharp and Foxconn. A deal such as that would make Foxconn an even more powerful competitor. CEO Mitsuru Homma said: "We think Sharp, as a great trailblazer for LCD technology, has extremely important technologies as well as manufacturing technologies we don't have. The flow of Sharp's manufacturing technologies to a third country would pose a greater threat to us." However, such a partnership between Sharp and Japan Display would likely raise antitrust issues due to the potential combined market share.
Innovation Network Corp. of Japan – a public/private partnership that is a major investor in Japan Display. INCJ is a very proactive government effort to help Japanese industry deal with changing markets. According to the report, officials of INCJ, along with government officials with METI (the Ministry of Economy, Trade, and Industry) think "it may be necessary for the fund to invest in Sharp." This would be done to pave the way for consolidation in the industry. Not only that, but METI wants to prevent Sharp from selling its LCD technology to a foreign entity and would seek to forestall that by investing in the company. INCJ approached Sharp with the idea of an investment, but Sharp's main creditor banks are against any deal the doesn't include spinning off the money-losing LCD business. Since the main motivation of INCJ and METI is to have Sharp keep their LCD business, these talks are said to be at a standstill.
In the meantime, while Sharp's management is busy entertaining negotiations, racing from meeting to meeting with an ever-changing array of executives from these various companies and organizations, their cash position just keeps slip, slip, slipping away.