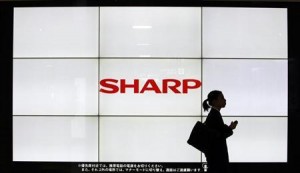 Troubled Japanese electronics manufacturer Sharp Corp. announced today that it will sell its headquarters building in Osaka, as well as an additional associated building, and the land they both stand on, in a bid to raise cash. The company says it sold the properties for ¥18.8 billion ($156.8 million) which will allow them to book a special gain of ¥14.8 billion in profit from the deal in their fiscal fourth quarter, the period ending March 2016.
See more on Sharp's situation and this transaction…
Sharp's headquarter building, with about 300,000 sq.ft. on an 80,000 sq.ft. lot, will be sold to the Nitori Co. of Sapporo, Hokkaido, a major furniture retailer. The other property, called the Tanabe Building, has just under 400,000 sq.ft. of space on a lot of more than 116,000 sq.ft. and will be sold to NTT Urban Development Corp. The Tanabe Building held certain Sharp subsidiaries including its solar panel division.
As part of the deal, Sharp has leased back the space from the buyers for about a two-year period to give them time to begin searching for a new home for their operations. The Nitori Corp. has already said it will set up a large furniture shop sometime in 2018.
This transaction was part of Sharp's turnaround plan announced in May and covering the time period of 2015-2017.