In a press conference at CEDIA Expo Virtual last week, James Loudspeaker showed the gathered press a dramatic new expansion of their all terrain line of outdoor speaker products – new outdoor towers that just might move the earth beneath your feet. The company says that these new All Terrain Outdoor Towers "are designed to deliver concert-level performance outdoors."
See more on these James Loudspeaker towers
During the press conference, Sonance sales manager Jeff Brewer (Sonance acquired James Loudspeaker in September 2019) called these new all terrain towers from James, "A game changing product." While James has already had a significant outdoor speaker lineup, these new models in a new form factor bring even greater power and range to the outdoors.
The towers are made from aircraft-grade aluminum – a James trademark – and powdercoated to a grade of finish that is as durable as it is attractive. The company utilizes 316L stainless steel hardware and a fluoropolymer coating to create an incredibly rigid and long lasting enclosure that is impervious to weather elements.
Perfect For Outdoor Home Theater System
These speakers are not meant to be hidden in landscaping – they are too large and just not intended for that. But rather, they are perfect next to an outdoor projection screen or large all-weather flat panel television for a powerful music or home theater experience.
Using proprietary drivers – another James hallmark – these all terrain towers have been carefully voiced by the team at James and deliver the unusually high degree of power and refinement that integrators have come to expect from the brand. All products coming out of James Loudspeaker's factory in Minden, Nevada, look, feel, and sound like they were custom made because the company has a long history of custom manufacturing. I can attest to that because, as you'll see at the link above, I've been to their factory personally.

We are passionate about crafting solutions that we know the customers want and we get excited because we know we can do it better than anyone else."

Keith Parke, Director of Sales for James Loudspeaker
Two Models Capable of Earth Shaking Sound
There are two models in this new series – the AT85SQTi-BA and the AT63QTi. The AT85SQTi-BA has dual 8″ subwoofers (in their own sub chamber), dual 6½" woofers, and James' iconic quad tweeter array, in this case a titanium version. It utilizes a bi-amplified configuration for an incomparable mix of power and detail. The company says it delivers "a VIP experience."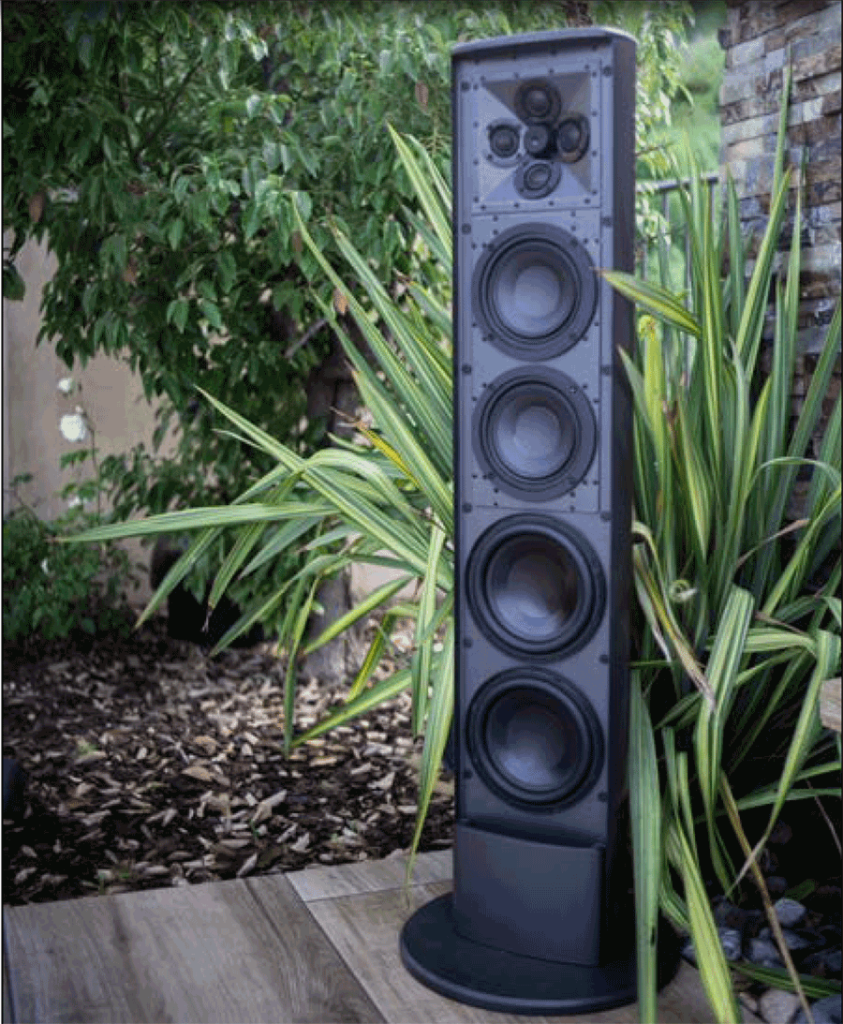 As its slightly smaller brother, the AT63QTi features dual 6½" aluminum woofers and a titanium quad tweeter array for wide dispersion – especially helpful in an outdoor installation – and crisp fidelity. Both of these models can seamlessly integrate with the company's other all terrain line-up, including the ST subwoofer system.
Flexible Color Options, Including Whatever You Want
The outdoor tower speakers can be mounted directly to any hardscape material, or the company also offers a buried disc that the speaker base can be bolted to for a secure installation.
AT Outdoor Tower speakers are available in 10 different standard finishes, including two-tone – or like any other James Loudspeaker product – can be ordered in any custom finish. Integrators can also order these towers in a 70-volt or 4 ohm versions.
Contact your local James Loudspeaker sales representative for more details on their all-new All Terrain Outdoor Tower speakers.
To learn more about James Loudspeaker And their full line-up of high performance products, visit: jamesloudspeaker.com.