A group of integrators, including Premier Group in Carmel, Indiana and Integration Controls in St. Louis, MO have come together to launch a fund-raising effort on YouCaring.com to benefit CEDIA integrators impacted by Harvey, the storm that has battered Houston and surrounding area over the last few days. Noting the "the flooding in Houston is nothing short of catastrophic," the group are hoping to raise at least $20,000 to help affected integrators rebuild their businesses.
See more on this grassroots effort of integrators helping integrators…
As the fund-raising description clearly states, the folks attempting to raise funds are CEDIA members (and volunteers) who wish to use the funds "on behalf of all CEDIA members in the greater Houston area," we reached out to find out if CEDIA was involved in this as well.
In speaking by phone with Cris Pyle, Senior Director of Marketing for CEDIA, we learned that the Association was not connected to this effort. However, they plan on announcing a Harvey-related initiative in the next few days. This effort, it seems, is truly a matter of integrators helping integrators…or at least CEDIA integrators.
**In a follow-up telephone call, we learned from Pyle that CEDIA will have Red Cross Kiosks in the registration area at the upcoming CEDIA show to raise money for those impacted by the storms in and around the Houston area. She also said that the Association "is absolutely in support of our members reaching out to help their colleagues [as] it demonstrates the strength of our community."
Help Get Lives 'Back on Track'
According to information put out on the HomeToys news service, the group is hoping "to collect towards a fund to help these businesses, owners & employees get their lives back on track after these floodwaters recede." The group says these funds are for all Houston area CEDIA members, but does specifically call out J.J. Canon of Digital Delight.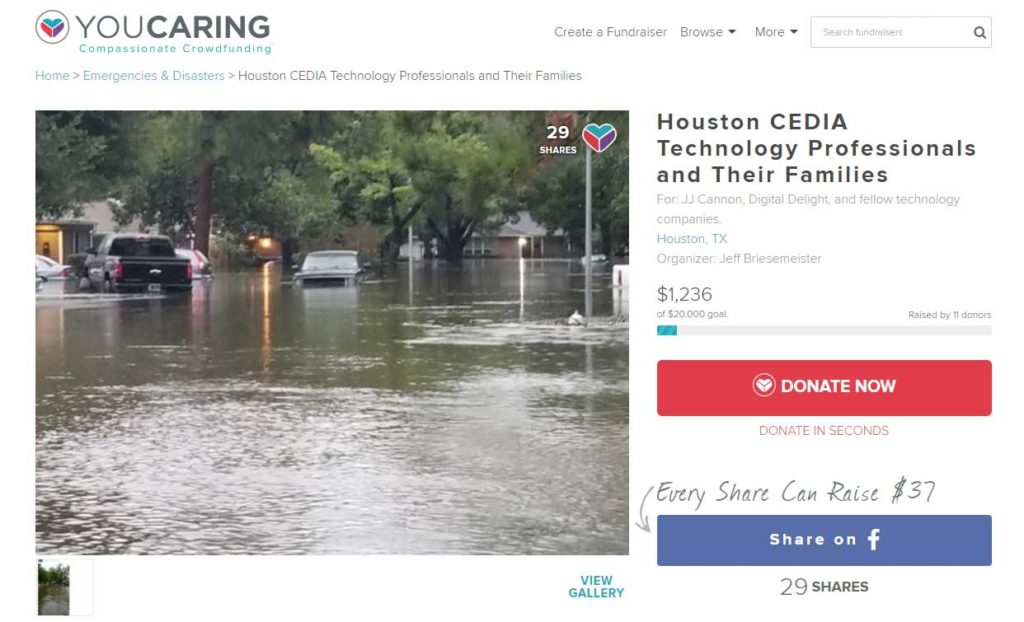 YouCaring.com, is a crowd funding site much like GoFundMe, whose tagline is "Compassionate Crowdfunding. The description page for this particular effort does not lay out just how the funds will be distributed. So far, the organizers have raised $2,236 from eleven donors. Their total goal is $20,000.
However, the description page does commit that all funds raised will be use to benefit CEDIA integrators in the Houston area. Any excess funds will be donated to general relief funds for this Houston tragedy.
The listing includes this note:
PLEASE NOTE: This is an independent effort, and is NOT sponsored or endorsed by the Custom Electronic Design & Installation Association.  The CEDIA name is their trademark, and is used here to identify and associate us with the members in the Houston area.  Also note, I am not a professional fund raiser; 100% of what is raised (minus whatever the payment processing charges) will go to the Houston area in a grass-roots effort initially specific to our industry and their families, with any overages to a local Houston charity as designated by J.J. Canon.
See the page by clicking this link…