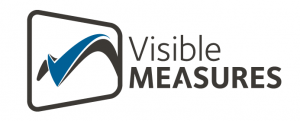 In a new report from research firm Visible Measures and reported on by eMarketer, views of branded videos in the fourth quarter last year jumped an impressive 50% in the year-over-year (YoY) period and an even more impressive 60% as compared with third quarter results. In looking over the report, we couldn't help but notice that the industry that earned the greatest share of this dramatic growth was electronics.
This made us wonder – are you using this tool? See more on the research below…
So, first, let's start by defining the term "branded video." The research report defines branded video as "all video produced by a brand and distributed online." This rather broad definition would encompass everything from your company's YouTube video of product intros and/or trainings…to tightly scripted video advertisements.
Companies have been aggressively experimenting with ways to use video to promote their brands – without violating new codes of conduct that dictate what is true content…and what is SPAM (a deadly and hated designation to be avoided at all cost). Most of this experimentation has been hit-or-miss with widely varying degrees of video project quality (and results).
The Holy Grail…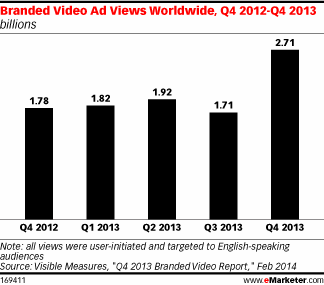 The Holy Grail of the time and money spent on this branded video effort is to create the coveted viral video. If you can come up with a plot that "catches a wave" and suddenly shoots from dozens of views from your family and friends (and employees)…to hundreds of thousands, or even millions of views from all over the Internet – then you can propel your business into digital stardom. But it's not easy.
So how many people watch branded videos, you ask? Well, according to the research, in the fourth quarter alone, people watched more than 2.7 billion (yes, with a "b") branded videos. This is around 50% more than Q4 of 2012 which came in at 1.78 billion views…and 60% more than 2013 Q3's rate of 1.71 billion.
The biggest winners…
Interestingly, two advertising campaigns – Turkish Airlines Selfie Shootout (Kobe Bryant)  and Live Test for Volvo (Jean Claude Van Damme doing the splits) – each had more than 100 million views.
But what might be even more interesting is the fact that two industries emerged as the biggest winners in the fourth quarter – Electronics and Automobiles. Perhaps this is not too surprising given the fact that the fourth quarter includes the holiday shopping season – a period critically important to the consumer electronics industry with the period from Thanksgiving through the year-end bringing in huge revenues and (hopefully) profits.
Hot videos from Samsung and GoPro…
According to the study, videos centered around the electronics industry pulled in an impressive 365 million views. The big winners? The study cites the Samsung Galaxy 11 and the GoPro How Will You Go Pro as top campaigns.
With a total of around 303.8 million views, the automotive industry came in second in Q4 branded video views. Visible Measures suggested in their study that this was a bit of a surprise and is largely the result of two particularly successful campaigns – the aforementioned Volvo truck campaign…AND Dodge's Ron Burgundy campaign featuring comedian Will Ferrell.
For those of you marketing here in the U.S., these numbers suggest it may make sense to consider launching a YouTube channel for video content you create centered around your brand. Americans LOVE their videos and it may be the best way to introduce them to your brand and your products.
Selfie Shootout – Turkish Airlines
Live Test – Volvo Trucks