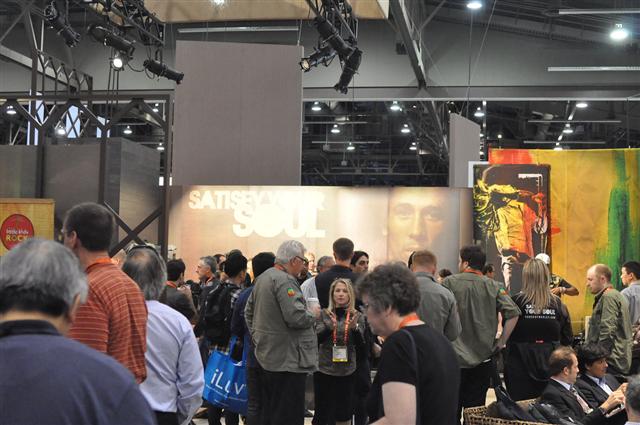 >> See a slideshow of photos from the House of Marley Booth at CES here… <<

<January 31, 2012> Still early in its development, House of Marley, LLC has quickly, if not quietly, staged a rapid business ramp-up – building its product assortment, expanding its distribution network, and growing its fan base. If you haven't been paying attention – you may have been blissfully fooled by their laid-back, reggae-inspired back-beat…but make no mistake, this is serious business.
We first reported on the launch of the House of Marley brand last year [ see Hey Mahn ] – and were so impressed with the clever marketing that we named them our Best of Show from the CEA's Line Show in June 2011 in New York City. And, from a marketing perspective, we continue to be impressed with the strategic savvy the company shows as it builds this brand.
Guidance from Bob…
House of Marley espouses three guiding principles: Superior Quality, Earth Friendly, and Cause-Minded. The company says that five percent of annual profits are donated to ILove.org, a global entity that is connected to the family of reggae star Bob Marley. House of Marley, and the Marley family, both claim that there is a very active involvement of the Marley family in the company's activities and products.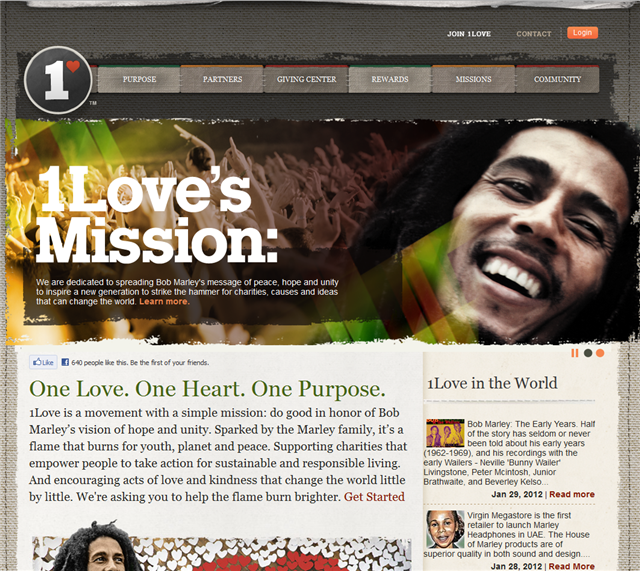 "We take seriously the responsibility that comes with applying the Marley name to any product, particularly audio equipment, and we are extremely pleased with the positive feedback we've received from all corners of the Earth to our initial collection of Marley headphones," said Rohan Marley in a prepared statement on behalf of the Marley family. "We want to give people new ways to experience the sounds of their favorite songs, while giving back to the people and the planet through our non-profit organization, ILove.org. Our father taught us everything we do has to give back, to complete the circle. It's not enough to make earth-friendly products; we need to support programs that do good and take action."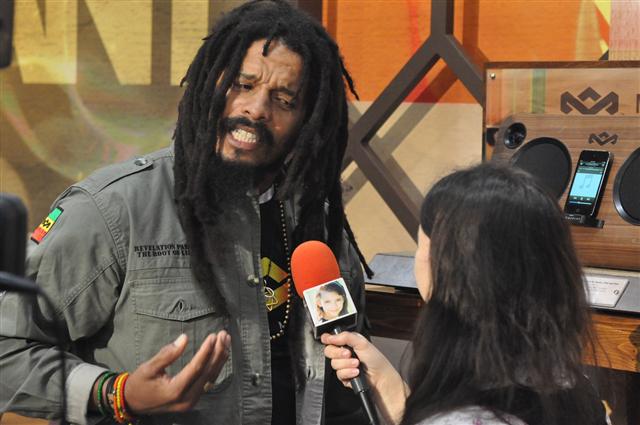 A family affair…
Not only does the Marley family offer words of support, but Rohan Marley was also physically present at the House of Marley booth at the 2012 Consumer Electronics Show (see photo above) speaking with the press and dealers about their mission. And there was a lot to talk about as the company announced a wide range of new products, and showed final versions of the prototypes we saw last year.
The House of Marley CES booth was a masterful combination of natural wood and fabrics, combined with exciting colors and images inspired by art consistent with a heavy Jamaican- or Caribbean-influence. It was almost impossible to miss the House of Marley booth as it was consistently packed with attendees.
We're dancin'…
The company also offered entertainment with dancers performing a coordinated dance routine while carrying House of Marley products to reggae-style music. It was interesting, fun, and satisfyingly entertaining.
For 2012, the company says its expanding its three MARLEY collections including Jammin', Freedom, and Destiny. Jammin' "brings a joyful vide through a colorful and vibrant style;" Freedom "delivers a high-end experience through modern and soulful design sensibilities;" and Destiny "combines pro-level audio components with beautiful, natural, and premium materials."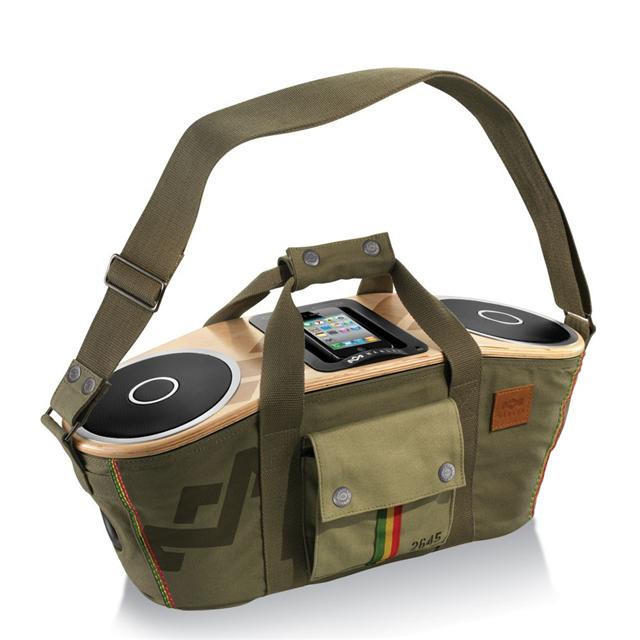 Top new items include:
JAMMIN'
Bag of Rhythm – OK, technically not a new-for-2012 product, the Bag of Rhythm was shown last year but is just now coming available for purchase. A portable, iPhone/iPod dock-based music system, the BOR includes two 4.5-inch woofers in a ported enclosure, two 1-inch tweeters, and an amplifier that the company calls "powerful." The amplifier is driven by a universal switching power supply that can run on AC, batteries (6-"D" cells), an optional rechargeable battery pack, an optional car cord. In a canvas carry bag with a wood top (FSC certified wood), the Bag of Rhythm includes a shoulder strap and storage pocket. Available this month for $349.99 MSRP.
Riff –  In-ear headphones – Brightly colored recycled plastic body, one size fits all eco-foam tips, available in a variety of colors. Available Summer 2012 at $19.99 MSRP.
Lively Up – In-ear heaphones – Also recycled plastic body with a sporty design. Designed for the geometry of your ears to deliver a better sound performance without cutting you off from the world around you as you work out. Available this Summer in multiple colors for $29.99 MSRP.
Little Bird – Over-ear headphones – An ultra-thin and lightweight design with a fabric-covered aluminum frame. Available this Summer for $49.99 MSRP.
FREEDOM
Get Up Stand Up – An all-in-one 2-channel music systems with unique FSC-certified curved wood baffle holding a iPhone/iPod dock, two 4.5-inch woofers in a ported enclosure, and two 1-inch tweeters. The company also characterizes the GUSU amplifier as powerful; however, unlike the Bag of Rhythm, the Get Up Stand Up is only designed for AC usage. The GUSU has top-mounted controls and comes with a wireless remote control. Available this month for an MSRP of $299.99.
Rhythm

 – On-ear headphones – Features a "hidden" sizing system for a custom look and feel, a flexible ear cup attachment design adjusts to the angles of your head and ears which, along with the soft ear cups, provides for a more comfortable fit. The headphones are completely covered in canvas and the cable features a braided fabric-covered cord. Available this Summer for $179.99 MSRP.
Flight – Over-ear headphones – Features a 50-mm dynamic moving-coil driver, a fabric-covered aluminum and steel design, includes a braided fabric cable. Available this Summer for an MSRP of $199.99.
DESTINY
One Foundation 

– A premium compact 2-channel sound system the One Foundation features: a beautiful, polished FSC-certified wood baffle board, iPhone/iPod/iPad dock with Apple AirPlay, two 5.25-inch woofers, two 1-inch horn-loaded tweeters, a ported design for enhanced bass response, 200 watts of power (100w X 2), AC-operation, stereo RCA and 3.5mm auxiliary inputs to incorporate non-Apple source devices, and a wireless remote control is included. Available this Summer for an MSRP of $599.99.
In addition to these products, House of Marley also showed a variety of other products at CES including watches, bags, iPhone and iPad protective cases and more.
The company says that it has been working hard to expand the brand – and its message – around the world. House of Marley products are now distributed in the United States, Canada, the United Kingdom, Australia, Hong Kong, Korea, South America and the Caribbean. The company says it will further expand into the rest of Europe and the Middle East this year.
Here in the United States, House of Marley products are being sold by: Amazon.com, Fry's Electronics, Backcountry.com, Dogfunk.com, Karmaloop.com, CCS, Headphones.com, and more.
Check out all that House of Marley has to offer at www.houseofmarley.com.
>> See a slideshow of photos from the House of Marley Booth at CES here… <<