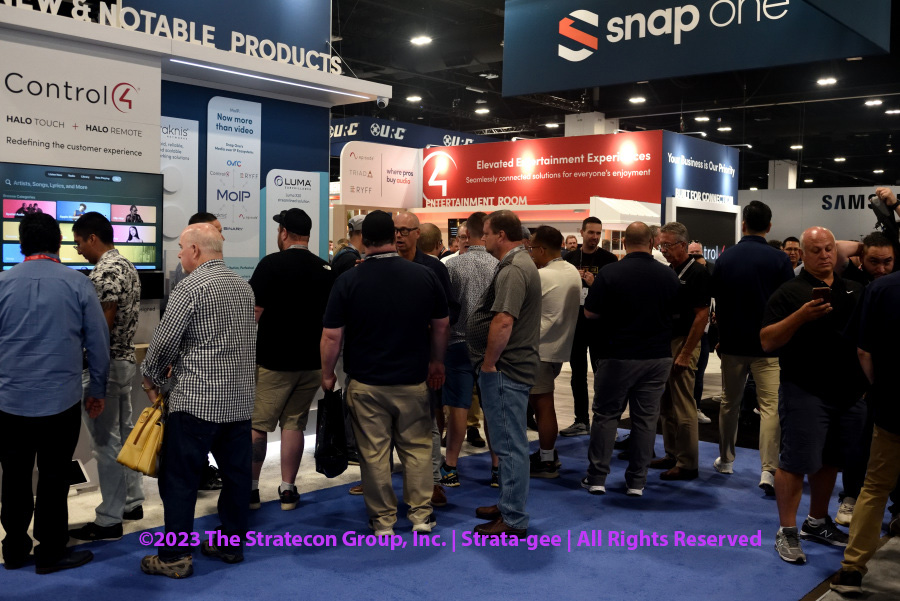 Well, another CEDIA Expo is in the books and we return to our daily duties and launch into a new Fall season full of promise…and concerns. What were the big stories of this year's edition of Emerald's (a public, for-profit company that owns the show) CEDIA Expo? Well, I've scanned several summations from others in the media and it almost seems like we attended different Expos. Here's what I think they are…
See my Top Stories from CEDIA Expo 2023
CEDIA Expo 2023, which this year included a new "co-located" event – the Commercial Integrator Expo (CIX) – was held in Denver, CO at the Colorado Convention Center…a popular location for the custom integration community. Emerald's decision to create a new event, the CIX, and co-locate it with CEDIA Expo was ostensibly created to serve what they like to call the "resimercial" segment.
With CIX included, there were, in essence, two shows in one. According to an exhibitor list, there were approximately 50 CIX exhibitors, which were commercial exhibitors also seeking to address the crossover business – residential integrators who do some commercial projects, and commercial integrators who do some residential projects.
Hundreds of Exhibitors
With a total of approximately 340 exhibitors, it is a physical impossibility for me to visit every booth in three days. So I spend much time in advance of an event like this finding what I believe will be the big stories and then physically visiting their booths and confirming or contradicting my initial assessment. In any event, below are my Top Stories from CEDIA Expo 2023 in no particular order.
Top Stories from CEDIA Expo 2023
A NEW RECORD SET BY STRATA-GEE.COM – Excuse me while I toot my own horn here, no one else is going to do it for me. Expo '23 was a record event for Strata-gee.com which published nine, unique and contemporaneous stories in three separate newsletters in the three days of the event. That is record productivity and I am darned proud of it.
And I can say that the daily pageviews of these newsletters and stories confirmed that many of you found this information useful, as you clearly took time out from your schedules to read them. It is my hope that you found one or more of them valuable to your Expo visit.
ATTENDANCE WAS OK – NOT A RECORD, BUT NOT A BUST – In the weeks leading up to the show, there were some indicators that attendance may be down from the previous year. But at the event, and as I discussed in my daily Expo newsletters, attendance seemed pretty solid.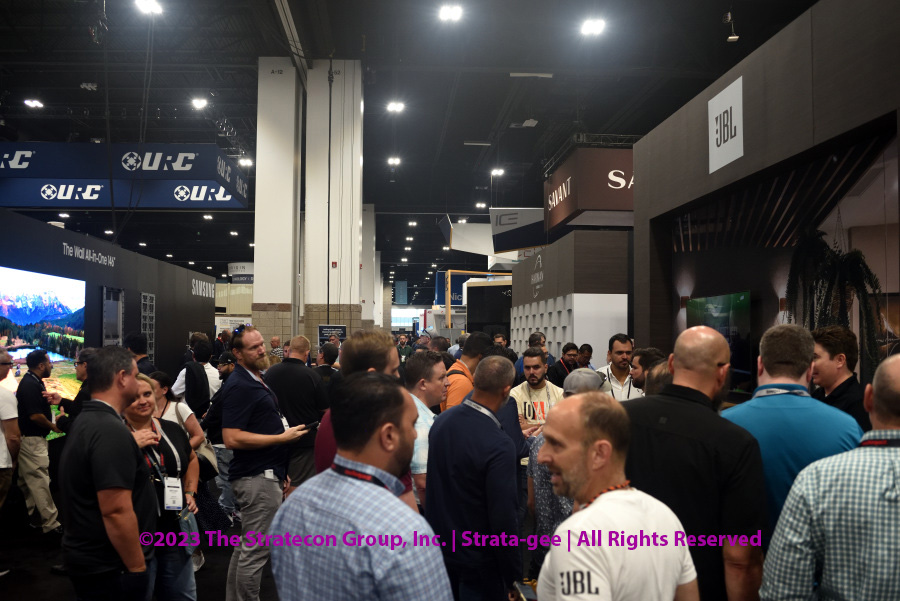 Finally, almost two weeks after the event, Emerald released their registration and verified attendance figures and we found that while attendance was not a record, it also was not a bust. I will write a separate post about attendance, but Emerald has announced a verified attendance (based on actual badges picked up at the event) as 12,848. This is up +7.6% as compared to last year's verified attendance of 11,946.
But remember, there were two shows this year, which may indicate that CEDIA Expo attendance was actually down compared to last year when there was just one show. It's hard to know for sure as Emerald did not break out their attendance by event.
CEDIA – THE TRADE ASSOCIATION – BANNED THE MEDIA FROM AI SYMPOSIUM – As I reported prior to the event, CEDIA – the trade association, not the show – banned all media from participating in an AI Symposium they held in conjunction with some of the major buying groups. The excuse given was they feared that a media presence would chill participation by the event attendees. A couple of decades of participating in, and reporting on, this industry tells me that is BS.
Whatever the real reason, I remain outraged by this media- and member-unfriendly decision by the trade association, will not let it drop (some more shoes will drop), and suggest you should be outraged as well. If you are a member of CEDIA, you should be asking them why they are segmenting information to be sold at a premium to only certain folks.
For me, this is clearly one of the biggest stories at the show.
INNOVATION WAS ALIVE AND WELL, IF DISTRESSINGLY INCREMENTAL – So clearly at this event there were a slew of new products released by exhibitors. For example, Snap One alone launched more than 20 new products. It was an impressive collective output of new things to see and experience.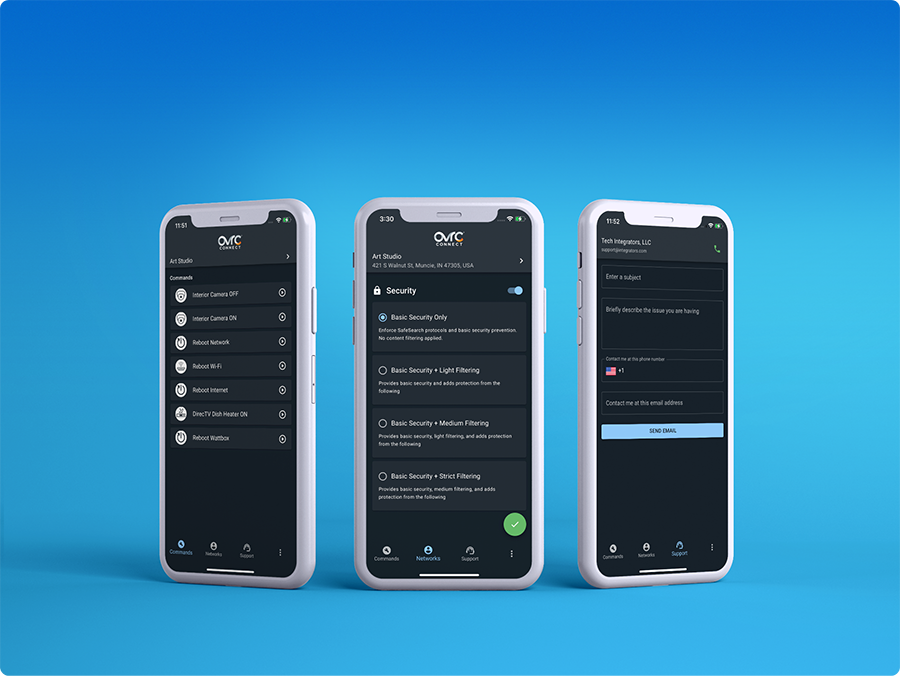 Having said that, I am slightly distressed that it was – outside of a handful of examples – mostly incremental advances. Where are the industry-moving, major new products? They were, sad to say, few and far between.
This may be more of a commentary on where the industry is at overall than on specific exhibitors themselves.
ONE KEY AUDIO THEME: MINI AUDIO/VIDEO RECEIVERS – There was a lot of diversity in products on the show floor this year and no real "theme" being embraced by multiple players. Even Artificial Intelligence (AI), CEDIA's theme for the event received scant support from a wide cross-section of exhibitors. But one theme jumped out to me – mini AVRs!
AudioControl, Russound, and Snap One all showed mini-AVRs. And all of them told me that this was in response to a chorus of feedback from their dealers. Apparently, integrators everywhere are asking manufacturers for the ability to have small form-factor AVRs for sub-room theaters. These won't compete with dedicated home theaters or main room theaters, but extend better sound and even surround sound to other locations in the home with a video display.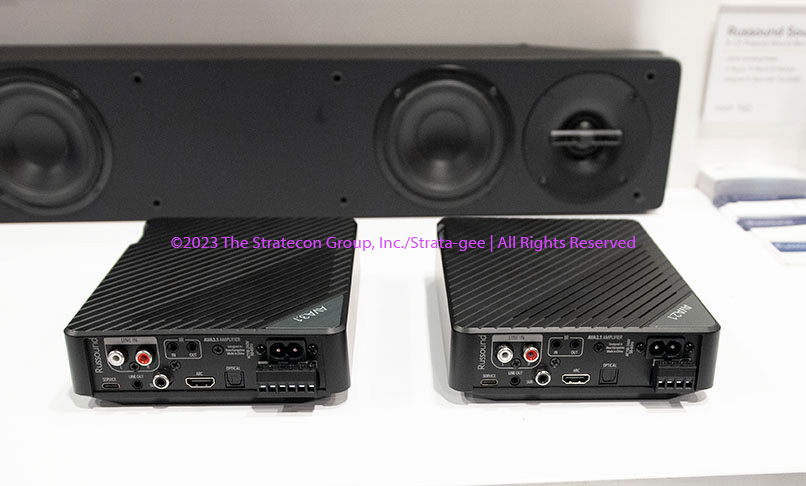 PROMISING NEWCOMERS #1– JUST VIDEO WALLS – I love finding promising newcomers and two of them at this year's Expo really caught my eye. First is Just Video Walls – a company started by really knowledgeable integrators who say MicroLED is a technology on the rise, but it is not a technology to be taken lightly. I first wrote about them just prior to CEDIA Expo '23 and my story drew surprising numbers of interested readers. At Expo, I met with Ryan Lampel, Skyler Meek, and Jim Koenig and they are an impressive group.
MicroLED is visually impactful and popular with your more upscale clientele. While seemingly daunting to spec and install, with three years of research and experience, Just Video Walls takes the mystery out of the technology and can show you how it can be used in more applications, and easily spec'd, designed, and installed. As former integrators, they know your pain points and make it easy for you to make a profit off of this growing technology.
PROMISING NEWCOMERS #2 – AVA REMOTE – The second promising newcomer was AVA and its remarkable AVA remote. Just when you thought you've seen all there is to see in remote control design – along comes a fresh design that your clients are going to love. Using a combination of screen and physical interface, this remote feels good in your hand, is easy to read, and is completely intuitive for any end user of any skill level to operate.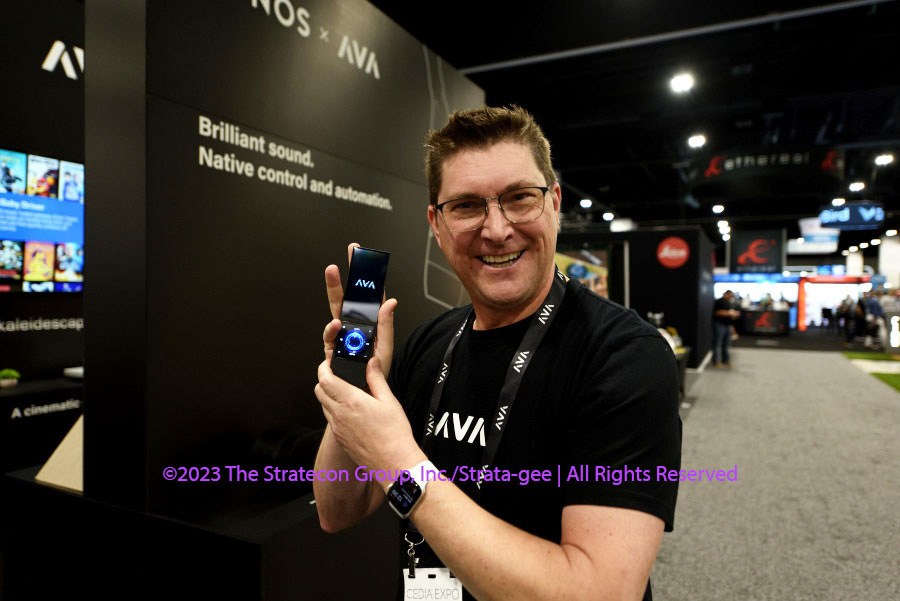 Dynamic key interaction and tactile feedback seem cosmic to us…but feels completely logical to users the way AVA has implemented it here. It feels more modern and works the way many users interact with their mobile devices. I'll get more into it in a separate post, but if you didn't check them out at the show, you owe it to yourself to see what they are up to. It is an impressive offering in a crowded but mostly less-useful category.
THE FIRST PRESS ROOM AT EXPO IN YEARS – For the first time since COVID, Emerald Expo, owner of the CEDIA Expo show, established a Press Room for the media at this show. OK, this is a little inside baseball in the media world, but I was shocked a couple of years back when Emerald phased out the Press Room for the working media attending the show. I immediately began agitating to get it back.
Why should you care if there is a Press Room? A well-designed Press Room helps the media tell the stories of the show – and its industry – and it can literally make a difference in the amount of coverage and the timing of that coverage's distribution. And the more visibility the media gives Expo, the more awareness your potential clients have of the kinds of projects you can help them with. It's a win-win.
Why did Emerald drop the Press Room? I don't know…perhaps budget considerations…or perhaps they only wanted to provide facilities for their owned media (CEPro and Commercial Integrator), but whatever it was, a version of the Press Room was back. There is plenty of room for improvement, but it's a good start.
UNPRECEDENTED TURMOIL IN THE CONTROL SPACE – I think far and away the biggest story in the industry at the moment is the turmoil roiling the control space. This turmoil was on full display at CEDIA Expo and many in the industry were talking about it.
Most integrators identify their business with their major control vendor – Control4, Savant, and Crestron are really the big three. Yet dynamic circumstances have impacted the category and has caused a bit of upset for integrators in one camp or the other.
What turmoil? The circumstances are unique for each brand. In the case of Crestron, the company struggled mightily coming out of COVID with supply chain issues, upsetting many in their dealer base. Savant recently changed their program in a manner that has upset many of their dealers who say Savant has raised the cost of their system to both them and their clients. Finally, Control4 has had a few quarters of sales declines and said their sales won't recover until 2024, clearly suggesting issues impacting their dealers.
Each company is addressing its unique challenge, but for the moment, I've never seen so much turmoil in such an important product segment of the industry. I'm getting an unprecedented level of complaints from integrators around the country.
How About You?
So these are my top stories…and it certainly was a busy Expo for me. What were your top stories at CEDIA Expo 23? Share them in the "Leave A Reply" section below this post. I'd really like to know what you saw that was meaningful to you this year.
See more on CEDIA Expo by visiting cediaexpo.com.