The HDBaseT Alliance, an organization formed to promote the HDBaseT technology and grow its market, announced today that Sony Corporation will join the group as a Contributor member. One of their biggest "gets" yet, Sony is said to be introducing new energy-efficient HD projectors with the HDBaseT functionality.
See more on this significant announcement from the ever-growing alliance…
Sony joins a growing association which already includes major electronics manufacturers such as Samsung, LG, Panasonic, Crestron, Extron, Atlona, and a whole roster of lesser lights. Sony already had their "toe in the water" thanks to the fact that a Sony division, Sony Pictures, has long been part of the group.
Now, however, the organization is pushing to get more and more products into the marketplace utilizing the HDBaseT, to help further popularize the technology. And Sony Electronics is ready to come to that party with new HDBaseT projectors launching at InfoComm 2014, taking place now in Las Vegas, NV.
New Sony projectors with HDBaseT…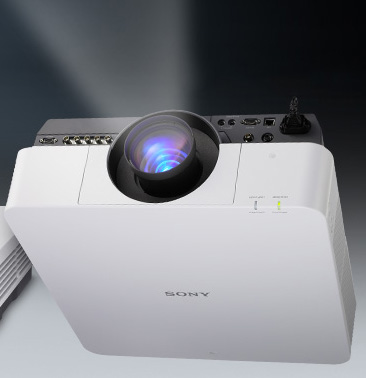 Sony is launching a new series of projectors featuring high-definition 5,000 lumens, 3LCD with WUXGA resolution…AND built in HDBaseT. These projectors – the VPL-CH375 & VPL-CH355 – feature "high image quality" and "improved installation flexibility." They are suitable for both corporate installations and educational projects.
"As one of the leaders in the pro-AV market, it was natural for Sony to follow the progress being made by the HDBaseT Alliance," said Toru Suzuki, General Manager Planning Department, Visual Presentation Solutions Business Division, Professional Solutions Group, Sony Corporation in a prepared statement. "Our subsidiary, Sony Pictures Entertainment, is one of the original founders of the Alliance and a Promoter member today. As we planned the new series of high-definition, high-performance projectors, it was essential that we integrate HDBaseT interfaces so as to enhance installation flexibility and increase the cost-effectiveness of these solutions."
But wait – there's more!…
Sony is also offering the VPL-FHZ700L – a step-up 7,000 lumen projector with WUXGA, laser light source, 3LCD and an optional HDBaseT adapter. Sony says this eco-friendly model offers 20,000 hours of maintenance-free use.
"Sony is bringing new HDBaseT-enabled products to the market, enriching the whole HDBaseT ecosystem and providing increasing choices for installers and integrators worldwide," said Micha Risling, Chair of the Marketing Committee at the HDBaseT Alliance, in the same prepared statement. "The Alliance's goal is to promote the adoption of HDBaseT technology as the ultimate standard for ultra-high-definion video and audio, and having Sony on board is a testament to this goal"
HDBaseT technology supports the convergence of audio, video, Ethernet and control signals over a single 100-meter LAN cable.
For more information on HDBaseT, see: www.hdbaset.org.