New Invisible Series Speakers Rivals Performance of Visible Models
At the dawn of the custom integration industry (then custom installation industry), it became clear to many that there was strong consumer demand for a more custom solution that allowed clients to reclaim floor space lost to big box speakers. This demand led to the creation of in-ceiling and in-wall speakers. Certainly, for many consumers, this was a dramatic step forward in regaining control of their interior design. Yet as time went by, it was clear that what many clients really wanted was…completely invisible sound.

But invisible speakers generally don't match the sound quality of traditional visible in-ceiling/in-wall models – a major performance compromise that causes many integrators to refuse to offer them. But in a press conference at the CEDIA Expo Virtual this week, Sonance told the gathered media that they have solved the conundrum of the sound quality compromise of invisible speaker performance.
See the innovative new Sonance Invisible Series…
Last Fall, in a Strata-gee exclusive, I broke the news of a full rebranding initiative for Sonance, (with more here) which had been widely known as Dana Innovations at that time. Refocusing on the Sonance brand – the company launched a new logo design, and redefined their brand with new brand "pillars."
The first and most important pillar that the company management determined the Sonance brand stood for was "Designed to Disappear." Basically, the company believes that clients should not be asked to compromise their home's design, simply to accommodate their entertainment systems. And there is no better example of how the company seeks to address that issue, than invisible speakers.
Designed to Disappear
We believe that technology should blend in with the design of your space and be comfortable to listen to. It is our goal to design technology without compromise to aesthetic or performance. We are not only excited to introduce the newest series of invisible speakers but also confident that they are beyond every expectation the industry has for this category."

Skylar Gray, Sonance Product Manager
Now Sonance has launched an all-new Invisible Series loudspeaker lineup that has been years in the making. Sonance Chief Speaker Engineer Todd Ryan, in commenting on the concept of developing an invisible speaker that could deliver a performance meeting or exceeding that of visible speakers, said, "that would truly be the ultimate brand promise" for Sonance. So important was this goal, that Ryan's team was given free reign to take all the time they needed to make that happen.
The Goal: Create a Better Sounding Invisible Speaker
Traditional invisible speakers consist of a large flat panel that acts as a diaphragm which, when activated by a transducer, vibrates to recreate the waveform of the source music. Sometimes referred to as tactile systems, these speakers are able to continue to vibrate efficiently enough to reproduce music even with a thin coat of plaster, drywall mud, or wallpaper over them (as long as the coating isn't too thick – a key factor).
To attack that goal of creating a better performing system, Ryan said in a company video, he approached it not as another tactile diaphram & activator design – the technology behind traditional invisible speakers – but rather as a more traditional speaker design. It would take a lot of creativity and innovation to truly raise the bar in invisible speaker performance.
Engineers Create 'Motion Flex Technology'
One thing the company's engineers did differently was they divided the speaker up into two components (there's that component speaker system design concept) and "let's develop a really good wide bandwidth driver, and let's develop a really good woofer," Ryan added. "This is the way you typically develop speakers."
To wring the absolute maximum performance out of the system, the company created Motion Flex Technology – incorporating an all-new transducer, crossover, and motion technology. The new Wave Flex Drive Unit is a wide bandwidth driver handling the mid- and high-frequencies that delivers – the company says – "velvety-smooth mids and crystal-clear highs."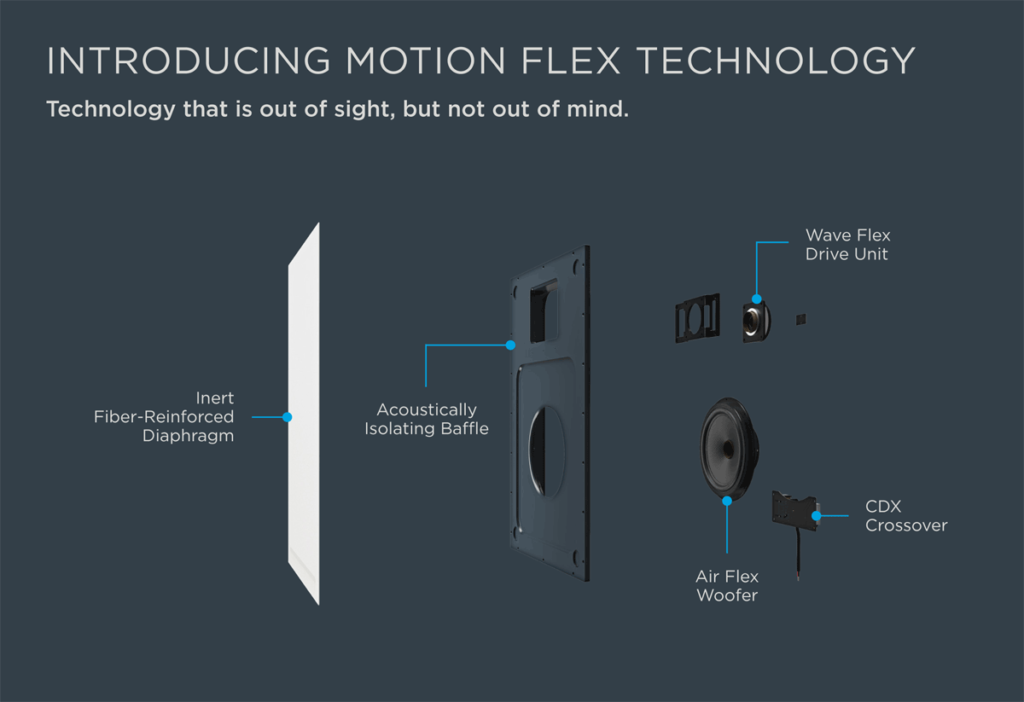 One Key? An 'Acoustically Isolating Baffle'
The Air Flex Woofer is also a new design that features a carbon fiber woofer coupled with an air chamber behind the speaker diaphragm. This design facilitates full pistonic woofer movement creating a deeper and more powerful bass response as compared to previous – or competitive – invisible speaker designs.
What takes everything to yet an even higher level is that the design includes an "acoustically isolating baffle" that offers optimal performance of each of the independent elements – the Wave Flex Drive Unit, and the Air Flex Woofer. How does it do this? The acoustically isolating baffle serves to keep the bending motion of the Wave Flex Drive Unit from interfering with the piston-like motion of the Air Flex Woofer – optimizing the design for each element.
Finally, Ryan's team also created an all-new crossover they call their "Constant Directivity Crossover" or CDX crossover.
While all invisible type speakers feature a wide dispersion, Sonance says their new Invisible Series displays nearly a perfect 180° dispersion in both the vertical and horizontal planes. That means that the performance is equally impressive, no matter where listeners are positioned in the room, with consistent tonality and performance.
New 'DISC' System Ensures Installation Accuracy
Finally, Sonance has one more trick up their sleeve, the company has provided an easy and accurate way for integrators to insure proper installation – including the proper depth of finish coating over the Invisible Series speaker. That trick is their new Depth Identification Sensing Calibrator System – or DISC system.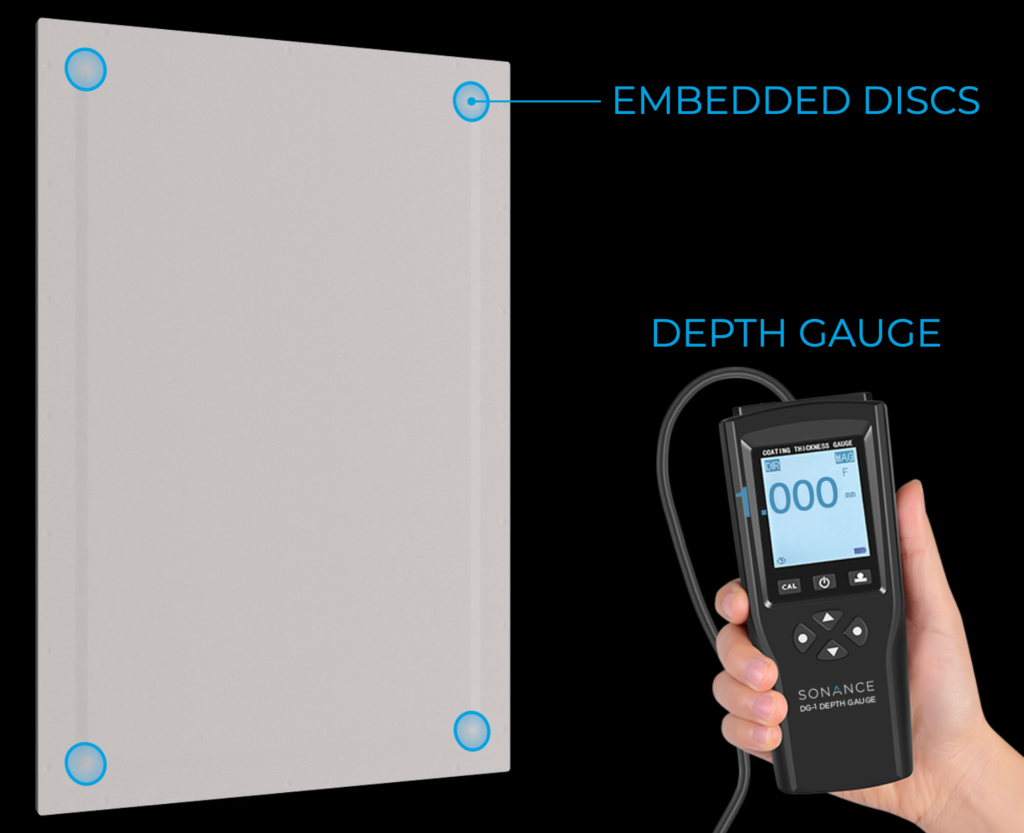 In each corner of each new Invisible Series model, there is a steel disc mounted under the diaphragm. These discs help the integrator precisely measure the depth of any finishing material through the use of the company's new handheld depth gauge. After finish coats have been applied, the integrator simply places the gauge over the corner of the unit and it will quickly and accurately determine the depth from the surface to the embedded steel disc. A simple system that verifies a properly conforming – and performing – installation.
SONANCE'S NEW INVISIBLE SERIES LOUDSPEAKERS
Sonance has announced six models in their new Invisible Series Loudspeakers – five residential models and one commercial model.
| | |
| --- | --- |
| IS6 | For smaller compact spaces, such as narrow hallways/6.5″ woofer |
| IS8 | For large residential spaces, such as entry ways/living rooms/8″ woofer |
| IS10 | For large residential spaces, such as multipurpose rooms/10″ woofer |
| IS10W | Invisible subwoofer, pair with IS6 for extended bass performance/10″ woofer |
| IS15W | Invisible subwoofer, pair with IS8 or IS10 for home theater/15″ woofer |
| IS8T | A transformer based solution targeted for 70v/100v commercial installations/8″ woofer |
CEDIA Expo Virtual 2020 is the official launch of the Invisible Series. The company says that their local reps will be getting Invisible Series demo kits in October, so be sure to ask your local Sonance rep to bring them by and check them out.
The company did not release any pricing information, but the new Invisible Series will be ready to ship in for your projects starting in December.
For more on Sonance and its extensive line of products, check out: sonance.com.