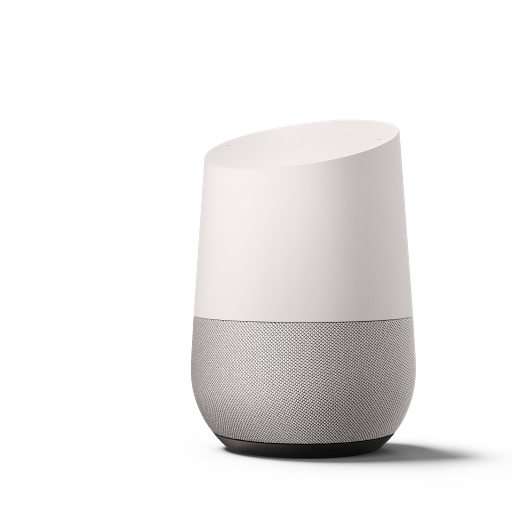 Two new research reports from two different research groups came to basically the same conclusion – smart speakers (and IoT devices) show no signs of slowing down with eye-popping growth rates in just the last two years. One of the researchers, Comscore, is calling the trend, "The Smart Speaker Frenzy."
See the latest smart speaker & IoT data…
Two new reports, one from Comscore and the other a joint venture of NPR and Edison Research, laid bare the continued growing dominance of the smart speaker category. And both reports held some surprises surrounding the use of these devices…some of which is not necessarily good for the creators of the category. Let's first talk about the latest Comscore data…
In a blog post on their website, Comscore teased out the data, drawing some interesting conclusions as a result. The researcher noted that "device manufacturers" are "in a frenzy over smart speakers." But it posed a question as to whether consumers feel the same way. The answer to that rhetorical question was in their charts.
American Homes are 'Going Virtual' & IoT is the Driver
There is a real technology trend to homes "going virtual" Comscore analysts said. And, they note, smart speakers and other IoT devices are the big drivers.
In a chart showing selected consumer technology products, we see both the size of the various categories in 2017 and in 2019. By looking at the difference of each category of product between the two years, you can clearly see the growth rate of each category.
And what's happening is that more traditional consumer products, such as phones, desktop computers, and tablets all have much greater market share than smart speakers, with the phone showing 90% in 2017 and 89% in 2019. But each of these three major categories showed measurable declines between the two year period.
Other digital consumer products, such as streaming stick/box, connected TV and gaming console are growing, but are both smaller categories…and both showed relatively modest rates of growth. On the right-hand side of the chart, we see a highlighted box with the IoT categories – including smart speaker, smart watch, and smart thermostat.
Consumers Have 9.2 Connected Devices in Their Homes
These IoT categories are much smaller in the overall consumer market adoption, but are growing dramatically in just two years. Smart speakers jumped from 12% in 2017 to 29% just two years later. That is huge growth…and even the smallest category – thermostats – doubled in those same two years from 3% to 6%.
Comscore's research says that consumers have on average 9.2 connected devices in their homes. Of this number, audio devices were the most prevalent category…that is, most prevalent after mobile, connected TV and computers/laptops. Still, audio remains an important player in the typical American home.
Comscore's report also has identified a trend that smart speakers are used mostly during the morning hours according to their data tracking. Yet other devices, such as phones and streaming sticks/boxes, tend to see their greatest usage spike after work hours of 5-10pm. And this trend is even more pronounced during the weekend.
Voice Commands of Users are NOT What Makers Want
The final analysis in the Comscore blog is interesting – noting that the voice commands users are mostly using, are not really what manufacturers had hoped for. Most users who employ voice to interact with their smart speakers are using general, non-purchase connected commands.
These include asking about the weather or other general questions about traffic, sports, and setting timers and alarms. Only a small minority of users are using them for purchasing-related purposes.
The Smart Audio Report
Also chronicling the rise of the smart speaker, NPR and Edison Research in their Smart Audio Report note that one out of every four U.S. adults – or about 60 million Americans – owns a smart speaker now. Overall awareness of the category has grown from 62% of Americans in January 2017…to an impressive 84% by December 2019.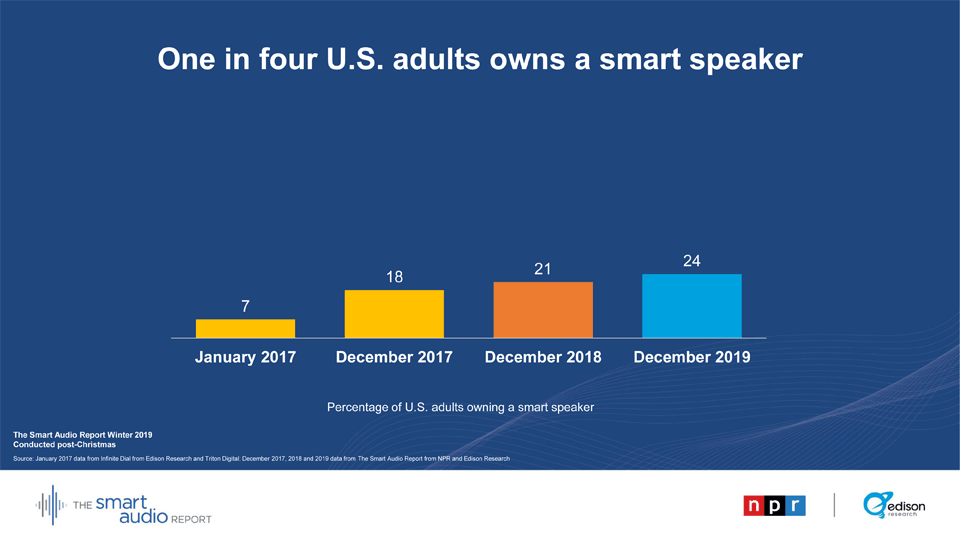 Not only that, but the typical U.S. household has more than one smart speaker in the home – 2.6 to be exact. This is up substantially from the 1.7 per home in 2017. The researchers say that there are now a total of 157 million smart speakers in the market…up dramatically from 67 million in 2017. That's an increase of over 134% in just 24 months.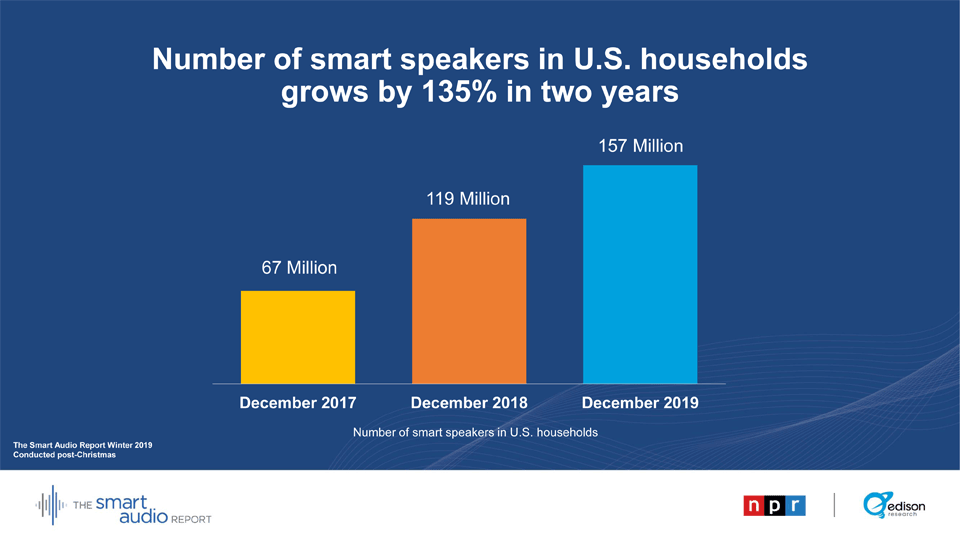 When respondents were asked how often they use their smart speakers, the largest group said 'Several times a day' (33%), followed those who said they use theirs 'Nearly every day' (27%). After this number, respondents said 'At least once per week' (21%), 'Never' (11%), and finally 'Once per month' (8%). I find it interesting that more than 10% of smart speaker owners…never use them. What is THAT all about???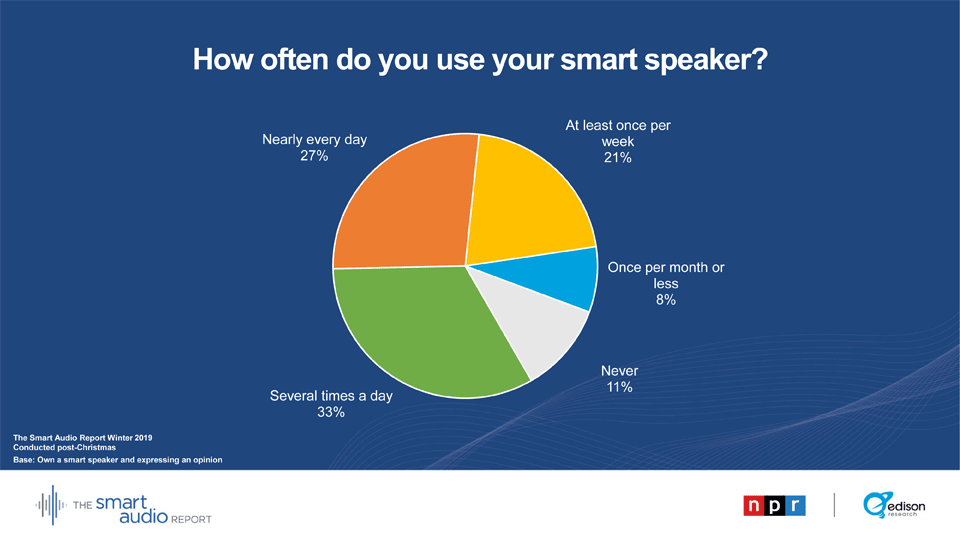 Interesting Voice Command Data Here Too
The NPR/Edison Research team also uncovered an interesting behavior associated with smart speakers owners' use of voice commands. According to their results, a majority of users (54%) have tried interacting with their speaker by voice – or as the researchers "have ever used voice commands."
But what is perhaps more interesting is that less than a quarter of all smart speaker users who say they use voice commands (24%), use them every day.
What Does This All Mean?
Both of these new studies make clear that smart speakers are popular with consumers. Yet both also seem to show that consumers have chosen to use the devices for activities other than for those that they were intended.
Amazon developed the Echo and its siblings as a way to facilitate friction-free commerce on a mass one-on-one scale in American homes. In order for those individual orders to add up to a meaningful number for the company – it needed to get them into millions of homes.
Consequently, to drive adoption, Amazon regularly discounts their various Alexa devices heavily. On that front, they've been quite successful and millions of homes have multiples of the devices.
However, in a twist of irony, users are not shouting orders at Alexa to purchase anything…at least not on a meaningful scale.
Oh those fickle consumers!