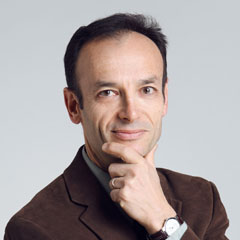 You take a dream team of engineers & systems designers and challenge them to create a new kind of system that would earn the undisputed title of the ultimate home theater system and what do you get? You get Grimani Systems – an all-new company comprised of well-known industry personality Anthony Grimani, engineer Manny LaCarrubba, and business entrepreneur David Steel.
And to create the ultimate system there was only one place to start – with a clean sheet of paper (actually probably a large, clean whiteboard.) From there, the CinemaOne Audio Ensemble was born.
Learn more about this new and audacious upstart company…
Launched at last month's CEDIA, the CinemaOne is an all-new system design, the likes of which does not exist from any other manufacturer. Grimani Systems built the entire system from scratch with an all-new innovative speaker design, an unusual system architecture, a custom-created surround processor and even – eventually – a custom video projector.
Grimani says Grimani Systems offers "complete audio/video solutions for high-end luxury residential cinema."  The top of the line CinemaOne system houses dramatic new technologies as well as bullet-proof reliability, easy installation, and, as you might suspect, jaw-dropping performance. Where did this august team start with their design?
Building audiophile-grade speakers for a home theater system…
They started by designing a pair of audiophile speakers that would earn recognition and respect by audiophiles everywhere.
"Partially because Manny comes from a recording studio background, and because I happen to like music, is that it had to be an audiophile system first and foremost," Grimani told us. "So the first four months of development were around creating a pair of left and right speakers that sounded every bit as good as anything else you can throw at it in a blind A/B comparison."
Grimani wouldn't say just exactly who the other brands were that they compared against – apparently a Who's Who list of high-end audiophile speakers – but he did say that their mission was accomplished. Then matching center, surround, subwoofer, and overhead speakers were developed to fill out the system for theater use.
Going conic for better performance…
The fact that Grimani Systems CinemaOne is unique is immediately visible upon a casual glance at the system. The reason for this is two-fold. First, the fundamental design innovation for the CinemaOne speakers was the LaCarrubba-designed Conic Section Array (CSA) which is a rounded "wave guide" that looks a little like a classic horn-loaded speaker.
Grimani tells us the secret sauce to the incredible sound of the CinemaOne is the CSV technology which helps provide constant sound power throughout the entire room. CSV, Grimani tells us, has four key advantages: 1) True constant directivity; 2) Wide horizontal dispersion ("From 1kHz to 20kHz" Grimani claims); 3) Audiophile performance; and 4) It's a proven technology (B&O has been using an earlier design that they've marketed for 12-years.)
What the world doesn't need…
Of the CSV's constant directivity and wide horizontal dispersion, Grimani tells us: "That is the Holy Grail in electro-acoustics loudspeaker design."
But Grimani Systems didn't stop there. The cylindrical shape of the CSV inspired them to design the entire speaker is a half-cylindrical design. It is a unique – and impressive – look. But why chose such a radical departure?
"Well, everybody else is making rectangular boxes out of MDF [ed. note: medium-density fiberboard] and putting drivers in there. We were like, 'Why would we do that?'" Grimani said. "Why would we do a 'me-too' product? The world does not need another one doing that. The world needs something that's easier to set-up, sounds better more of the time, is reliable, and is monitorable. And that's basically what we decided we wanted to do."
Semi-cylindrical…
So all speakers have a family look – Grimani describes it as a semi-cylinder – that is no more than 12″ deep, making it easy to sit behind a screen or fabric. They are designed to be hung on a special wall bracket in what the company says is an incredibly easy installation.
The company offers two series of main speakers – Alpha and Beta – the selection of which is largely based on room size. The Alpha series main speakers are just under 58″ tall and include 1-12″ woofer, 2-6½″ mids, and the CSA tweeter. AND a 1,000 watt amp, a 500 watt amp, a 250 watt amp and a DSP module to provide 3-way crossover, EQ, and an I.P. address. Plug in a power cord and a CAT5 cable and you're ready to go, Grimani tells us.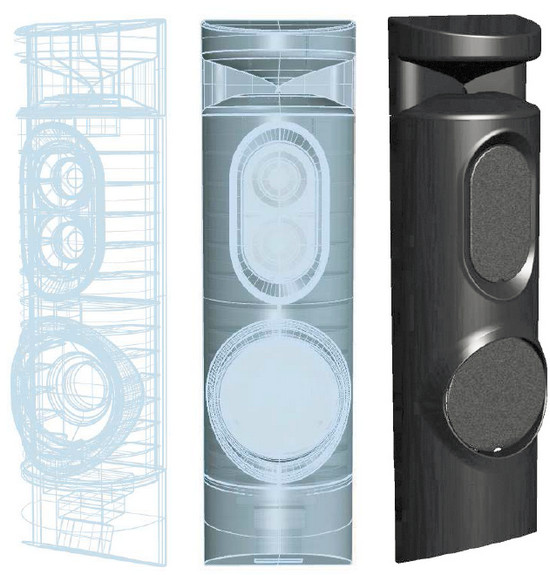 You won't just hear effects…you'll feel them…
The Alpha speaker is able to produce 126dB sound pressure level (SPL) at 1-meter. For your reference, we note that 120dB is considered the threshold of pain!
It's all pretty impressive looking – "How much do they weigh?" we asked Grimani with some concern. Total weight of each system is only about 65-pounds, thanks to the use of what Grimani variously calls "space-age" or "new-school" material – tungsten-impregnated polyurethane. This is a very sold, fairly inert material that fully dampens resonance. They are also, Grimani assures us, internally braced, solid…and relatively light.
AC One processor – 12 in/16 out…
Sitting at the head of this system is the AC One processor which is custom made for Grimani Systems. The AC One is Atmos and Auro-ready. Auro, a technology with which some of you (like me) may be unfamiliar, is a surround technology that is gaining popularity in Europe. The AC One features 12 HDMI inputs and 16 digital audio feeds via CAT5 cable (no traditional audio outs, Grimani says).
Like the loudspeakers, the AC One is also IP addressable. This places the whole system on the network. This allows the integrator to easily test and set-up the system. But perhaps more importantly, it allows them to be able to monitor, reset, upgrade, or trouble-shoot the system remotely…right from their office.
Is Beta better?…
The Beta series is a smaller configuration for use as surround speakers – or main speakers in smaller or with otherwise installation-specific requirements. Note however, the main Beta speaker can still produce a more than ample 120dB spl at 1-meter. Other speakers from Grimani Systems include the Gamma surround (1″ CSV and 2-6½″ drivers, 500w & 250w amps) and the Delta subwoofer (2-13½″ woofers, 2,000w amp).
The CinemaOne system is expected to ship by the end of 2014 and carries the rather proud price tag of $340,000. Margin to the dealer is beefy, both in percentage and in dollars.
Included with the sale of every CinemaOne system are three added services:
Grimani Systems will do a complete custom engineering design for every system sold. The company will deliver a complete plan set to the installer/integrator for each installation.
In addition to all of the equipment we've described, every CinemaOne system will come with an included full room-tuning package from sister-company MSR. According to Grimani, the company will include the top-of-the-line Dimension 4 Symphony 650 room tuning kit.
Finally, each and every system will include on-site tuning and calibration by a Grimani Systems engineer. Grimani stressed that this won't be some junior engineer…it might even be Grimani himself.
That is quite a value-added package. But Grimani Systems says it wants to do whatever it takes to be absolutely certain that EVERY CinemaOne customer has a properly designed, installed, and tuned system that will deliver them unparalleled enjoyment for years to come.
Grimani Systems team…
Heading the Grimani Systems team, as well as serving as it namesake, is Anthony Grimani – a prominent industry personality who has done stints at two hugely influential technology companies…Dolby Labs and LucasFilm/THX. Tony has also served as president of Performance Media Industries and Media Specialty Resources.
Joining Grimani is Manny LaCarrubba an audio engineer who started his career first as a recording engineer and then chief engineer at the famous The Plant recording studio in Sausalito, CA. In the mid-1990s, LaCarrubba – who holds a Bachelor of Science degree in Tonmeister Studies from the State University of New York – began working on new innovative speaker designs. He went on to create Sausalito Audio to market his patents – eventually landing a deal with Bang & Olufsen of Denmark with a design that turned out to be a precursor of the new Grimani Systems CinemaOne Audio Ensemble.
4k projector coming…
Finally, rounding out the team is David Steel who is a business entrepreneur with a career largely in marketing. In 1983, Steel cofounded American Ad Management which helped businesses market their companies. Steel is also an ardent audiophile which forms the foundation for his interest in this project.
Grimani told us that Grimani Systems will sell the CinemaOne Audio Ensemble through literally a handful of installers/integrators…perhaps as few as 20 or 30 nationwide.
In 2015, Grimani Systems will also deliver reference-grade video via a custom-designed 4k Ultra HD video projector. Made to their spec, and based on a modified Christie design, the projector will have several features available only from Grimani Systems. And like the rest of the system, it will also be IP-addressable.
For more information on Grimani Systems, visit: www.grimanisystems.com.