Foxconn, a Taiwanese company said to be the world's largest contract manufacturer of electronics and Apple's biggest supplier, announced on Tuesday that due to the global shortage of semiconductors they have been forced to reduce production of iPhones. It was a surprising admission of just how extensive the chip shortage has become – that it is impacting Apple, one of the biggest companies in the world with virtually unparalleled buying power.
See more on chip shortage impacting iPhones…
Foxconn is a huge company that is a key supplier to many of the industry's largest brands. Mega-watt brands like Apple, Google, Microsoft, HP, and more rely on the Asia-based company to manufacture a wide assortment of their hardware offerings. It's important to note that, like Apple, Foxconn has a lot of negotiating leverage with materials, subassemblies, and parts suppliers.
Yet even with what is likely the greatest buying power in the market for all of the needed components to manufacture these goods – Foxconn has been cut back by their suppliers because of the chip shortage. A report in the Nikkei called the Foxconn announcement, "a rare acknowledgement that shows some of the world's biggest consumer names from Apple to Amazon might face headwinds from the supply crunch rocking the tech industry."
Foxconn Cuts Apple iPhone Production by 10%…For Now
According to the Foxconn Chairman, they are currently shipping 10% less than originally ordered. And although he didn't say for what time period he expected this 10% cut to last, it was clear that this was just as things look today. Tomorrow is a new day that could be better or worse than today.
Global Chip Shortage Will Extend into 2022
He also noted that supplies destined for "home economy products" were especially challenged. The reason for the increased shortages in these types of products is the result of the pandemic causing a dramatically increased demand for them as consumers were stuck in their homes.
Perhaps the most surprising thing Liu said was that he anticipates that the impact of the global chip shortage will extend into the second quarter – of next year, "at least." He is not alone in that assessment. In fact, some would say he is being conservative.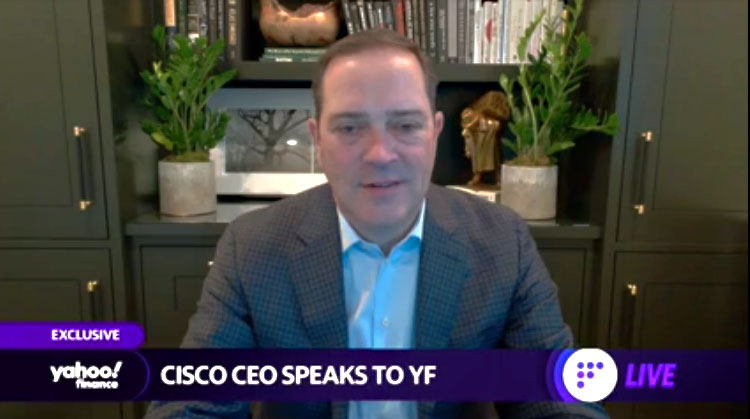 Cisco Takes the Long View on Shortages, 'It Will Take a Couple of Years'
In an exclusive interview with Yahoo Finance, IT infrastructure player Cisco Systems CEO Chuck Robbins said that we're going to be dealing with this for a while.
I think that it will take a couple years [to address] simply because the demand is continuing to increase. I think we see a few quarters of real stress in the supply chain, and we think that it will be more predictable. It may not be where we want it to be, but it will be more predictable."

Chuck Robbins, Chairman and CEO of CIsco Systems in an interview with Yahoo Finance Live
Intel to Invest $20 Billion to Build Two New Fabs in Arizona
No less that mighty Intel agrees with Robbins' timeline.
I think it takes a couple of years. We can't build fabs overnight, it takes a couple of years to get built up."

Pat Gelsinger, CEO of Intel
Gelsinger knows what he is talking about, as Intel is one of the largest chipmakers in the world. Recently, the company committed $20 billion to build two new chipmaking fabs in Arizona, in order to bring more resources online to address that growing backlog.
President Biden Pushing for $37 Billion for More U.S. Chipmaking
Yahoo reports that the U.S. government is looking to step in to try and help alleviate the situation. Recently, President Biden said that he would push to get $37 billion in funding to help increase chip manufacturing in the U.S.
Gelsinger noted Biden's commitment and said, "It's a major, major statement by the administration. The winds are flowing in the right direction."
Bottom line, things are probably going to get worse before they get better…but they will get better. So hang on to your hats!
Want to learn more about Foxconn? Steer your browser here, but you'll need Google Translate: foxconn.com.