A little more than a month ago, Gibson stunned the music world by abruptly shutting down Cakewalk, a music software company it had acquired in 2013. Now the music industry is abuzz again, after an announcement from Gibson Brands that it has decided to pull out of the NAMM show – the biggest music industry tradeshow, taking place at the Anaheim Convention Center January 25-28. Gibson Guitars is one of the top guitar manufacturers in the world, and the thought of a major music industry tradeshow without their representation has tongues wagging throughout the industry, with plenty of speculation about the "real" reason Gibson chose to pull out.
See more on this surprising news by Gibson…
Music industry blogs and websites are all buzzing with this shocking news that Gibson, one of the top guitar companies in the world has decided to pull out of the industry's major tradeshow known as NAMM. Apparently, Gibson is choosing instead to focus its energy on CES and trying to grow its struggling consumer electronics business.
But many in the MI space aren't buying this explanation, noting that the two shows don't conflict with each other in terms of time frame, CES is taking place now, NAMM in Anaheim, CA takes place at the end of the month. Also, musical instruments are still the lion share of Gibson's overall business – which makes it seem incredibly risky to ignore that major business by skipping NAMM, where buyers from around the world come to see the latest goods from the major brands.
Most Think It's a Sign
Most discard the Gibson explanation and suggest that this is yet another indicator of money problems at the company. Most of the MI websites are using the opportunity of this announcement by Gibson to revisit the recent news about Gibson's impending debt payment of $520 million due in just a few months time. Or as one poster put it, Gibson's on the hook for more than a half billion dollars of debt.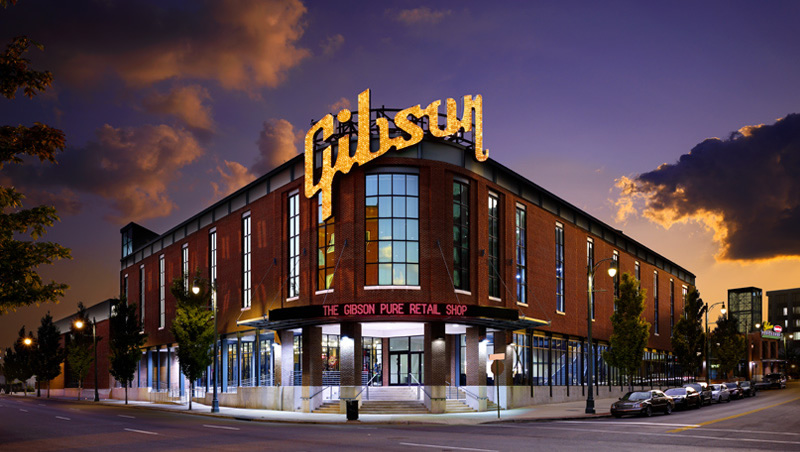 Those in the music industry are taking this as a pretty signficant one-two punch by Gibson, who recently shuttered the popular Cakewalk music software business – which was abruptly closed with no advance warning. However, the company is keeping servers running for some period of time so music projects currently in process on their servers were not lost. Nonetheless, this is causing the music world to seriously question the longevity of this major brand.
MusicRadar: This Year, a 'No-Show,' Last Year, A 'Sparse' Presence
MusicRadar noted: "This year's no-show follows 2017's rather sparse Winter NAMM stand, which featured a few new Custom models, but was more notable for its absence of a much talked-about, mysterious new solid body design, which was showcased instead to tech-heads at CES."
To the music industry, this makes no sense. You debut your new solid body guitar at CES…but not at NAMM? That would be like releasing your latest $3,000 top-of-the-line Onkyo AV receiver at NAMM, but not show it at CES.
GearNews: Gibson 'Snubbing' NAMM
MusicRadar went on to note the company's selling off its assets, including the renown Memphis factory/showroom – a sale "…which itself came amid profit warnings."
GearNews said, "After a tumultuous 2017, Gibson has confirmed that it is snubbing the NAMM 2018 show in Anaheim, California later this month, instead showing its products at the CES in Las Vegas. But what's behind this move?"
'2018 Could Be A Crucial Year for Gibson'
Then GearNews added, under a section titled "Saving Money?"- "Again, this makes a lot of financial sense for the company, as it is seriously in debt. Its poor debt structure was a reason why the company was rated poorly last year by Moodys." And finally concluding, "I could be wrong, but I think 2018 could be a crucial year for Gibson – and not necessarily in the way we would like it to be."