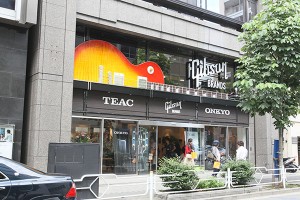 Gibson Brands (née Gibson Guitars) announced last week that it has opened a showroom in Tokyo, Japan that it calls a "pioneering music lifestyle concept showroom." Although Gibson Brands owns many different brands, this particular showroom focuses on just three of them: Gibson Guitars, TEAC and Onkyo.
See more on this unique showroom…
Referring to this new location as "the Showroom" with a capital "S," Gibson says visitors "can immerse themselves in the world of music" here. Products on display from all three brands will allow visitors to "play, record and listen to their own music."
Gibson says opening this showroom located in Yaesu "marks a significant milestone in Gibson Brands history" and occurs in conjunction with Gibson's 120th anniversary. Open to the public, the company expects the showroom to attract a wide range of visitors, from beginners to professional musicians.
"Gibson Brands are about bringing the joy of sound and music to music lovers across the world," Henry Juszkiewicz, Chairman and CEO of Gibson Brands said in a prepared statement. "The collaboration between our three leading brands Gibson, Onkyo and TEAC, our new concept showroom realizes our shared vision to improving the quality of life of our customers through music. It is fitting that we launch our first Sound and Music Concept Showroom in Tokyo where the collaboration began and will be rolled our to other markets across the world."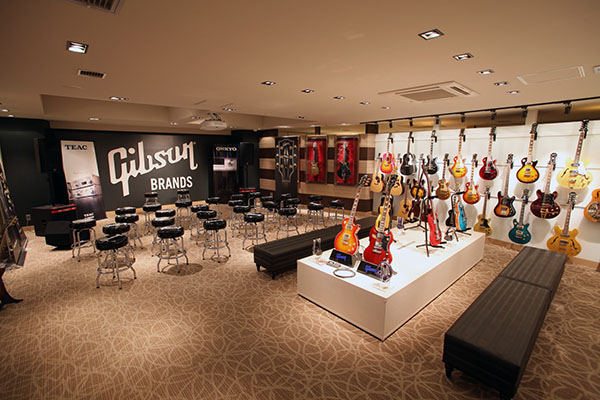 While photos seem to suggest that Gibson products dominate the showroom, partner companies TEAC and Onkyo appear pleased with this development.
In the same prepared statement, Onkyo Corporation President and CEO Munenori Otsuki said, "Onkyo is delighted to be part of this prestigious group of premium sound and music brands and is looking forward to seeing the collaboration continue to flourish as we extend this exciting new concept to other markets."
For more on Gibson Brands, see the Gibson website here…