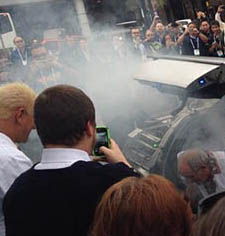 Gibson Brands took advantage of the Consumer Electronics Show in Las Vegas to make a bit of a show of their own to celebrate 120 years in business. The company, which serves up 23 different brands of musical instruments, professional audio products and, more recently, consumer electronics products, chose a unique way to mark the occasion by going "Back to the Future."
See more on how Gibson chose to celebrate their 120-year anniversary…
Gibson Brands celebrated their 120-year anniversary by staging an event with movie actor Christopher Lloyd – better known as Dr. Emmet Brown from the popular Back to the Future movie series. Lloyd arrived in character as Dr. Brown, and like a trouper, played it up for the assembled crowd.
The company had arranged for Lloyd to arrive in a full replica of the Back to the Future DeLorean – naturally including a Flux Capacitor and the famous Mr. Fusion Home Energy Reactor of the future. As the car pulled up outside the CES, Lloyd emerged with a flare as smoke poured out of the DeLorean.
Later, Lloyd posed with a red Gibson ES-semi guitar, just like the one Marty McFly played in the movie. Lloyd eventually moved to the main stage in the Gibson tent, helping the company celebrate its history.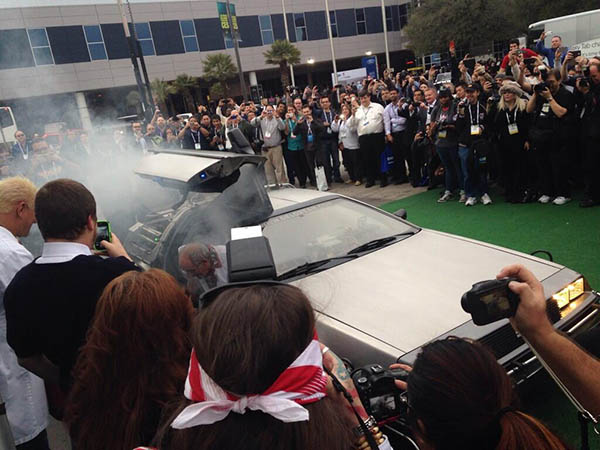 Gibson Brands CEO Henry Juszkiewicz has overseen the company's growth largely through acquisition. The company now owns or controls: Gibson, Epiphone, Dobro, Valley Arts, Kramer, Steinberger, Tobias, Slingerland, Maestro, Baldwin, Hamilton, Chickering, Wurlitzer, Cakewalk, KRK Systems, TASCAM, Cerwin-Vega!, Stanton, Onkyo, Inbtegra, TEAC, TASCAM Professional Software, and Esoteric.
Gibson will have the Back to the Future replica DeLorean on display for the rest of the CES.
For more information on Gibson Brands, see: www.gibson.com.