We announced last week that Strata-gee.com's parent company, The Stratecon Group, had reached an agreement with NewBay Media to supply content for use by their many media properties such as Residential Systems. Now, we are pleased to announce that the first product of that agreement is available online.
See what and where Stratecon has contributed to NewBay…
To great fanfare, we announced that The Stratecon Group – a marketing company that offers, among other things, content marketing services – had reached an agreement to supply NewBay Media with content for its many media properties. NewBay, a large media group, is mostly known in our industry for its technology properties, such as Residential Systems, Systems Contractor News, Sound & Video Contractor, AV Technology and more.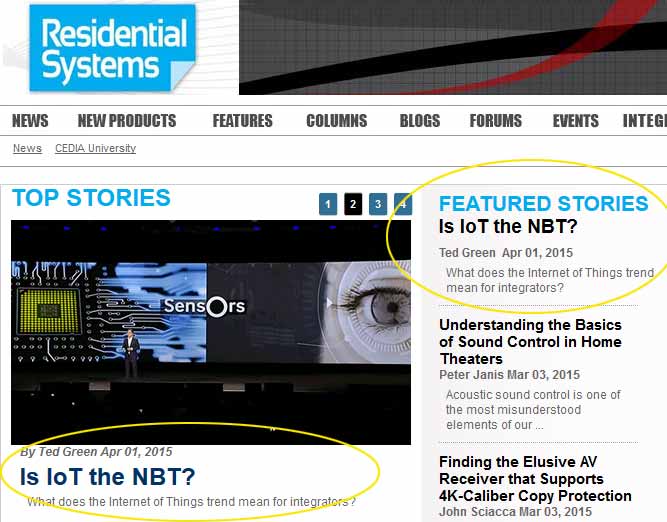 Now the first product of that association has been published – an extensive study on the Internet of Things (IoT) market by Strata-gee editor Ted Green titled Is IoT the NBT? This in-depth article is live here at www.residentialsystems.com starting today.
The article, whose title stands for Is the Internet of Things the Next Big Thing, digs deep into just what the Internet of Things market is, how big it is, where it is growing, and why are so many so excited about it. At the same time, the article explores how custom integrators feel about IoT…including what the impact of the do-it-yourself (DIY) aspect of IoT is on our industry.
Do us a favor and visit Residential Systems to read the article and let Residential Systems know if you'd like to see more of this kind of content.
Thanks!
Ted