BREAKING NEWS

We've learned today that the long running legal battle between automation giants Savant Systems and Crestron Electronics has been settled on the eve of the case going to trial. The suit was originally filed in September 2010 by Savant Systems, LLC, which alleged that Crestron Electronics, Inc. had – amongst other things – engaged in a variety of anti-competitive and  unfair trade practices. Crestron denied Savant's allegations and launched their own countersuit alleging that Savant had – amongst other things – engaged in tortious interference with contractual relations; and, unfair & deceptive acts in the conduct of trade.
Scheduled to go to trial in January, the parties have now settled the matter…
Savant Systems, LLC v Crestron Electronics, Inc. was an ugly fight – four years of venom-spitting really. In a review of the complaint and counter-claim it is obvious that what started as a typical marketplace competition had elevated to more of a war.
Over the last four years, the two parties have engaged in a long and arduous discovery process with voluminous document demands, multiple key person depositions, the collection of a battling army of expert witnesses by both sides, and a whole slew of contentious motions. In fact, the matter dragged on for so long that the original judge actually retired and had to be replaced mid-stream, according to a source connected with the matter.
Long list of competitive issues…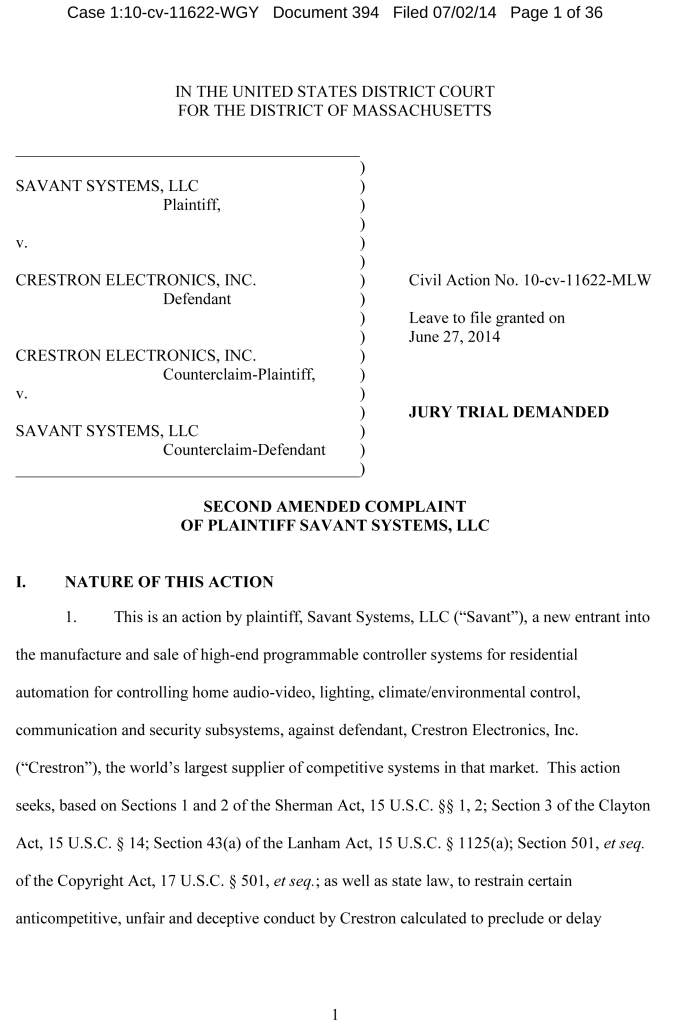 As big as this potential lawsuit was, given the size and importance of the litigants – it was unlikely to forge any new legal territory or precedent. For the most part, the issues being litigated covered a broad range (and long list) of mostly business competition issues.
Having said that, Savant had alleged several anti-trust violations by Crestron. Had Savant prevailed and successfully proven such violations, there was the possibility of Crestron being hit with what is known as "treble damages." This means that any court finding of actual/compensatory damages are then tripled in the award to the plaintiff.
Could have been a big number…

It's pretty clear that there was a potential for such damages to total a very large number. By settling the matter, Crestron avoids this possibility.
The parties entered into Alternative Dispute Resolution (mediation) on Friday, December 12th, and were able to reach a resolution. The terms of the settlement were not released.
Settlement was achieved almost on the steps of the courthouse – the jury trial in this matter was scheduled to begin on January 12, 2015 or less than a month from now.