Emerald Exposition, one of the largest exposition companies in the U.S. and the owner of the CEDIA Expo (and CE Pro), announced this week that they will be offering "reinvigorated educational programming" at this year's CEDIA Expo 2022. This initiative will include a range of more than 150 sessions, including seminars, panels, workshops, and manufacturer product training.
See more on education at CEDIA Expo 2022
Emerald Exposition (Emerald) says that this program is "curated by CEDIA" the trade association for the custom integration industry that once owned the CEDIA Expo show, but sold it to Emerald back in 2017. As part of the sale of the show in 2017, CEDIA retained the right to produce the educational content at the event – and after two COVID-impacted years is ready to roll out a prodigious selection of education content.
Emerald says that the CEDIA Expo Conference (as they call it) will feature sessions this year that are completely new to the event, specifically calling out new technology areas like wellness and lighting. There will also be a new Spanish-language track, offering solid content for a larger global audience.
Lots of All-New Sessions with Some All-Time Favorites Included
Emerald also says that this year will bring back a popular open forum session they call "Ask the Experts." But new this year – and this idea I believe firmly came from the CEDIA trade association – is a CEDIA Advocacy Town Hall. The town hall (comes with a free breakfast, I am told) will offer attendees information on the association's extensive efforts on the legislative front and especially on regulatory issues that face, and sometimes challenge, the residential technology community.
A key component to CEDIA Expo is the professional development and education available at the event for attendees. Together, the conference programming and the exhibit floor offer a unique value for attendees by providing the opportunity to educate and grow. Attendees can go forth and apply the knowledge as they discover new technologies on the exhibit floor. This year's CEDIA Expo Conference program, which CEDIA curates, will feature events for everyone.

Jason McGraw, Emerald Expositions Group Vice President for CEDIA Expo and KBIS
Other Highlights of New Education Content
Other highlights of this year's CEDIA Expo Conference include the following items.
KEYNOTE PRESENTATION – The keynote this year features Greg Durkin, founder and CEO of Guts+Data, who will offer a deep dive with surprising insights into entertainment technology and content. Attendees will learn about the issues surrounding the "fragmented content landscape" feeding our connected home experience. He will also reveal opportunities for integrators in the digital media landscape. [See more on this keynote here…]
SO MUCH NEWNESS – Emerald and CEDIA say that more than 50% of the sessions in this year's CEDIA Expo are brand new – such as the previously mentioned wellness and lighting categories.
MANUFACTURER TRAINING – Top brands like Crestron, Legrand, and Sound United (and I'm sure many, many more) will be offering product and technology-specific training sessions with which I'm sure most Strata-gee readers are quite familiar.
CERTAINLY CERTIFIED – CEDIA Expo attendees can also avail themselves of the CEDIA certification process, including their recently ANSI-accredited CIT and IST certifications. The organization will be offering preparation classes, onsite testing, and "tools to leverage certification."
But Wait, There's More
Of course, all of this just scratches the surface. There will also be sessions on audio, business, certification prep, networking, and emerging trends. Looking for information on the business side of the business? Fear not! CEDIA has you covered with courses on how to incorporate new products into your sales pitch – to how to increase profits on products you already are selling.
CEDIA Expo is our industry's best peer-to-peer learning opportunity. Attendees will learn directly from presenters and exhibitors, but you'll also learn a great deal from the way their peers react – to both sessions and booths. There truly is no substitute for this kind of in-person experience.

Amanda Beckner, CEDIA Vice President of Education and Training
You can see even more on CEDIA education in my story on CEDIA's revitalized education program here…
When, Where, and How
CEDIA Expo will run from September 29 to October 1, 2022, at the Dallas Convention Center in Dallas, TX. You can register here now. Non-CEDIA members should register before July 29 to receive Super Saver prices for the show floor and training passes.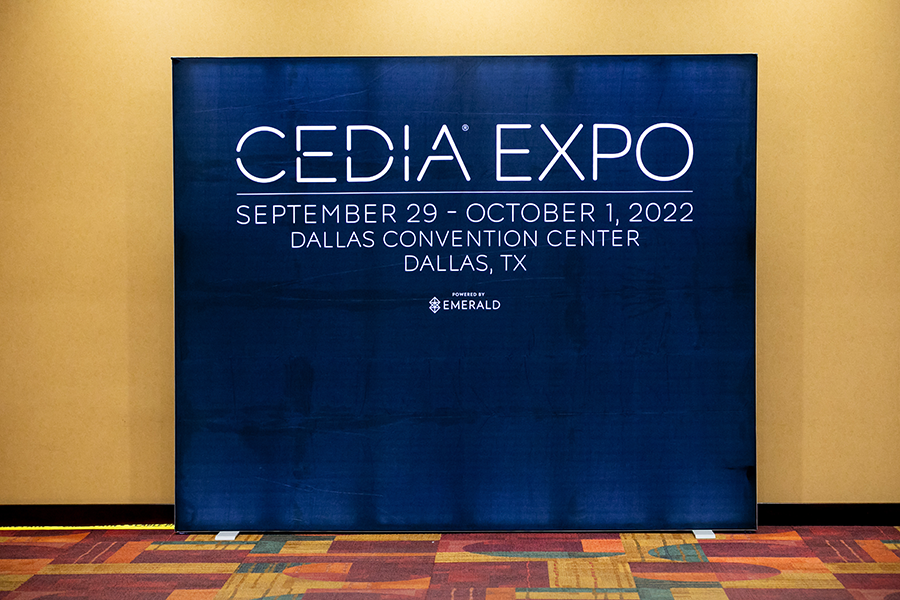 For more information, visit cediaexpo.com.