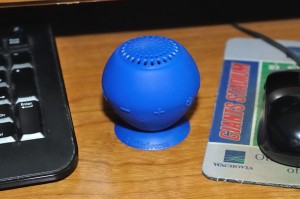 When I first learned about AudioSource's new Sound Pop – a small, relatively inexpensive (around $40 street price) Bluetooth speaker – I assumed it was just like all of those thousands of other Bluetooth speakers introduced over the last couple of years. You know: convenient, portable, maybe a cutesy design and…sounds like crap. Later, I got a press release and saw some specs. They look promising but, still, I remained…shall we say…skeptical.
Then, at CE Week last month, I met AudioSource's CEO Tom O'Mara. He gave me "the pitch" and – perhaps sensing my skepticism – beseeched me to "Just listen to it" as he handed me a little box not much larger than a Rubik's Cube.
See what happened when I "Just listen[ed] to it"…
We first wrote about Sound Pop here, giving all the pertinent details when it was initially announced. But we've only been able to actually hear it and use it over the last couple of weeks. I would say our sound tests have been…enlightening.
Sound Pop looks like a small globe on a slightly inverted stand. And that little inverted stand, by the way, is actually a suction cup meant to offer installation flexibility. The suction cup seems to work pretty well on clean, flat, non-porous surfaces such as glass or tile. As a nice added touch, AudioSource even includes a release tab for the suction cup so you can safely remove it without forcing it – a smart detail!
Colorful…but not to match your walls…

It stands less than 3″ tall and has a smooth silicon shell. The rubberized feel of the case makes it easy to grip and hold…and to firmly press it down such that it sticks to wherever you want your Sound Pop to hang out.
There are a total of twelve different colors available, including a camouflage print and a zebra-looking print. These colors are less about matching your interior and more about matching your lifestyle – as they tend to be more "fun" type colors…such as a bright neon green or dayglow orange.
Built into the finish are four raised and appropriately shaped buttons for power, volume up, volume down, and telephone answer. Yes, the Sound Pop is not just a speaker…it operates as a speaker phone as well.
Between the large "+" (volume up) and "-" (volume down) symbols is a bright flashing LED to indicate power on and "pairing" status with your Bluetooth device. Sound Pop uses Bluetooth 4.0 technology – the newest standard and we never ran into any difficulties pairing it with our devices (either Android or iOS).
Going long…
Just under the LED is a little pinhole that is the microphone for use in speakerphone mode. The Sound Pop also includes a built-in Lithium Ion battery that you charge with an included micro-USB to USB cable. The company claims 8-hours of continuous use. We didn't measure it, but that seems about right as we conducted fairly long listening sessions over a two-day period before we had to recharge.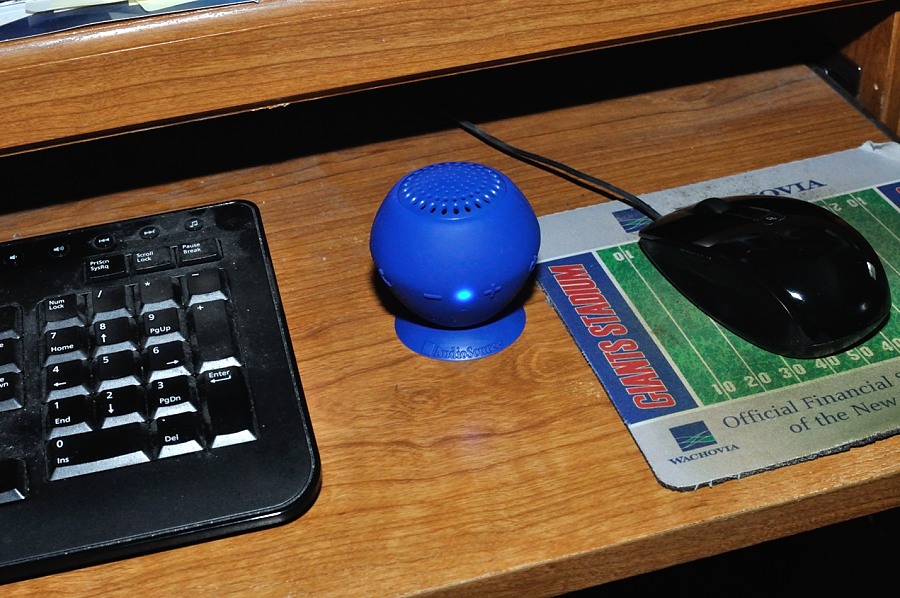 When you first turn the Sound Pop on, you get this cute sequence of popping sounds, like bubble gum or champagne bubbles popping at a slightly rising pitch. When turning the unit off, you get the reverse. To my eye, the design seems so friendly it almost looks toy-like. But soon enough Sound Pop proved it was a serious product and no toy.
Learning it's durable…the hard way…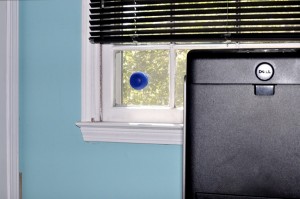 Because I'm lazy and it was within arms length, I tried to first stick the Sound Pop on a vertical section of bookshelves associated with my office furniture. These have a smooth finish as they are a laminated material. The Sound Pop did stick there, but after a matter of just a few minutes – and without warning – it simply fell to the desktop. Here is where I learned the Sound Pop is pretty durable…as the drop of about 18″ didn't cause even a hiccup.
So, I moved it over to the window in my office, first cleaning the window with an alcohol-soaked glass cleaning pad and pressing it on firmly…about 10′ or so away from where I was sitting with my device. Pairing with my device, an iPhone 4S, was simple and pretty much automatic. In fact, we've never had any pairing issues at all with the Sound Pop…it seems to pretty much link up effortlessly every time.
I was prepared for disappointment…
Now it was time to fire up some music. As an old audio-guy from way back, I spent much of my time in search of perfection in music playback. I've auditioned hundreds of speakers, thousands of amplifiers and preamplifiers, etc. I am also a former musician who made a living playing music. I also worked as a record producer (in the Midwest), recording and releasing albums (back in the days of vinyl).
As I looked at this small plastic ball in my hand…I was prepared to be disappointed. I mean, how good can a 1½" speaker sound? And as various executives associated with AudioSource had been pumping up just how good this little speaker was, I was sure there was no way it could live up to its hype.
How low can you go?…
According to CEO O'Mara, the 3-watt Class D amplifier and proprietary speaker can reproduce bass frequencies as deep as 300Hz. It didn't seem possible – the cabinet volume wouldn't even hold a half-cup of coffee. I told O'Mara I was happy to audition the Sound Pop…but I would be honest in my assessment. He smiled…and gave it to me anyway. That's either confidence…or foolishness.
I decided I was not going to coddle this cute little puppy. No way! I was going to put it through its paces. First up…HA HA…Blue Oyster Cult's Godzilla. Oh yeah…this was going to hurt!
I sat silent…slightly stunned…as I listened. After I picked my jaw up off the desktop, I shook my head. The sound was…aaahhhhh…very impressive. In fact so much so I still could hardly believe it. A fluke, I said…let's see how you like a little…Led Zeppelin I growled at the Sound Pop…laughing maniacally! (Yes, I'm so disoriented now that I'm actually talking to the Sound Pop.)
Dazed and confused…
I launched into a whole lotta' Zeppelin: Whole Lotta' Love, Immigrant Song, Good Times Bad Times, Dazed and Confused, Ramble On, Rock and Roll, Kashmir… And when it was all over, I was the one who was dazed and confused. Sound Pop didn't break a sweat…not even a whimper!
No matter what I threw at the Sound Pop…Dave Matthews, Alan Parsons, Pink Floyd, Tchaikovsky, Fleetwood Mac, and more…it sounded surprisingly good.
Far more robust…
Now to be sure…we're certainly not talking about true high fidelity reproduction here. You won't retire your studio standard precision floor-standing monitors for a Sound Pop. But I can honestly say that this little Sound Pop has an audibly robust sound – far more robust than you would expect from a small, portable Bluetooth speaker… And more robust than I've heard from several of its competitors.
The bass produced by the Sound Pops may not be gut-rumbling deep…but it produces enough depth that bass guitar and bass drums sound more like they were intended to sound. Many portable Bluetooth speakers roll-off the deep bass (and high treble for that matter) in order to sound "louder" by pumping out more midrange frequencies. Bass guitars sound no deeper than the lower strings of a regular guitar…and bass drums issue more of a "pop" sound – all attack with no depth.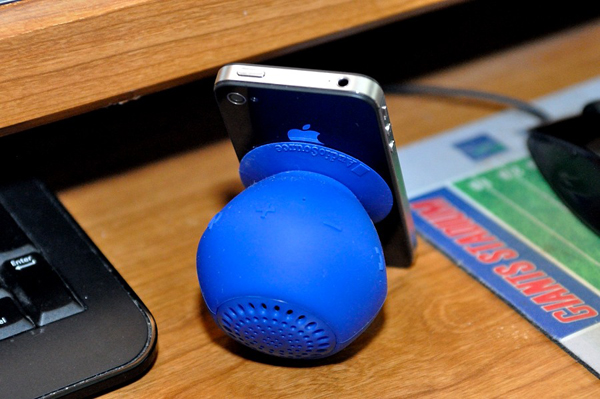 A satisfying THUMP…
On the Sound Pop, bass guitars sound much more like bass guitars…and bass drums deliver a much more satisfying THUMP! This is clearly the result of lower frequencies being reproduced from the Sound Pop as compared to other inexpensive Bluetooth speakers.
I suspect part of the magic is the amplifier. The 3-watt amplifier seemed to have pretty decent headroom and distortion seemed well controlled. Only once or twice did I hear what sounded like compression from being overdriven. But most of the time, the music stayed clear…even when playing relatively loud.
Two minor quibbles…
I only have two relatively minor complaints. First, even though I was almost always keeping a set distance between my device and the speaker – a few times I would get a Bluetooth hiccup. The sound would drop out for a couple of seconds and then kick back in. I am not aware of any electrical disturbance, so I have no ready explanation for this interference.
Second, I would like even greater suction from the suction cup. No matter where I put it…after a certain period of time, it would drop off on its own. On glass or tile, that could be hours…but eventually – it would drop on its own. Perhaps on a step-up model they could put a vacuum-clip suction cup like those used on a cell phone car mounts.
An incredible value…
These are minor quibbles, however. As I listened to the Sound Pop, I had to keep reminding myself that it only costs $40. The Sound Pop clearly exceeded my expectations and must be one of the best values in the industry today!
Oh, there was something else I noticed after a couple of days of listening…the Sound Pop is actually fun to listen to.
For more information on the Sound Pop, see: www.audiosource.net.