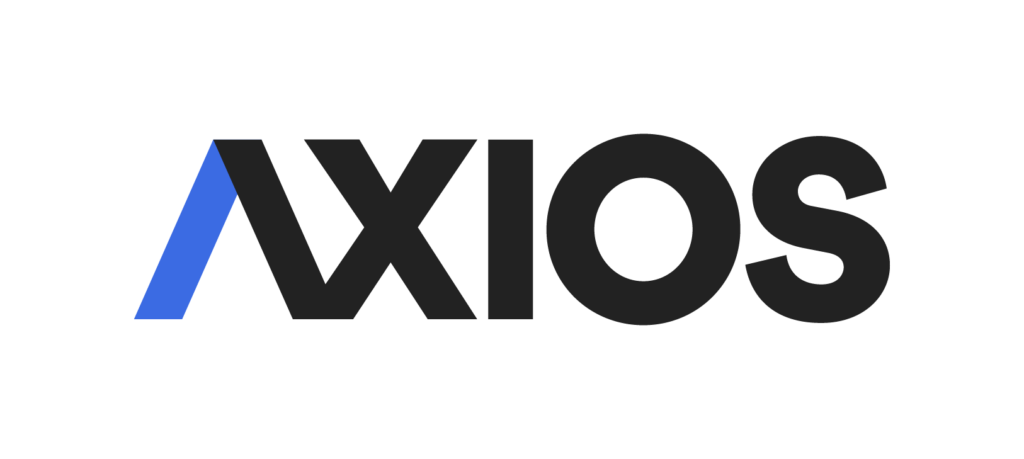 A new Axios-Ipsos poll has shown a marked turn towards more consumer optimism in American's attitude about the condition of their lives under COVID. They are becoming dramatically more hopeful as the administration takes actions to step-up the availability of vaccines.
See the latest poll data on consumer COVID sentiment…
Let's face it…2020 was a tough year physically, mentally, spiritually, and economically for many, if not most, Americans. With COVID-19 rolling across the country overloading hospitals with patients…causing a record 500,000+ deaths…the economy coming to an abrupt halt…hundreds of thousands of jobs lost forever…quarantines forcing everyone to stay home around the clock for months on end…and more. The net result was most felt immersed in misery – and feeling high levels of stress.
Now, almost exactly one year later, a new poll from Axios-Ipsos shows that the dour sentiments of many Americans are starting to take a turn…and it's a turn for the better. All those feelings from 2020 are still there, but with vaccines on the horizon for most, if not all, of Americans…there is reason for this turn towards more consumer optimism.
Part of the Coronavirus Index
The Axios-Ipsos poll is really an index – in fact they call it their Coronavirus Index, that is regularly updated to gauge changes in sentiment over time. Some time back, this Index showed that 41% of consumers said that the words "stressed/worried" best described how they felt at that time. An almost equal number of survey respondents chose "frustrated" as the word that best described how they felt.
On top of this, 26% said that they were "overwhelmed/burned out." Another 19% chose the word "angry," 16% said they felt "sad," and another 16% chose the word "discouraged" to describe their mood.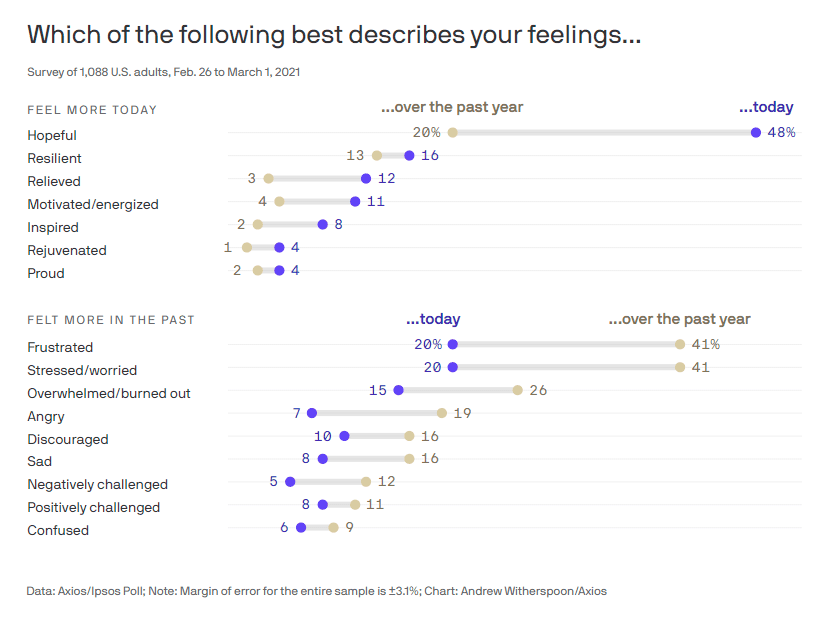 But Now, A Significant Shift to the Positive
Let's face it…those are raw feelings. Now, however, we see a significant shift in sentiment – consumer optimism is on the rise. In the latest survey, for example, fully 48% or almost half of all Americans say that they are "hopeful." This is up dramatically from only 20% who said that previously in 2020.
Almost four times as many respondents now report feeling "relieved" (12%) as compared to the only 3% who had used that word previously. And 11% say they are "motivated/energized" as compared to only about a third that many (4%) who said that previously.
Negative Emotions are Still There, But Less So
Looking at it from the negative side, now only 20% say they are "frustrated," when previously 41% said that word best described their feelings. The same is true those who said they were feeling "stressed/worried" which has also dropped to 20%, or only about half the 41% who had used those words previously.
Yes, the negative emotions are still there, but they are much more muted than in the past. According to the researchers, the most hopeful in the survey were those who were: 65 and older (64%), Democrats (59%), and people who have been vaccinated (61%).
Getting Back to Normal?
The researchers also noted that there has been a small increase in the number of survey respondents who say they believe they can get back to something that resembles their normal pre-COVID life within six months. Previously, 26% had said that, now 33% believe this to be true.
This poll was conducted February 26-March 1 with 1,088 adults (over the age of 18).
Why do I call this out? Quite simply, it is another indicator that our economy will begin to move in a more positive direction. When consumers feel confident or positive about the future, they are more apt to put their discretionary dollars to work. When they are concerned or negative about the future, they save their money.
Consumers Have Been Saving & Paying Down Debt
Several surveys have shown that consumers are saving way more money now during COVID than they have in the past. Part of this is due to the fact that most businesses are closed and that limits their spending options. But also, concerns have forced many to save their money, or pay down past debts to improve their personal financial situations. In other words, keeping their gunpowder dry for these turbulent times.
However, I would suggest that this survey of the shifting sentiment of Americans in a more positive direction helps to set the stage for the approaching economic boom.
This news makes me more – well – optimistic…
To see more on this survey, see more data here…