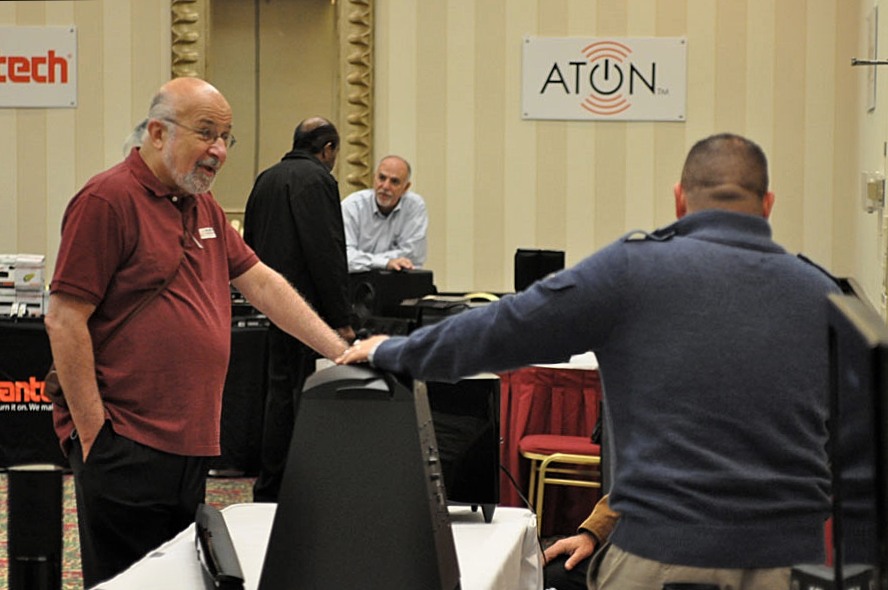 At this week's Alliance Expo 2012 in Newark, NJ, we sat down with event promoter Audio Associates' CEO Ron Meyerowitz to get his take on the event…and on trends in the industry. The dealer show, held annually by the well-known New York Metro-area sales representative firm, appeared to be quite successful at a time when many in the industry find business sluggish. We wanted to know – why was this year their biggest show ever…and what is the secret of their success?
Throughout the event, 71-year old Meyerowitz was a constant ball of energy. We found it hard to keep up with him as he went from meeting-to-meeting…with dealers, vendors, sales staff, and guests. And when he wasn't in a meeting he was practically indefatigable as he worked the crowd, making sure dealers found what – or who  – they were looking for.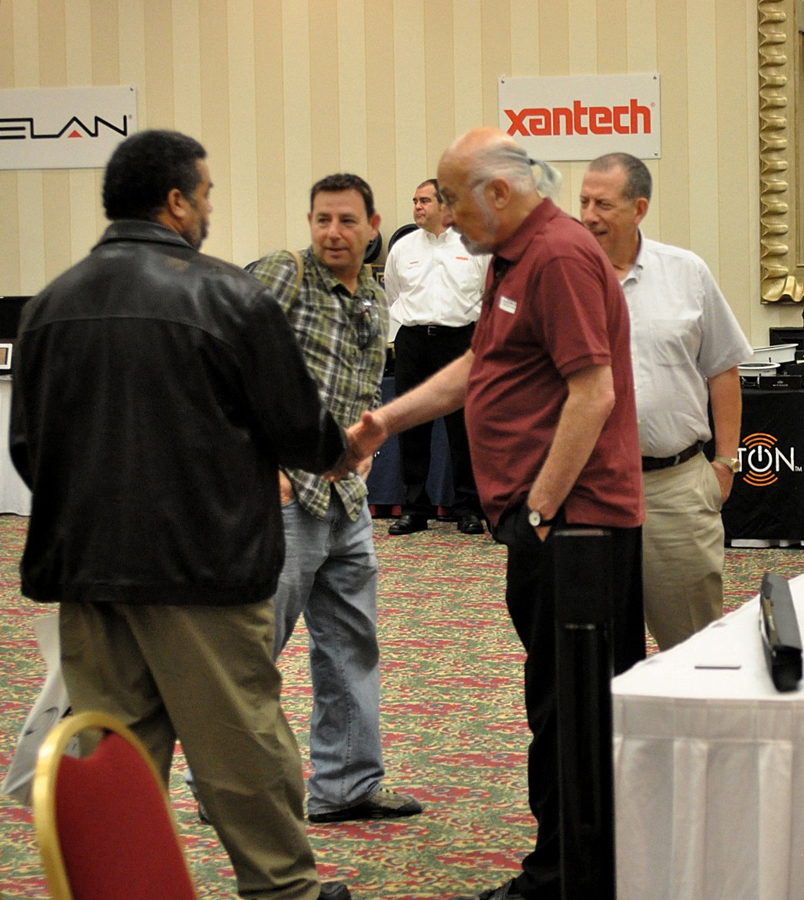 We finally succeeded in getting Meyerowitz to sit down with us late in the afternoon on Tuesday after he just finished a meeting with a key vendor. Meyerowitz was still energetic, but became more thoughtful as we chatted – perhaps the comfort of the chair beginning to cause him to become more aware of how much effort he had expended that day.
The big show…
The show, Meyerowitz told us proudly, was the biggest one Audio Associates has ever had. And the show was bigger by many measures – more vendors, more dealers, more…"action."
We asked Meyerowitz, where did the idea for this event come from. The name Alliance Expo seemed to suggest a different kind of event, or philosophy.
Phrase coined…
"We held a series of roundtable discussions," Meyerowitz told us. "We discussed our viewpoints on where the industry was going – what was the direction it was heading. It was really Michael [Lefkowits] who coined the phrase 'Alliance Expo.' It really signifies our view of where the industry is going."
"There are really three key partners in our business," Meyerowitz continued. "Those partners are Technology, Vendors, and Dealers. And we're the connecting point."
Eventful and stressful…
We noted that Audio Associates has had an eventful year and asked Meyerowitz to comment on how he felt about the changes the company had just come through. The company went through tough times, Meyerowtiz told us. Much like others in the business, Audio Associates could not continue as they were – changes had to take place to right-size the company to the industry situation of today.
"We had to make some tough decisions," recalled Meyerowitz. "We closed down our distribution business, sold our building, and trimmed staff – these were not easy decisions."
Focused on growth…
"But we saw a great opportunity to grow our rep business," he continued. Meyerowtiz went on to suggest that by focusing their energies on the rep business, they would have better results than trying to split their efforts between a rep firm and a distribution company.
"It worked," Meyerowitz exclaimed. "Our cash flow dramatically improved and we have positioned ourselves to be able to grow again. As a result…we are now hiring!"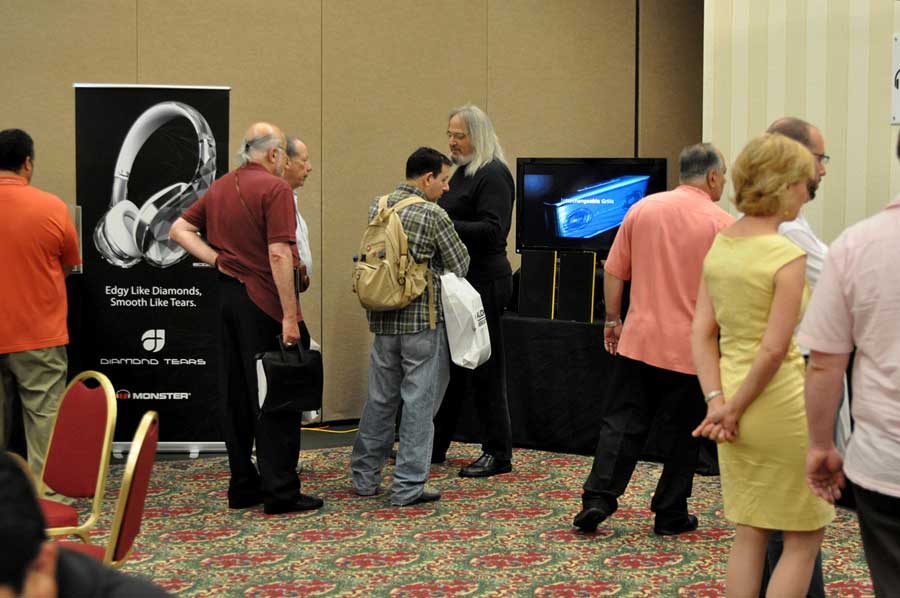 Tough transition…
The industry, Meyerowitz told us, is going though a tough transition. "We feel rep firms are going to close their shutters," he told us. "Vendors are asking rep firms to do more and more, but commissions are not increasing to pay for providing these added services. How are reps going to survive?" he asked.
But fortunately for Audio Associates, they had firmed up their foundation just in time to compete for some very valuable brands…all in the midst of their own restructurings.
A lot of preparation and a little bit of luck…
"Don't misunderstand me, you gotta' be prepared," Meyerowitz said. "But you have to have a little bit of luck, too. And we were very lucky."
He was referring to the company being selected to represent the AVC Group lines…only to be selected a few months later by D&M Holdings for all of their brands as well. Previously, the company had been selected to represent the Milestone brands…and Audio Associates has been the longtime rep for Harman's lines. It is a prodigious assortment and Audio Associates has become the go-to rep firm for specialty audio/video lines in New York.
Back to growth…
Audio Associates is now back to expansion mode. The company already has 8 salespeople, Meyerowitz told us. But now it is seeking to add 2-to-3 more. In addition to this, they are looking to add another 1 or 2 inside support staff as well.
Still, as good as the past year has turned out for the company, Meyerowitz told us he feels the pressure to perform. Still, the pressure is based on a major pick-up of his business and that is a much better form of pressure to deal with, he told us.
WYSIWYG…
We asked Meyerowitz why he felt Audio Associates was able to compete and win so many lines.
"The integrity of the company," Meyerowitz answered without a moment's hesitation. "There's no bullshit here – what you see is what you get. There is no hidden agenda, we say what we feel."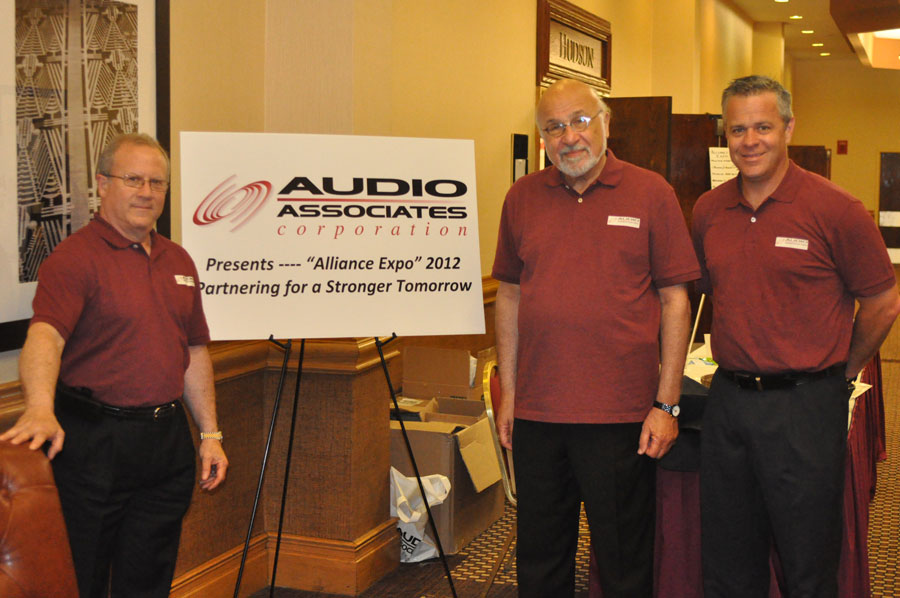 Call the vendor…
The company chieftain noted that he's watched other rep firms cut back to the point where they can't really service their lines anymore.
"We would NEVER tell a dealer to call the vendor," Meyerowitz said in a disgusted tone. "We either have the answer somewhere in our knowledgeable staff – or we GET IT for them…immediately."
To continue to be able to offer the level of service expected by their growing family of brands, Meyerowitz said he'll spend money to staff up to meet the need. At least now they are in a position to be able to do so, after going through a tough period…they've gotten their house in order and now have a much firmer base to build upon.
To learn more about Audio Associates, see: www.audioassoc.com.