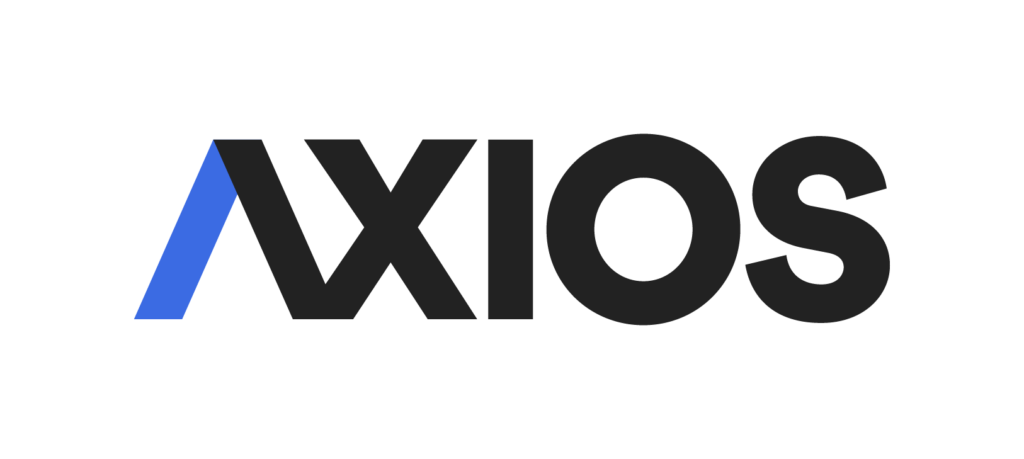 Political newsletter Axios ran a surprising graph this week showing a stunning disconnect between the confidence of consumers – measured by the Conference Board's Consumer Confidence Index – versus the confidence of CEOs (tracked separately by the Conference Board). While it is not entirely clear just what the ramifications may be of this huge disparity in how these two groups are feeling about the economy – it is nonetheless a notable disconnect.
See Axios' Graph based on Conf. Board Data…
The Conference Board is a well respected organization that has maintained its Consumer Confidence Index (CCI) for many years. This index tracks how consumers feel about the economy – a key metric. Because consumer spending represents about 70% of the total U.S. gross domestic product (GDP), the Conference Board's CCI has become a key indicator of consumer sentiment…and is watched closely by economists.
If consumers are confident, they tend to freely spend their disposable income and even go into debt (mostly with credit cards) to consume goods and services. This consumer consumption is something that is good for the overall economy.
Tracking Consumer Sentiment, Then CEO Sentiment
Some time ago, the Conference Board began separately tracking CEO confidence as well. Normally, these two separate indexes tended to generally follow each others direction. Clearly, if consumers were confident and spending…CEOs tended to be confident as well.
Then the smart folks at Axios noticed a surprising trend this month in which the two tracking indexes moved in almost opposite directions relative each other. This trend was especially noted in the case of the CEO index, which took a dramatic upturn recently.
A Dramatic Divergence
They plotted the results of the two different indexes on the same graph and what emerged was quite surprising as you can see in the graph below. You can clearly see that consumer confidence remains below the "0" or X axis, which means that consumer confidence is still in negative territory with a -16.4% reading.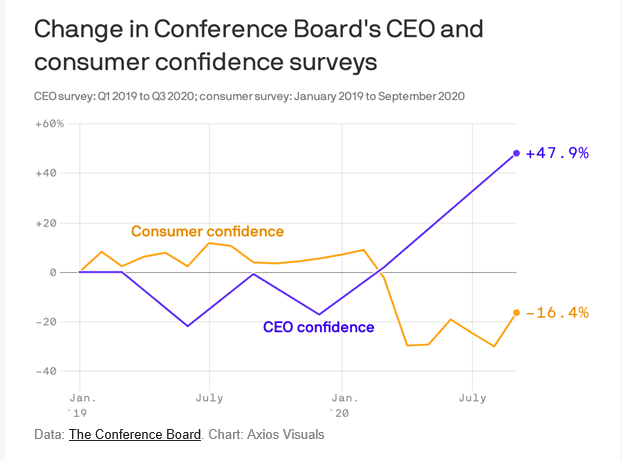 However, CEOs have seen their confidence soar through September, to a +47.9% – or way positive rating. The reading jumped 19 points from July to September alone and CEOs are telling the Conference Board that they are "feeling incredibly confident." This is the most positive the CEO index has been since 2018.
CEOs entered Q4 significantly more upbeat than they were earlier this year. Notably, talent shortages eased in the wake of COVID-19 and nearly two-thirds of business leaders said they anticipated little, if any, problems with attracting qualified workers. Nonetheless, uncertainty around the pandemic—and its aftermath—remains a risk to Q4's newfound optimism as we enter 2021."

Dana Peterson, Chief Economist of The Conference Board
But CEO Confidence is Not Good News for Employees
However, this CEO confidence does not appear to translate into good news for their workers. Over the next 12 months, more than a third of the CEOs tell the Board that they expect to reduce their headcount. Another third of the CEOs said they will not be hiring over the next year, freezing their headcount at current levels.
In addition to that, with lower economic growth and slack demand for goods and services, workers will see little to no wage increases – in fact, the CEOs said they may have to cut pay. And nearly 4 in 10 (37%) said they will reduce their capital budgets for the next year.
You can see the whole Axio report at this link…