<December 7, 2011> Last Monday, CEDIA, the predominant trade association for the custom integration market, announced that its Board of Directors and Chief Executive Officer Utz Baldwin "have agreed on Mr. Baldwin's departure from CEDIA…" The prepared statement from the group gave no reason for the change but assured members that the Board of Directors "will continue to provide strategic leadership for the organization…"
See more on this surprising development…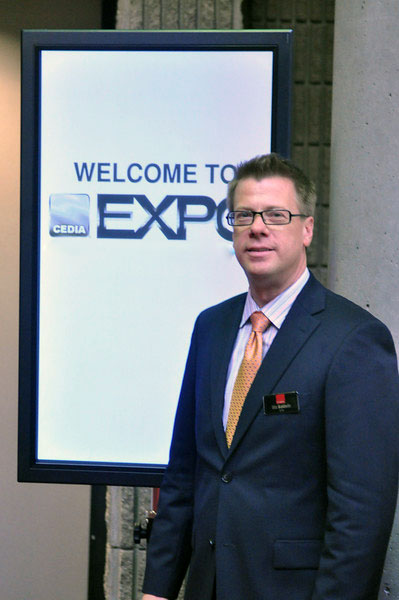 Multiple attempts made to contact CEDIA for clarification were not returned by press time. However, the tersely worded release from the organization went on to thank Baldwin for his contribution, quoting the CEDIA Board's Chairman Randy Stearns.
"CEDIA would like to thank Utz for his contributions as CEO, president, and volunteer in addition to his strategic vision of the Association's future," Stearns said in the prepared statement. "CEDIA wishes Utz the greatest success in his future endeavors."
The ALERT reached out to several industry participants both directly and indirectly associated with CEDIA to gauge their reaction and see if they had any further insight into Baldwin's departure. No one wanted to speak for attribution, but many were quick to offer opinions about Baldwin's situation…both pro and con.
The tip of the spear…
"Utz moved into a leadership position at CEDIA just as the industry was impacted by the economic downturn," one industry executive told us. "Membership began to decline, show support began to wane, and the old formula that built CEDIA wasn't working anymore."
As the "tip of the spear," Baldwin bore the brunt of the impact of these changes. Recently, Baldwin and the trade association announced a comprehensive series of changes to the membership program at CEDIA, some of which was designed to make it easier and more affordable for new members to join. Clearly, these changes represented a significant effort to turn around the declining membership of the association.
Change = reduce staff?…
Several of the sources we spoke with talked of a "financial" situation at CEDIA…suggesting that the trade group was hitting a bumpy cash flow situation. Some of these sources suggested that they suspected that CEDIA's change in "leadership structure" as mentioned in their press release, really meant that the trade group needed to reduce staffing levels and personnel overhead.
While CEDIA's press release did not go into great detail as to just what the changes to their leadership structure encompassed, it did announce that current association executive Don Gilpin will "assume a more active role as CEDIA's Chief Operating Officer under the direction of the Board of Directors." There was no word of any future hiring of another CEO.
Ruffled feathers…
More than one source told the ALERT that Baldwin had ruffled a lot of feathers as he sought to force change upon the organization. Talk of a growing disconnect between Baldwin and the Board of Directors could not be confirmed by press time – but was spoken of by several sources.
Whatever the reason behind the rather dramatic change at the organization, we'll give the final word to CEDIA Board Chairman Stearns:
"As we continue to grow we will be calling on more members to volunteer and help us be the best trade association in the world."
For more information on CEDIA, see: www.cedia.net.